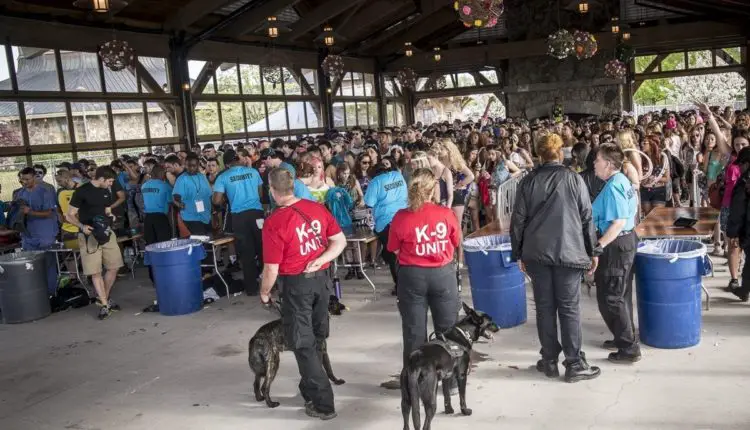 MysteryLand USA was my first EDM festival but I doubt it will be my last.  As a middle aged rocker that occasional enjoys the occasional jam band, I really didn't know what to expect.  However, when I got to the grounds of the original Woodstock at Bethel Woods, I could already feel the excitement in the air.  My normal routine for festivals or concerts is to get there early and to scout the stages and setup.  I start planning my shots and my day with no one else around, understanding the lay of the land. For Mysteryland this was at high noon on Saturday, and there wasn't a single light, laser or LED to be seen. There were however, huge circus-style tents, a Spanish stage with sugar face designs, a vinyl area with old albums all over and an octagon building that was brought over from the Netherlands.  There was even a large boat set-up as a stage.   But the highlight was the main stage. It was a house of cards, no, it was a castle of cards. It looked amazing and in the middle was an area that the DJs and artists could practice their craft and entertain the 20,000 fans in attendance.
When the gates finally opened all the festival-goers were greeted by sheriffs and state troopers with their canine unit drug sniffing dogs.  Festival organizers, ID&T, said they were going to run a clean festival and to the best of their ability they did a great job.  After spending two days, it wasn't the typical cloud of smoke, nor did I walk by underage drunks passed out at three in the afternoon.  Did I mention that they enforced a 21 and over policy?  Additional fences were added to increase security and there were 850 people working the festival besides the 250 performers. This wasn't the normal festival; ID&T were planning for the future and wanted to prove to their hosts that they could offer up a quality, successful festival on the holy grounds of Woodstock and keep it safe and clean.  The goal wasn't as much about making money as it was getting an invitation back.
One of the aspects of the festival that I did look forward to were the costumes the ravers put together to express themselves. While some outfits were purchased, it seemed like most extravagant and therefore the best ones were handmade. I saw people dressed as animals, Dr. Seuss characters, the whole cast from Alice in Wonderland, aliens and more. There was even a parrot and a pirate combo with her on his shoulder, put that by the boat stage and it was the perfect scenario.  As per any electronic music event, there were no shortages of hula hoops or fuzzy boots, and more than your fair share of glitter and body paint. A few of the outfits (or lack of) made me thankful that I have three sons, because if I had a daughter wearing a bra and panties out in public I wouldn't be the happy-go-lucky guy that I am.  Honestly in the proper setting it really does barely raise an eyebrow.
Some of the things that made Mysteryland unique compared to most festivals that I've been to were the amount of International visitors.  Over 27 countries were represented and more than half the states also had a solid presence.  The European touch on the festival was evident in the hospitality and organization, especially in the media area.  Overall this festival was other worldly and I look forward to the next one.