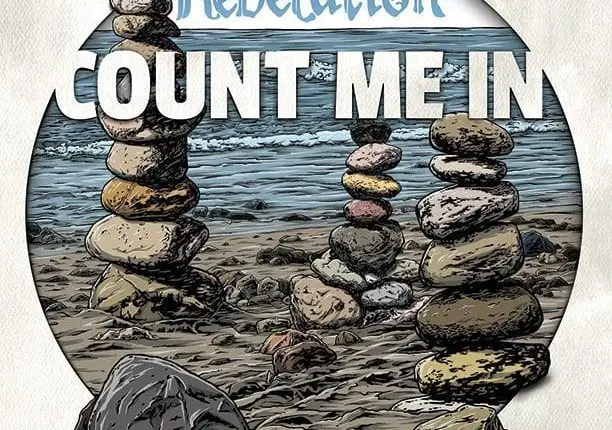 Despite the conflict-laden name, Rebelution has a way of coloring everything with positivity. The band has always led with that feel, both lyrically and musically. Now in their tenth year, the band is releasing their fourth studio album in Count Me In with many of their fans eager to hear what the Cali-based foursome have been working on as of late. While I'll say that they certainly delivered, there were still a few surprises in there along the way and a few that were close to instant classics for me.
The album opens on the title track, featuring a rolling bass line that almost has a swing to it and full of upbeat the band is known for. When I asked drummer Wesley Finley about how they decided to open with this one, he said, "I do have to admit that we struggled with the track order quite a bit this time, all the way until we were going to print! Since we titled the album after the track, it eventually made sense to put "Count Me In" first. Besides that, the track really embodies the general sound the band represents so we figured it would be a good introduction." These guys haven't made it to their tenth year missing the mark and the opener is no different.
With all that said, the first song is merely a setup for the album standout "De-Stress." That might've been by design though as Finley says, "We followed that up with "De-Stress" because it's up-tempo and keeps the momentum building." The opening one-two punch is a great start to the album and a possible set opener we might see this summer. The driving intro of "De-Stress" in and of itself makes the song, but singer Eric Rachmany hops around the rhythm with his delivery and adds another dimension to this track. The chorus of "And I might stress/Yes I might stress/ Too blessed to be stressed" are some nuggets we could all live by. In the world we live in today, a little de-stressing could do everyone some good.
As the album progresses through the tracks, two stand out in back-to-back fashion once again: "Lost in Dreams" and "Fade Away" showed some growth and experimentation from the band. In some cases it felt and sounded great, like the soothing close of "Fade Away", but something held these two back. That being said, young bands could learn from these guys as Rebelution knows exactly where to push the boundaries; these two tracks weren't far off. When asked about the creative deviation, Finley said, "We produced "Lost in Dreams" with a friend of ours named AmpLive, who is half of the hip-hop group Zion I and a beat maker for other hip-hop artists. We tour with them every once in a while and are mutual fans of each other's music, so it was inevitable that collaboration would happen."
On that collaboration note, the album features two guest appearances in the form of "Hate to Be the One" (Collie Buddz) and "Roots Reggae Music" (Don Carlos). Both guests are great fits for their respective tracks. When asked about how they chose the two, Finley said, "Collie Buddz we knew from touring together. He had come up on a song or two of ours live onstage over the years and the band is a fan of his voice, which is distinct from him being Bermudan. We sent "Hate to Be the One" to him and he came back with a whopping verse that we were very impressed with and knew we had to use. Eric's main vocal inspiration has always been the reggae veteran Don Carlos so we instantly thought of him for "Roots Reggae Music". He too has come onstage to sing with us for years, mostly to his own song we covered called "Johnny Big Mouth", so we thought it would be great for him to sing something new for us. Our sound engineer is the infamous Errol Brown, who worked closely with the Marley family for many years, so when we mentioned we were thinking of asking Don to be on the track he said, "Call him up and pass me the phone. I'll get him to do it!" We all listened as they caught up over the phone in a thick Jamaican patois. It was a classic moment."
The album wraps up on two songs that take a darker twist. "Against the Grain" starts off with a mesmerizing horn phrase that transitions to a vocal rally cry to whoever might be listening. The empowering words come with a hint of attitude and grit. The title is the perfect fit as it stands on its own compared to the rest of the album's sunny positivity. It has almost a "Bad Boys," fist in the air, fighting-for-your-beliefs feel with Marley Williams running a darker line to color the song. "Invasion" closes the album and keeps the rebel feel going. The last two songs are my favorite combo on the album and feature a darker, more serious tone for the band.
It's funny to think, now, that they struggled with the order of the tracks as they couldn't have decided upon a better layout in my opinion. In flawless fashion, the band has woven together a cohesive, yet varied album that features what they've built their careers on while still progressing forward.
The album drops Tuesday, June 10th, with preorders being taken here.  If you've been a fan of the band, or even looking to hear some new reggae, you're going to want to check this one out.
Key Tracks: Against the Grain, De-Stress, Invasion