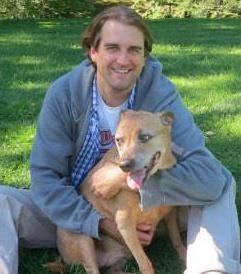 Pete Mason is a teacher and writer living in Albany, NY. Having joined in 2009, Pete started out as a Staff Writer, covering concerts and festivals in the Northeast, then became Online Editor in 2012 and helped grow the online magazine staff from 10 to more than 40 as of today. Working as Editor, Pete edits content, coordinates with staff for coverage of events, finds new staff from throughout New York State and the Northeast, and pushing forth the mission of NYS Music: to promote the music of New York State and beyond.
A graduate of three Upstate New York colleges – Syracuse University, Union Graduate College and The College of Saint Rose – Pete finds his home in Menands, halfway between Red Square in Albany and Dinosaur Bar-B-Que in Troy, living with his 14 year old pup Halley, who is also a native of Upstate New York. Pete is the author of PhanArt: The Art of the Fans of Phish, and runs PhanArt.net, which provides a marketplace for Phish fans to sell their art to a wide audience both on and off tour, with proceeds benefiting The Mockingbird Foundation. Pete is also the co-author of PhanFood: From the Kitchen Pot to the Tour Lot, a cookbook compiling recipes for Phish fans, by Phish fans, with proceeds going to food banks in New York and Burlington. His latest book. The Evolution of the War Film: From Westerns and World War Two to Vietnam is available as an e-book and details the shift in war films throughout the 20th Century. When not teaching, editing or writing, Pete travels throughout the country, having visited all 50 states, and seeks out music festivals for inclusion in his upcoming book, American Music Festivals, written with longtime editor and friend Tim O'Shea. He writes movie reviews for Nippertown, various articles for Huffington Post and contributes to Jambands.com on occasion. Pale ales, chicken wings and locally sourced produce are known to gain not only his curiosity, but his attention as well.
Pete has been to over 200 Phish shows, 50+ music festivals and countless shows over the course of the past 20 years. His first concert was Huey Lewis and the News at SPAC in 1989, who he met at his third News show this past May in Tarrytown. Some of his favorite musical experiences include Northwest String Summit at Hornings Hideout in 2011, Bonnaroo, Jamcruise, Big Cypress, seeing Patti Smith in Rome, Bloc Party at Paradiso in Amsterdam, Pearl Jam at The Gorge, Rock n Roll Resorts and any hometown show.
Pete has seen a great deal of musicians in his life, but some acts still elude him. His musical bucketlist includes Elton John, Chuck Berry, David Byrne, Bruce Springsteen, The Rolling Stones, Stevie Wonder, Prince, Daft Punk, Leftover Salmon, UM Bowl and more Widespread Panic. Among venues to see musical performances in, concerts at Lincoln Center, Walt Disney Concert Hall in Los Angeles, The Sydney Opera House in Australia, Royal Albert Hall in London and La Scala in Milan are at the top of his list.
Email: Pete@NYSMusic.com