As the summer has finally come to an end, taking with it festival season, music lovers can settle into their favorite local venues. The popular bar and restaurant, The Hollow, in Albany, welcomed local newcomers to the stage, Mister F, and returning jam band The Heavy Pets on September 26th. Familiar faces were found on the dance floor as friends exchanged tales of the summer and plans for the upcoming fall shows.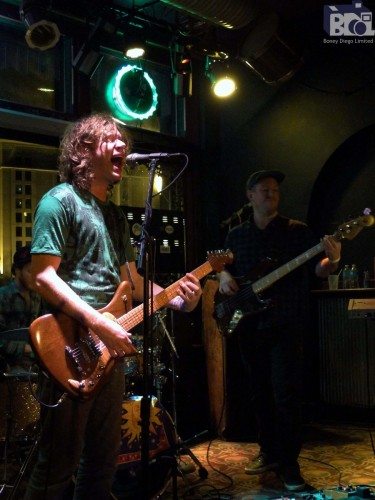 The four piece band Mister F performed over an hour in a set of nonstop, high energetic fusion of electronic rock and futuristic jazz. Drummer Matt Pickering kept a fast tempo beat throughout the night, keeping the crowd on their toes and focused on the energy from the band. Scott Hannay wasted no hammering his keys, delivering the same intensity as he switched to the guitar and bass during the set. "This One Goes to 11" had an upbeat melody with heavy bass bombs raining in from Ben Pickering while Andrew Chamberlaine was congratulated for his beard and skillful guitar licks. The crowd cheered as Mister F briefly teased Phish's "Stash" during the rollercoaster "Jump the Shark." Mister F has a fresh sound with an unpredictable flow that keeps the audience eager for the surprise hiding inside each song. They have intertwined their individual talents and designed a powerful music machine that concert goers become programmed to dance to. Mister F has a busy Fall Tour lined up with stops in Plattsburgh, Syracuse, NYC, Glens Falls and Lake George's Jungle Boogie Music Festival.
Setlist: Intro, Answer the Dog, Deal Breaker, Everything You Say, This One Goes to 11, Treadmill, Jump the Shark, Eye Level
Encore: Hedgehog w/Jim Wuest from The Heavy Pets on keys
The show is available for free stream or download here.
The Heavy Pets are an unexpected tropical storm, slowing starting out a song, then morphing into a rough, wavy mixture of funk and rock, then suddenly, you get a smooth reggae vibe to relax to. Jeff Lloyd and Mike Garulli both scale their guitars with intensity and mind melting solos. Their harmonies on "Last Babies" are eerie and hypnotizing as the music soon takes over to lift you up with a whirlwind of shredding beats. Drummer Jamie Newitt and bassist Tony D'Amato laid a thick groove over the evening, helping to spread the rhythm out for a dance heavy set. One of the highlights of the night was the quick cover of "Don't Look Back in Anger" by Oasis. Jim Wuest is a mastermind behind the keys as he electrifies the crowd with every key change of techno delight. They will tour around the southern states on their Fall Tour before returning to New York in November, showcasing their latest release of the A/B single Two Horses. The Heavy Pets bring a much needed change in longitude to Upstate with their hot and humid jams.
Photos By Bryan Lasky