Memorial Day, a weekend traditionally known as the opening of summer kicks off 2013 Festival season in the Northeast with StrangeCreek Campout Music and Arts Festival in Greenfield, Massachusetts, nestled in the Berkshire Mountains. The festival is named after the bands Max Creek and Strangefolk is held at Camp KeeWanee, a children's summer camp on a small river in the woods of Northern Massachusetts.

With a notorious combination of great music and a welcoming family friendly atmosphere, this festival has become a favorite of many, especially . While a small festival overall, StrangeCreek has benefited from positive word of mouth over the years and continues to grow and gain loyal attendees seeking out the best music in New England.  Several Upstate NY bands, including Donna the Buffalo, Jimkata, Conehead Buddha, Marco Benevento, Eastbound Jesus and Lucid will be making an appearance this year, as well as numerous bands that make routine trips through Upstate New York.
The entire StrangeCreek Campout lineup includes headliners Max Creek, Dumpstaphunk and Donna the Buffalo, plus fan favorites Zach Deputy, Ryan Montbleau, The Alchemystics and Marco Benevento. The rest of the lineup is not too shabby either, with something for everyone: Consider the Source, Jimkata, Yo Mama's Big Fat Booty Band, Bernie Worrell Orchestra, Alan Evans Trio, Juggling Suns, Shake Down, Turkuaz, A. Dario, Barika, Bay Road, Beau Sasser Project, Big Daddy Love, Big Something, The Big Sway, The Brummy Brothers, Byrne's Big Suit, Carole Davia, Conehead Buddha, Cosmic Dust Bunnies, Cosmodrome, Daddie Long Legs, Danny Pease & the Regulators, Domino Theory, Eastbound Jesus, Fat Bradley, Fungus Amungus, Gaia Roots, The Garcia Project, Gary Backstrom Band, Goosepimp Orchestra, Jabooda, Juicy Grapes, Kind Buds, The Kings, Les Racquet, Liquid Pocket, Lucid, The Marks Brothers, Matt Carey, The McLovins, Moses & the Electric Company, Orange Television, Otis Grove, Our Own World, Outer Stylie, Paranoid Social Club, People With Instruments, Pigeons Playing Ping Pong, Primary Others, Primate Fiasco, Raft, Rebelle, Rebel Alliance, Relative Souls, Resin Ed, Rev Tor featuring Charles Neville, Rising Tribe, Romano Project, Secret Sage, Seed, Silent Bujak, Sun Jones, Tawdry, Tony Vacca and World Rhythms Ensemble with Abiodun Oyewole (of The Last Poets), Van Gordon Martin Band, Vernville Family Jam, Viral Sound and William Thompson Funk Experiment.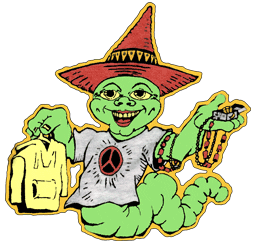 Aside from the music, the festival also offers Yoga, bonfires, late night music, and an overall sense of community, that is missing at many larger events. This year, as in years prior the gates will open on Thursday evening for those looking to get a jump on the weekend. Tickets are now on sale.
We cannot wait for Memorial Day! See you at StrangeCreek!!