On Monday, April 22nd, Upstate Concert Hall welcomed a piece of thrash-metal history to the Capital District when Exodus and Armor Column took the stage. Supported by five, count 'em, five local acts, Exodus showed everyone in attendance why they are held in such high regard and continue to leave a wake of euphoric devastation where ever they play, even three decades after their formation.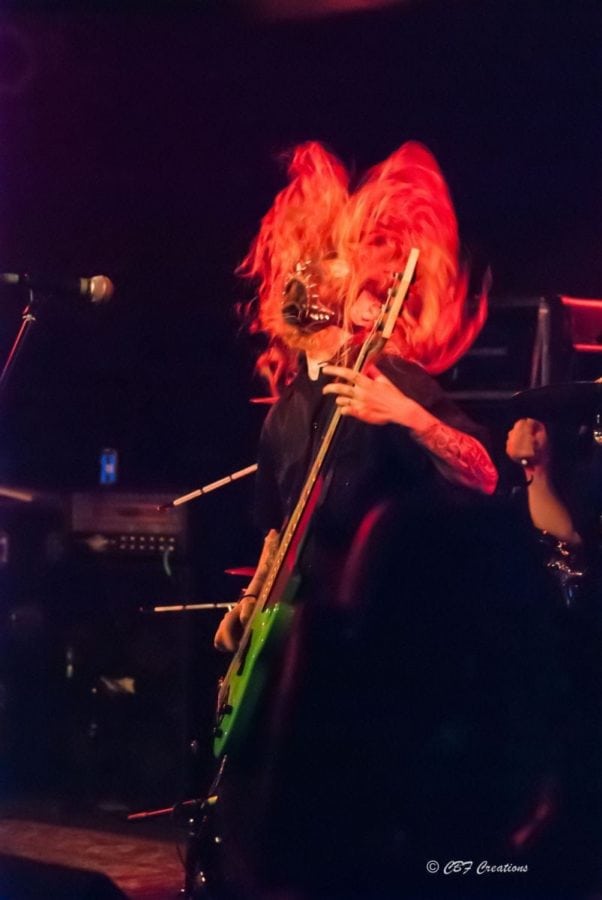 Anchored by guitarists Gary Holt and Rick Hunolt, along with drummer Tom Hunting, (each of whom have been, for the most part, playing under the Exodus flag since the early '80s), singer Rob Dukes prowled the stage like a prize fighter daring someone to enter the ring, HIS ring. Bassist Jack Gibson, earning the misleading honor of being the most subdued band member, provided a firm, gut-bruising foundation, and together, Exodus whipped the faithful crowd into a maelstrom of pumping fists, spasmodic thrashing, and a sea of heavy-metal-devil-horns.
While the relentless double-bass assault from Hunting's kit and the infallible bassline from Gibson couldn't be ignored, and were crucial to laying the groundwork, the main feature was the trio of Holt, Hunolt, and Dukes. With Duke's menacing vocals and glowering stares into the entranced crowd, he worked like a sorcerer, controlling the masses. Every time he pointed to the crowd, as if on cue, they either broke into a frenzied mosh, screamed his words back to him, or simply flashed their horns. In spilt beer, sweat, and occasional droplets of blood, they shared a communion of sorts with Dukes.
Whereas Dukes led the crowd in a way a paranoid person might categorize as brainwashing, Holt and Hunolt captivated the audience by obliterating those brains with blistering solos and blitzkrieg metal riffs. Their double-axed offensive was as tireless as it was astounding. The speed and precision of their runs in solo was impressive enough, but when done in tandem, it resulted in a room full of wordless, appreciative screams and bellows from the testosterone charged throngs. Well before the first break in the music, Exodus left no doubt that no matter the miles and years they've accumulated, they are still a mighty force to be reckoned with.
A quick roundup of the supporting bands:
Protocol 7 served as a worthy opener, setting the stage with their fast and furious style, complete with gas masks. Only a broken E string on their bass guitar made an early end to their caustic set.
https://www.facebook.com/protocol.seven.7?fref=ts
Hollow is Thy Name kept the testosterone pumping, delivering an unflinching set that was short on chit chat, big on cajones. It was like a Clark Kent-to-Bizarro transformation when A.J. Justiniano took off his glasses.
https://www.facebook.com/HollowIsThyHeartMusic?fref=ts
Dolabra took the stage next and showed off their seasoned chops, with solid contributions from every member. While the front of the stage was nowhere near empty prior to their set, empty space was hard to come by without a fight once they launched into their opener.
https://www.facebook.com/Dolabra?fref=ts
Armor Column flew their flag onstage next, led by amazing Rob Halford-esque vocals. But they are no knock-off act, as top-to-bottom, they did their thing and owned the stage during their short time on it.
https://www.facebook.com/ArmorColumn?fref=ts