On Friday May 6th 2022, Testament brought their "The Bay Strikes Back Tour" to Town Ballroom in Buffalo. The tour features Death Angel and Exodus as support for Testament. This show was originally scheduled for a different date last year but had to be rescheduled because of Covid-19. Testament has not played New York in many years, but that has now changed.
Death Angel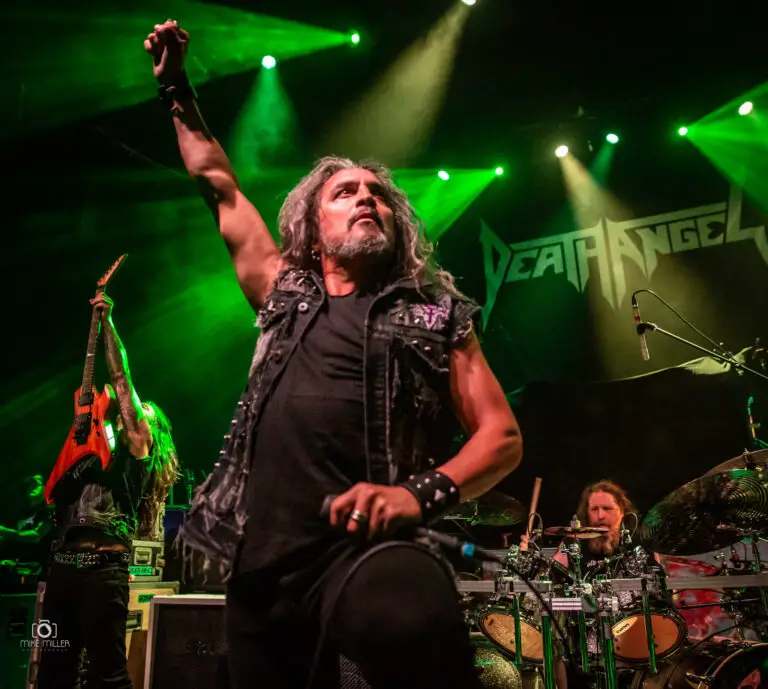 Death Angel is an American thrash metal band from Daly City, California, initially active from 1982 to 1991 and again since 2001. Death Angel has released nine studio albums, two demo tapes, one box set and three live albums. The band has gone through several line-up changes, leaving guitarist Rob Cavestany as the only constant member; he and vocalist Mark Osegueda (who joined the group in 1984) are the only members of Death Angel to appear on all of their studio albums.
Death Angel is often referred to as one of the key bands in the Bay Area thrash metal movement of the 1980s, and secured opening slots at club venues in that decade, including opening for their peers Megadeth, Metallica, Slayer, Exodus, Testament and Overkill.
Setlist: The Ultra-Violence, Evil Priest, Voracious Souls, Seemingly Endless Time, Claws in so Deep, The Dream Calls for Blood, The Moth, Humanicide and Thrown to the Wolves.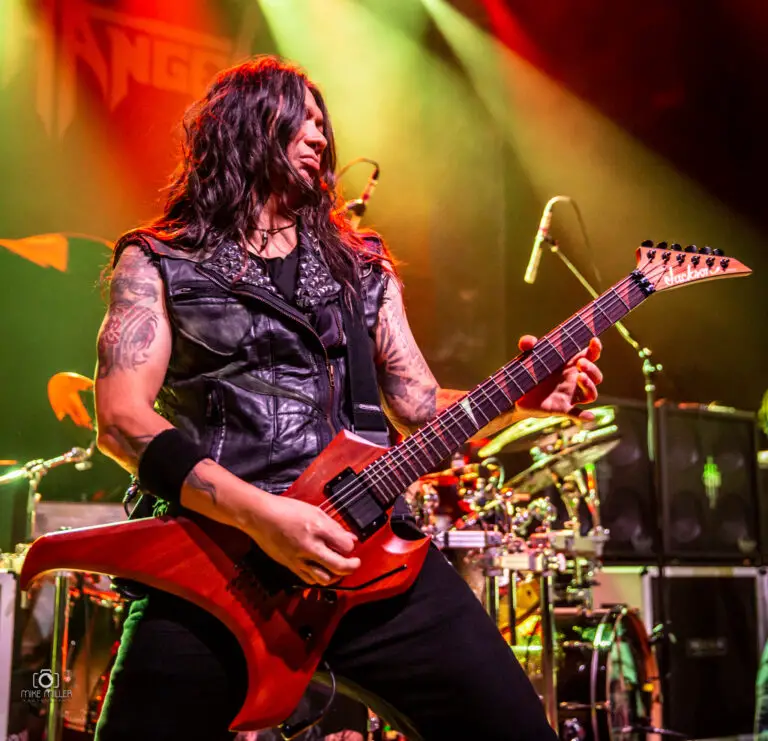 Exodus
Exodus is an American thrash metal band formed in 1979 in Richmond, California. Their current lineup consists of guitarists Gary Holt and Lee Altus, bassist Jack Gibson, drummer Tom Hunting, and lead vocalist Steve "Zetro" Souza. There are no original members left in Exodus other than Hunting, who has departed from the band twice, in 1989 and 2004, but rejoined in 2007. Exodus is also notable for its inclusion of guitarist Kirk Hammett in its initial lineup; he eventually left the band in 1983 to join Metallica as Dave Mustaine's replacement.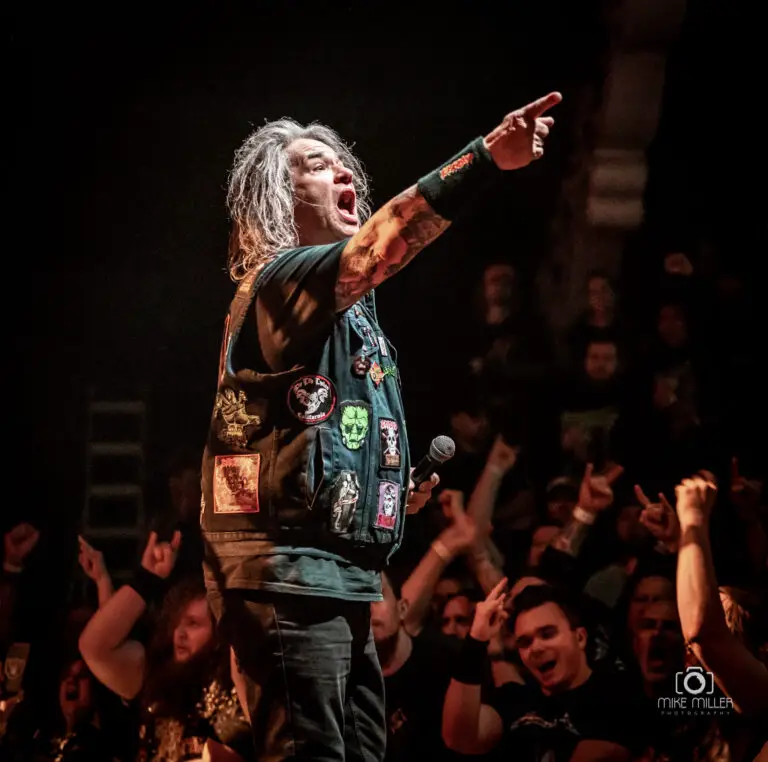 Setlist: The beatings Will Continue, A Lesson in Violence, Blood in, Blood Out, The Years of Death and Dying, Deathamphetamine, Blacklist, Prescribing Horror, Bonded by Blood, The Toxic Waltz, and Strike of the Beast.
Testament
Testament is an American thrash metal band from Berkeley, California. Formed in 1983 under the name Legacy, the band's current lineup comprises rhythm guitarist Eric Peterson, lead vocalist Chuck Billy, lead guitarist Alex Skolnick, bassist Steve Di Giorgio and drummer Dave Lombardo (formerly in Slayer).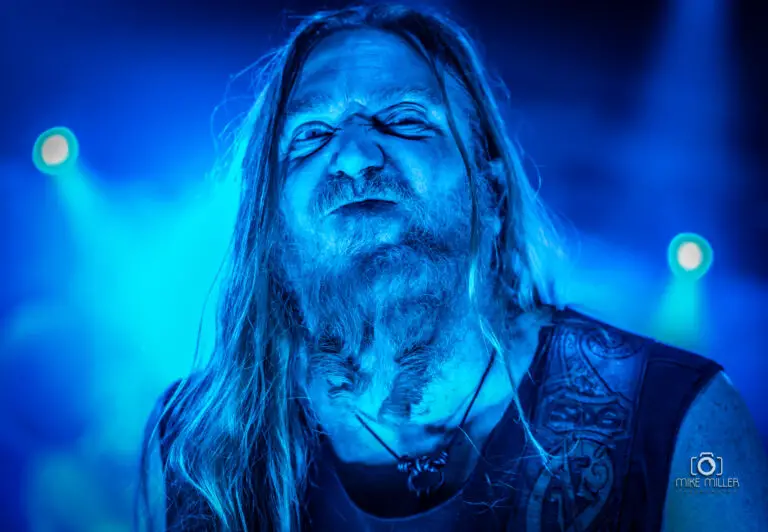 Testament has experienced many lineup changes over the years, with Peterson being the only remaining original member, though they have since been rejoined by one of its songwriters Skolnick, who was out of the band from 1992 to 2005. Billy has been a member of Testament since 1986, when he replaced original singer Steve "Zetro" Souza, who had joined Exodus as the replacement of Paul Baloff. He and Peterson are the only members to appear on all of Testament's studio albums, with the latter being the only constant member overall.
Testament's fan base is mostly older fans, but the younger generation was peppered in the crowd for The Bay Strikes Back Tour. Their set featured 14 songs for the sold-out crowd. Playing such hits as "Children of the Next Level", "Eyes of Wrath" and "Disciples of the Watch". Their stage show used co2 air blasts, and arena LED stage lighting with strobes that was changing colors often.
Drummer Dave Lombardo sat atop his high rise drum platform hidden from camera and the crowd but with his playing technique he sits really low on his drum throne so it is hard to get a glimpse of him. There were many mosh pits happening and crowd surfing all night. The fans really enjoyed the show because they needed a way to release their stress from the current world situation happening. Parking was cheap, drinks were cold and cheap, and fun was had by everyone the whole night.
Setlist: Children of the Next Level, The Pale King, Practice What You Preach, The New Order, WWII, Eyes of Wrath, D.N.R, Legions of the Dead, Electric Crown, Souls of Black, Night of the Witch, Over the Wall, Into the Pit and Disciples of the Watch.
Upcoming Testament shows
Sept. 9 – Phoenix, Ariz. @ Van Buren
Sept. 10 – Albuquerque, N.M. @ Sunshine Theater
Sept. 12 – Wichita, Kan. @ Cotillion
Sept. 13 – Kansas City, Mo. @ Truman
Sept. 15 – St. Louis, Mo. @ The Pageant
Sept. 16 – Nashville, Tenn. @ Brooklyn Bowl
Sept. 18 – St. Petersburg, Fla. @ Jannus Live
Sept. 19 – Ft. Lauderdale, Fla. @ Revolution
Sept. 21 – Asheville, N.C. @ Orange Peel
Sept. 22 – Silver Spring, Md. @ Fillmore
Sept. 23 – Stroudsburg, Pa. @ Sherman Theater
Sept. 26 – Hartford, Ct. @ Webster Theater
Sept. 27 – Albany, N.Y. @ Empire Live
Sept. 28 – Portland, Maine @ State Theatre
Sept. 30 – Montreal, Quebec @ Mtelus
Oct. 1 – London, Ontario @ London Music Hall
Oct. 3 – Ft. Wayne, Ind. @ Piere's
Oct. 4 – Milwaukee, Wis. @ The Rave
Oct. 6 – Winnipeg, Manitoba @ Burton Cummings Theatre
Oct. 8 – Calgary, Alberta @ Palace Theatre
Oct. 10 – Vancouver, British Columbia @ Commodore
Oct. 12 – Ventura, Calif. @ Majestic Ventura Theater
Oct. 13 – Los Angeles, Calif. @ The Wiltern
Oct. 14 – Reno, Nev. @ Cargo
Oct. 15 – San Jose, Calif. @ San Jose Civic