Blanket Approval will throw a bit of a shebang this weekend at Berlin (Under A) in the heart of the East Village. They'll be joined by Strange Neighbors and Golden Alphabet, and will have a one-of-a-kind show poster and t-shirt auction benefiting the Achilles International Queens Chapter.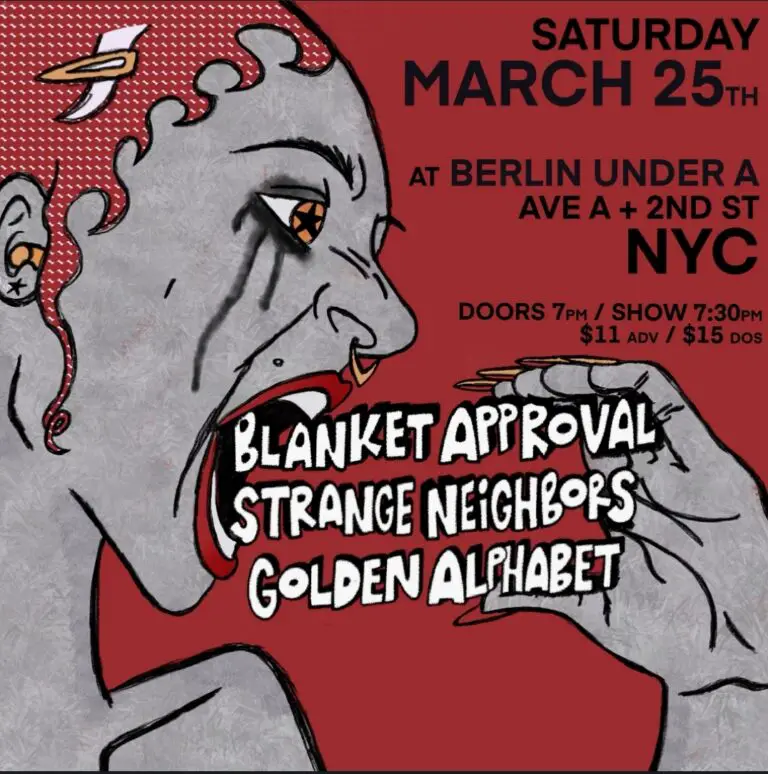 Blanket Approval is a groovy indie pop rock band from New York City. Born out of the ashes of the pandemic, singer/guitarist Jack Matteucci moved to Brooklyn in August of 2021 after hopping around the country for 8 months, searching for a music scene he wanted to grow with. He soon met drummer Joey Hadden through mutual friends and they founded the band. While the two were gigging together, Jack met bassist Max Mena at a DIY punk show in Queens and thankfully found guitarist/keyboardist Rahul Chakraborty online.
With the new recruits, Blanket Approval began rehearsing and recording in January 2022, before making their live debut at Union Pool in Brooklyn that spring. Since then, the band has played throughout NYC, most recently at the acclaimed Mercury Lounge in the Lower East Side of Manhattan. The band has built an impressive following thanks to strong social media promo, has garnered nearly 200,000 streams on Spotify in less than 8 months, and a feature in Spotify's Fresh Finds Indie. 2023 will see a string of new releases, including a summer EP, as well as tour dates throughout the East Coast.
Strange Neighbors first unleashed their jangly power pop onto the New York scene in 2018. Founded by vocalist Aidan and drummer Tracey, they soon brought guitarist Zach into the mix through a Facebook ad. It remains one of the three all-time positive outcomes of social media.
After a few early singles and some lineup changes, the band brought along bassist Dana to record their debut album How to Human in early 2019. Taking influence from the power pop and pop punk of the band's youth, the album's eight songs are characterized by sparkling guitars, intricate bass lines, rock solid beats and impassioned vocals, a mix of the old and new.
The band followed up with the Illuminasti EP in 2020 and marked their live comeback as a live act with the single "Mystic Piers" in July of 2021. They have continued recording, writing and performing into 2023 with the release of the "Party of None" EP.
Since their formation, Strange Neighbors have played at popular New York City haunts like Piano's, The Bitter End, Bowery Electric, Cobra Club, Arlene's Grocery, Mercury Lounge, Knitting Factory, Sultan Room, Rubulad, and more.
Originally formed in the cactus country of Tucson, Arizona, in 2003, Golden Alphabet found their final form in a place that couldn't be more different than Southern Arizona: Brooklyn. Along the road there have been many members and iterations from solo project, to large form collective, to the current 5-piece (since 2014). All the shapes Golden Alphabet have taken have left their mark and played their part in what the group is in this moment.
Their desert roots are not hard to pinpoint. With the country western radio station blasting from his father's workshop, primary writer and singer Tommy Cormier couldn't escape the simple structures and emotive delivery of the music he grew up with. Though their music might not be technically categorized as country or folk, Golden Alphabet delivers an aesthetic of contemporary indie-psych, sometimes baroque pop, with a varnish of desert dust; from melodic whispers to heavy riffs and soaring choruses, inspiration takes many forms in their music. 
Golden Alphabet is Tommy Cormier, Kendra Kovarik, Nate Jasensky, Derek Smith, and Timmy Minker. Removable Baby Jesus was recorded, produced, and mixed entirely by the band at Greenpoint Recording Collective, where Cormier and Jasensky are producers for local musicians and bands.
Berlin (Under A) is located at Avenue A & 2nd Street in Alphabet City. Tickets are $10 advance, $15 Day of Show.