Grammy-Award winners Jason Isbell and the 400 Unit has announced the upcoming release of their eighth album, Weathervanes, along with a brand new North American tour.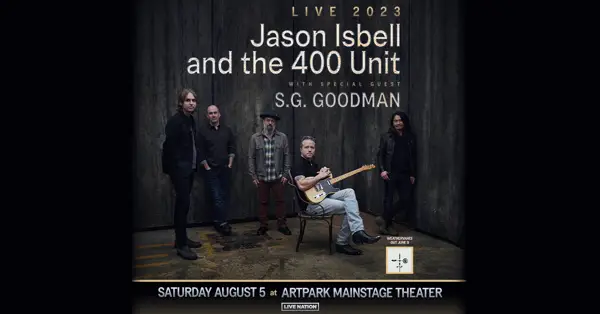 Written and produced by Isbell, Weathervanes features 13 brand new tracks. "Death Wish," the debut release from the collection, is available now. Weathervanes is a collection of grown-up songs: Songs about adult love, about change, about the danger of nostalgia and the interrogation of myths, about cruelty and regret and redemption. Some will make you cry alone in your car and others will make you sing along with thousands of strangers in a big summer pavilion, united in the great miracle of being alive. Isbell is a storyteller at the peak of his craft, observing his fellow wanderers, looking inside and trying to understand, reducing a universe to four minutes.
"There is something about boundaries on this record," said Isbell. "As you mature, you still attempt to keep the ability to love somebody fully and completely while you're growing into an adult and learning how to love yourself."

Jason Isbell
Weathervanes was recorded at Nashville's Blackbird Studio and features Jason Isbell's Grammy-winning band, The 400 Unit. Special guests include GRAMMY winner Amanda Shires and harmonicist Mickey Raphael, with background vocals on "If You Insist" by renowned producer and engineer Sylvia Massy & Ian Rickard and Strings on "Death Wish" by Morgan O'Shaughnessey. 
Also announced today, Jason Isbell and the 400 Unit will be hitting the road throughout the summer, including a show at Artpark Mainstage Theater in Lewiston on August 5.
Tickets are on sale now via the band's website.
Jason Isbell & The 400 Unit 2023 Tour
3/1 Calgary, AB Jack Singer Concert Hall
3/2 Edmonton, AB Northern Alberta Jubilee Auditorium
3/4 Kelowna, BC Kelowna Community Theatre
3/5 Vancouver, BC Queen Elizabeth Theatre
3/6 Victoria, BC Royal Theatre
3/8 Boise, ID Morrison Center
3/9 Jackson Hole, WY Jackson Hole Center for the Arts
3/10 Bozeman, MT The Elm
3/11 Billings, MT Alberta Bair Theater
3/12 Rapid City, SD The Monument – Fine Arts Theatre
3/14 Joliet, IL Rialto Square Theatre
3/15 Joliet, IL Rialto Square Theatre
4/5 Sydney, AUS Enmore Theatre (with Allison Russell)
4/6 Melbourne, AUS Palais Theatre (with Allison Russell)
4/8 Tyagarah, NSW Bluesfest
4/22 Miramar Beach, FL Moon Crush: Seascape Beach Resort
4/28 Cincinnati, OH Andrew J Brady Music Center
4/29 Cincinnati, OH Andrew J Brady Music Center
4/30 Scaly Mountain, NC Bear Shadow Music Festival
5/2 Omaha, NE Orpheum Theater
5/3 Morrison, CO Red Rocks Amphitheatre
5/4 Morrison, CO Red Rocks Amphitheatre
5/6 Salina, KS Stiefel Theatre
5/7 Lubbock, TX Helen DeVitt Jones Theater at The Buddy Holly Hall
5/9 Dallas, TX The Factory in Deep Ellum
5/11 Austin, TX Austin City Limits Live at The Moody Theater
5/12 Austin, TX Austin City Limits Live at The Moody Theater
5/13 Austin, TX Austin City Limits Live at The Moody Theater
5/14 Little Rock, AR The Hall
6/15 Fayetteville, AR JJ's Live (with Adeem The Artist)
6/16 Kansas City, MO Boulevardia
6/18 Indianapolis, IN WonderRoad Festival
6/22 LaGrange, GA Sweetland Amphitheatre
6/23 Birmingham, AL Avondale Brewing Company
6/24 Birmingham, AL Avondale Brewing Company
6/25 Ann Arbor, MI A2SF
6/29 Palo Alto, CA Frost Amphitheater
6/30 Quincy, CA High Sierra Music Festival
7/1 Bend, OR Hayden Homes Amphitheater
7/2 Canby, OR Clackamas County Fairgrounds
7/4 Bonner, MT KettleHouse Amphitheater
7/5 Seattle, WA Woodland Park Zoo
7/6 Spokane, WA Martin Woldson Theater at The Fox
7/9 Dillon, CO Dillon Amphitheater
7/11 Tempe, AZ Marquee Theatre
7/14 Los Angeles, CA Greek Theatre
7/15 Paso Robles, CA Vina Robles Amphitheatre
7/16 Las Vegas, NV Encore Theater at Wynn Las Vegas
7/26 Harrisburg, PA Riverfront Park
7/27 Boston, MA Roadrunner ~
7/28 Port Chester, NY The Capitol Theatre ~
7/31 Huntington, NY The Paramount
8/1 New Brunswick, NJ State Theatre New Jersey
8/2 Washington, D.C. Wolf Trap
8/4 Toronto, ON Massey Hall
8/5 Lewiston, NY Artpark Mainstage Theater
8/8 Richmond, VA Brown's Island
8/9 Salem, VA Salem Civic Center
8/12 St Augustine, FL The St. Augustine Amphitheatre
8/13 North Myrtle Beach, SC House of Blues