Burt Bacharach, one of the most accomplished pop composers of the 20th century, having created 52 top 40 hits, passed away at his home in Los Angeles at the age of 94.
Burt Bacharach was a Grammy, Oscar, and Tony-winning composer who grew up in Queens' Kew Gardens neighborhood and graduated from Forest Hills High School in 1946. In his early years, he showed a keen interest in jazz and often used his fake ID to get into 52nd Street nightclubs where he would see bebop musicians like Dizzy Gillespie and Count Basie, whose styles influenced his songwriting.
He was a major figure in 20th-century pop music, but also scored major hits in a variety of genres like Top 40, country, rhythm and blues, and even film scores, writing the theme song for the movie Arthur and "Raindrops Keep Falling on My Head," for Butch Cassidy and the Sundance Kid. Later in his career, he even appeared as himself in all three Austin Powers movies.
History was made in 1957 when Bacharach and lyricist Hal David met at the Brill Building in New York City. The pair wrote dozens of popular songs, folding everything from pop to jazz to Brazilian grooves and rock, writing in non-standard time signatures; instead of the typical 4/4, they often bounded in 5/4 or 7/8. Dionne Warwick popularized many of these songs, with her recordings selling over 12 million copies, and 38 singles making the charts. Among the hits were "Walk On By," "Anyone Who Had a Heart," "Alfie," "I Say a Little Prayer," "I'll Never Fall in Love Again," and "Do You Know the Way to San Jose?"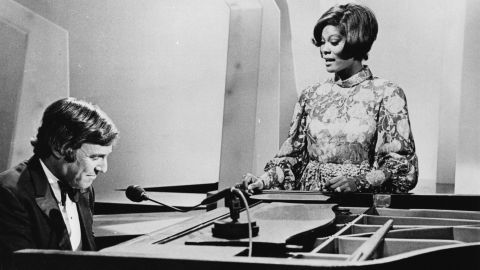 Over his career, he also wrote other massive hits including "That's What Friends Are For," the charity collaboration between Dionne Warwick, Elton John, Gladys Knight, and Stevie Wonder in 1986, raising millions for AIDs research. He wrote the Shirelles' "Baby It's You," and Tom Jones' "What's New Pussycat?" Perry Como's "Magic Moments," the Patti Labelle-Michael McDonald duet "On My Own," and the Grammy award-winning Elvis Costello record Painted from Memory. Elvis Presley, the Beatles, and Frank Sinatra were among the countless artists who covered his songs, and more recently White Stripes, Twista, and Ashanti.
Later in his career, in 2012, he was presented the Gershwin Prize by Barack Obama, performed at the 2015 Glastonbury Festival in the UK, played with the Nashville Symphony Orchestra in March 2016, and other high-profile performances. His final released composition was a joint 2020 EP with songwriter and performer Daniel Tashian, Blue Umbrella, which earned them a Grammy nomination for the best traditional pop vocal album.
Bacharach had high-profile marriages to actress Angie Dickinson and later to lyricist Carole Bayer Sager, with whom he wrote "Arthur's Theme (Best That You Can Do)." He was married to his first wife, Paula Stewart, from 1953-58, and he married a fourth time to Jane Hansen in 1993.
Dionne Warwick spoke about his passing in a statement to CNN saying, "Burt's transition is like losing a family member. These words I've been asked to write are being written with sadness over the loss of my Dear Friend and my Musical Partner. On the lighter side, we laughed a lot and had our run-ins but always found a way to let each other know our family-like roots were the most important part of our relationship."
Burt Bacharach is survived by his adopted son, Christopher, as well as two children with his fourth wife, Jane Hansen, Oliver, and daughter Raleigh.