The Grateful Dead wound up playing more than 50 shows at MSG by the time their touring career ended, but the September 1990 run had a unique feel all its own. With keyboardist Brent Mydland's recent death just months earlier, the Dead once again found themselves in an era of transition. Vince Welnick was brought on as his replacement, but was still very much finding his footing and shaking off stage fright at this point in his tenure with the band. To combat this, they recruited the willing and able talents of Bruce Hornsby to help them along in this new era of Grateful Dead music. His first shows were during this September run at MSG in 1990, offering fans an extraordinary new addition to the music as well as giving a glimpse of what might have been.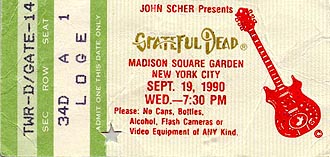 The show begins in a relaxed manner as the band eases into a "Jack Straw" opener with Hornsby lending early vocal support on some of Garcia's lines. There's no issue with the music though, as an enthusiastic early jam develops from this, much to the delight of a roaring MSG crowd. After noodling around with the opening notes, the Dead then burst into "Bertha." A blistering guitar solo from Garcia, along with some musical interplay with Hornsby – a staple of this run, lead the way on this one. With the crowd now fully engaged, Bob Weir takes over and leads the way through a particularly bouncy "Me And My Uncle."
As soon as the last note of "Uncle" finishes, the Dead keep it going and use a similar drum beat to jump right into "Big River" which gives Hornsby his first chance to solo on piano. With the show off to a blistering start, things mellow out a bit with the Garcia-led "It Must Have Been The Roses" that follows, one of the few Dead songs that feature both Robert Hunter penned lyrics and music. The first cover selection of the night comes next, with Weir playing the role of Bob Dylan for "Stuck Inside Of Mobile (With The Memphis Blues Again)," a song the band added to its repertoire a few years earlier. Welnick adds some nice touches on the keyboards on this rousing tune that delivers a slow build in emotion.
To wrap up this opening set at MSG, the Dead decide to unleash the vaunted "Help On The Way" > "Slipknot!" >"Franklin's Tower" combination that sees the band at their collective best with a discernable new feel to it thanks to the two new keys players. But by the end of "Franklin's," a delighted MSG crowd could make the case that some things never truly change.
The second set begins with another longtime Dead classic, "Playin' In The Band." The band wastes no time in crafting an explosive, early improvisational jam that quickly goes deep, fueled by some frenetic fret board work from Garcia. Instead of progressing even further, the jam instead comes to a crawl and the opening chords to "Ship Of Fools" emerges. This quick side journey is another prime example of an older song getting a new "shine" to it thanks to the new piano and vocal harmonies supplied by Hornsby. Once completed, the Dead then go right back into "Playin'," seemingly picking up right where they left off before they quickly shift gears once more and collectively merge into another fan favorite with "Uncle John's Band."
After a powerful, but fairly concise jam, the band brings back UJB to completion and, right after the outtro jam, immediately leap into a surprise "Let It Grow," the first time it's been found in the second set in years. This elicits one of the finer jams of the evening, a steady, driving collective effort that never really strays too far from the song's original structure. Afterwards, however, structure goes by the wayside thanks to a seemingly off the cuff jam with Hornsby prominently involved on piano along with noodling from Garcia and Weir. It turns out to be one of the better jams of the night, one that naturally builds in intensity and gives an enticing glimpse of what the Dead could have become had Bruce stayed on permanently.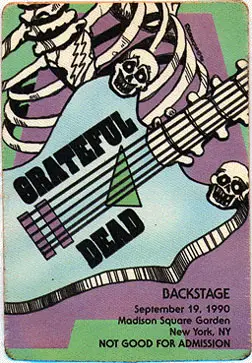 This essentially becomes the fuel for an extended "Drums" > "Space" sequence that sees the Dead fill MSG with a plethora of sounds and emotions that range from the ambient to the psychedelic. Hornsby even sticks around for some of the early "Drums" madness, giving that a different feel as well. After this lengthy group improv runs its course, the show rounds back into form with the familiar opening drum beat of "Going Down The Road Feelin' Bad," finally providing a dance number with some tempo.
After an exuberant version that gives all parties a chance to shine, said tempo drops back down for "Stella Blue," sung with its usual emotion and feel from Garcia. One more juxtaposition in mood then takes place as Weir proceeds to lead the band through a cover of Chuck Berry's "Around & Around" that features a bluesy jam which continues to build in energy before peaking, closing out the set in style. For an encore, one more Dylan cover makes an appearance with "Quinn The Eskimo." The Dead would go on to wrap up their six-night run at MSG the following evening.
View this and more Grateful Dead shows from across the years in New York State with our interactive map below
Grateful Dead Madison Square Garden – New York, NY
Set 1: Jack Straw, Bertha, Me & My Uncle-> Big River, It Must Have Been The Roses, Memphis Blues, Help On The Way-> Slipknot!-> Franklin's Tower
Set 2: Playin' In The Band-> Ship of Fools-> Playin' In The Band-> Uncle John's Band-> Let It Grow-> Jam-> Drums-> Jam-> Goin' Down The Road Feelin' Bad-> Stella Blue-> Around & Around,
E: The Mighty Quinn