During the entire month of August, there will be numerous summer concerts held in Otsego County, from areas like Cooperstown to Richfield Springs and even Edmeston.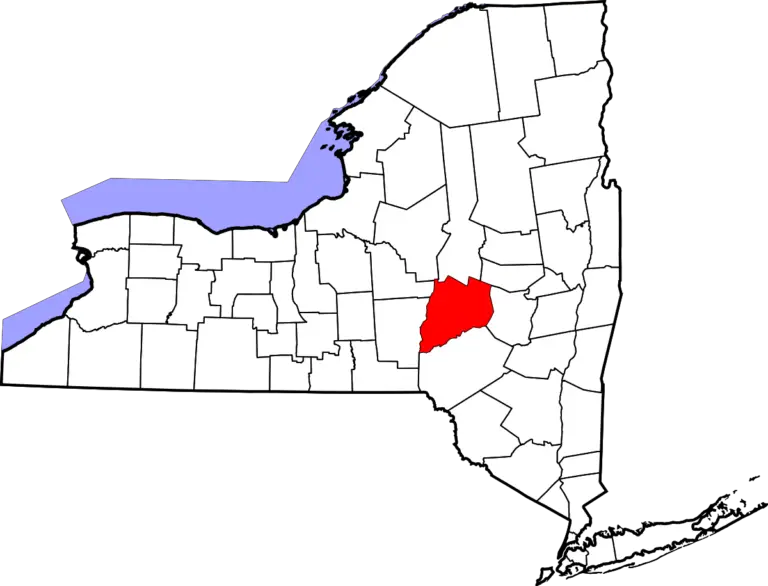 Otsego County is located in Central New York with a population of about 60,000. The county seat is Cooperstown, and the name Otsego is from a Mohawk or Oneida word meaning "place of the rock." August brings a lot of music to the area, with different artists and bands featured all over the county.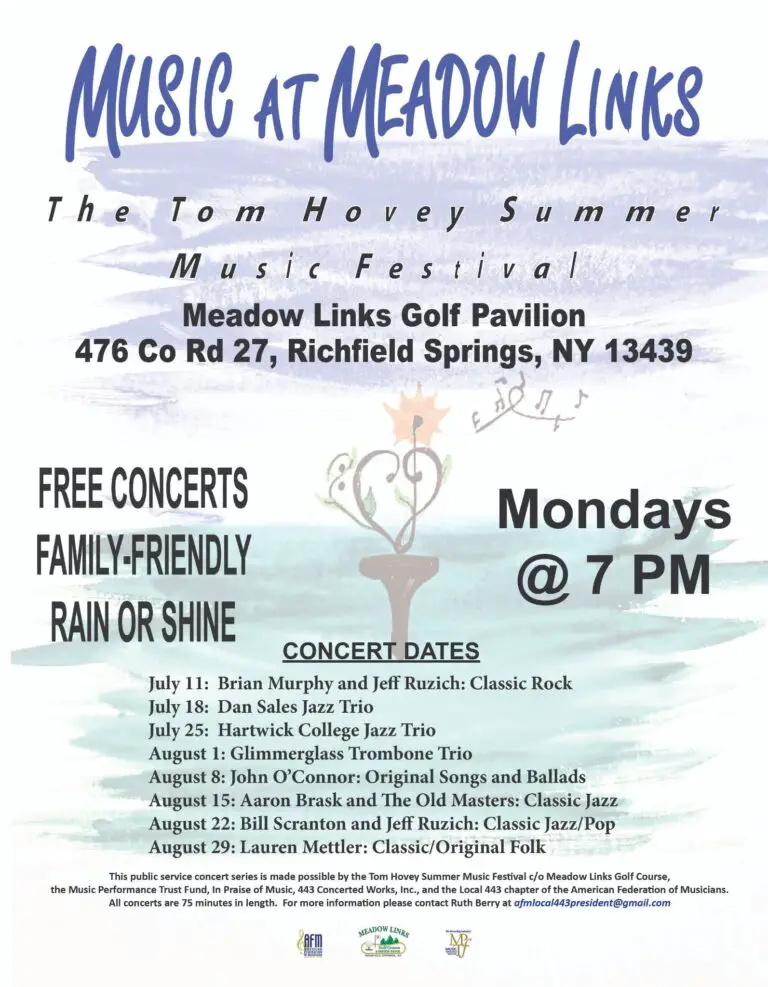 Richfield Springs will continue its Wednesday evening "Concerts in the Park" series with free performances beginning at 7 P.M. in Spring Park on U.S. Route 20.
Wednesdays in Spring Park
 August 3: New Horizons Barbershop Chorus and quartets (a capella singing in the barbershop style).
 August 10: Double Chase, playing old, new, and classic music.
 August 17: Cincinnati Creek (bluegrass)
 August 24: Rylee Lum Band (country)
 August 31: Salt City Brass (variety show)
Cooperstown has many concerts coming up in August, in different locations. The Lakefront Concert Series begins Tuesday evenings at 6:30 P.M. at the bandstand in Lakefront Park.
The Lakefront Concert Series
August 2: Cooperstown Community Band
August 9: Stoddard Hollow String Band (Appalachian mountain music)
August 16: Jerry Dee and the Dovetones (early jazz, swing, classic rock, early soul, and ska)
August 23: Bourbon and Branch (indie and alternative rock)
August 30: Barnyard Saints (outlaw country)
Cooperstown Community Band
The Cooperstown Community Band will be playing in other locations in Otsego County, all concerts beginning at 7 P.M.
August 9: Glimmerglass State Park
August 16: Schuyler Lake
Delhi will be hosting the Honest Brook Music Festival, which was founded in 1989 by Michael Cannon and the late Christopher Desler and has become a popular fixture of the classical music scene in Delaware County and the surrounding area. Performances are held in a converted dairy barn, with warm, resonant acoustics. To reserve a seat, go here.
Honest Brook Music Festival
August 7: Zhu Wang (pianist) at 3 P.M.
August 14: Lun Li (violinist) and Ying Li (pianist) at 3 P.M.
Edmeston will be hosting Saturday afternoon concerts at the Pathfinder Pavilion. Pathfinder Village celebrates its 24 annual series of summer concerts with free, live performances starting at 2 P.M. The series is made possible from the Statewide Community Regrants Program, a regrant program of the New York State Council on the Arts with the support of the office of the governor and the New York state Legislature.
Saturday afternoons at the Pathfinder Pavilion
August 6: Double Barrel (classic rock and country duo)
August 13: Panther Creek (Americana and zydeco)
August 20: Dirt Road Express (classic country and early rock)
August 27: Small Town Big Band (swing orchestra with the big band sound)
Oneonta's free summer concert series features area bands performing at the bandstand stage area of Neawha Park.
Thursdays in Neahwa Park
August 4: Off the Record
August 11: Country Express
August 18: Lucia & Levi
Otsego County is hosting many different summer concerts throughout the county. For more information about the county and more events happening in the area, go here.