Railroad Earth brought their Americana/bluegrass rock 'n roll to Lincoln Hill Farms in Canandaigua on Thursday, July 28. The New Jersey band marked their first time playing at the venue, which opened in 2016, and it seemed like they would be welcomed back judging by the crowd's reception. 
The weather stayed perfect and there was nothing but good vibes on a beautiful, scenic farm as Railroad Earth shared their upbeat music that got many fans dancing. The band's variety in the setlist took songs from each of their nine albums (minus one), bringing a show that gave us something old, something new and lots in between. There were so many great songs left off the table, and that will keep us coming back for more.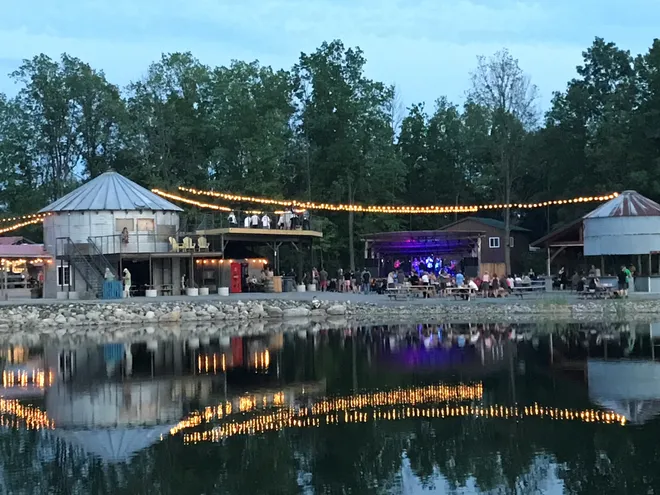 The band got people moving right away with "Chasin A Rainbow." Guitarist and lead vocalist Todd Schaefer's lyrics flow right to the beat with this song and it already felt like the train started taking off. They segued into "Bread And Water" and that's another fast-tempo song that helped get people moving. 
Violin player Tim Carbone picked up the electric guitar for "When The Sun Gets In Your Blood."
The band played "Chains," a song off their first album The Black Bear Sessions. They'd go into "Bill Monroe's Old Dangerfield" and segue into "Blues Highway" which built into an epic "Black Bear," another one off their first album fans love to chant along with. 
Mike Robinson switched off between banjo and guitar here and there as they played "Across The Great Divide" and ended the set with "Long Way To Go." "Blues Highway" and "Across The Great Divide" are on their most recent album, All For The Song, released this year.
After the skies got darker during set break, the crowd was more lively and ready to go. The stage's fancy lights started to get used and fog machines came out, changing the dynamic and turning up the excitement.
Popular RRE cover song "Walk Beside Me" (written by Tim O'Brien) got things started with its bass-heavy intro. The band has fun with this song and each of the seven members trade off on solos for a minute. They all get their chance to have some fun.
"Only By The Light" came next which is a nice peaceful tune. "Saddle Of The Sun" turned things more into a more upbeat feeling and then once the crowd recognized the drums for "Elko" starting off, people were excited for the RRE favorite.
There was no shortage of playing cards as they went flying when the chorus hit. It brought a new rush of energy to the crowd and the band took the opportunity to jam out while everyone danced and picked up cards. Matt Slocum on keys went hard for his solo then they let Carbone finish it off with some crazy playing..
They went into "Living in the Good Life" which is an upbeat happy slower song that let everyone catch their breath, then played "Potter's Field" and the song segued into a Lonecraft Farewell jam and Robinson brought out the pedal steel.. They all continued to take the mellow jam and progressively get a little heavier as it continued. Andrew Altman's bass lines were thick, and everyone was grooving to the funky beat. Altman would switch from electric bass to stand up bass throughout the night. The band segued into "'Neat the Stars" afterward which really let the slide guitar shine.
John Skehan's mandolin with Harmon's drums to kick off "Like A Buddah" felt like the best was yet to come. The band put everything on the table and Harmon and all of them looked like they were having the times of their lives. They all came with some intensity and Carbone shredded the violin and showed us what Railroad Earth is all about.
The last song was "Give That Boy a Hand" and it brought some good vibes as everyone was smiling and dancing and giving the band a hand thanking them for the good times they shared. They played right up until curfew and didn't have a chance for an encore, so Shaefer came out and thanked the fans and Lincoln Hill Farms and how much the band appreciated coming out.
If there was one thing to say about the band is that every member looked like they were having an awesome time on stage, and they really loved what they were doing.
As for Lincoln Hill Farms, the venue was very relaxed, and possibly one of the most chill places to see some live music. With doors at 5 p.m. and local musician Brian Ayers opened the stage at 6, there was plenty of time to get in and settle down. There's food for dinner from tacos, pulled pork or chicken sandwiches, pizza and other snacks and sides. The food was fresh, tasted great and everything looked tasty.
There was quite a bit to choose for the beer selection and it included local favorites. The bar is impressive the way it wraps around and gives patrons enough space. It makes it easy to grab a drink and get back to the music. 
Talent Buyer Jon Willis said they wanted to make the venue more comfortable for that reason. There is plenty of room for people to dance, find a table to eat or they can explore part of the 95-acres the scenic venue is set on. Lincoln Hill Farms will be a great venue for a tourist to the Finger Lakes and a great way to take in the area and see some live music.
It's definitely one of the chilliest venues, with a relaxing atmosphere, scenic background and plenty of space. With good food, it's the kind of place you want to come early and plan your whole night around.
Railroad Earth – Lincoln Hill Farms, Canandaigua – July 28, 2022
Set 1: Chasing A Rainbow > Bread & Water, When the Sun Gets In Your Blood, Chains, Old Dangerfield > Blues Highway > Black Bear, Across the Great Divide, Long Way To Go
Set 2: Walk Beside Me > Only By The Light, Saddle of the Sun, Elko, Good Life, Potter's Field > Lonecroft Farewell > 'Neath The Stars, Like a Buddha, Give That Boy A Hand