'New NYC supergroup, Fantastic Cat, are a new instrument-swapping rock/alt-country/folk band made of singer/songwriters Anthony D'Amato, Brian Dunne, Don DiLego, and Mike Montali. Their debut album The Very Best Of Fantastic Cat just came out on July 29th. Likewise, they'll also be celebrating at NYC's Bowery Ballroom with an album release show the same day. 
So far, their newest record has been praised by Atwood Magazine, No Depression, The Boot, Bluegrass Situation and more; the singles have been added to multiple 1M+ Spotify playlists including Fresh Finds and All New Indie. The band also have a CBS Saturday session confirmed for the end of July which will air in early/mid-August. 
The first single, "C'mon Armageddon", is an incredible A24-style music video featuring Marc Geller who plays Kier Egan on the hit AppleTV show Severance. Along with this, the music video for the single "The Gig" shows the band playing a gig on The Staten Island Ferry after being told by their sleazebag manager he booked the band on "one of those concert cruises that are all the rage."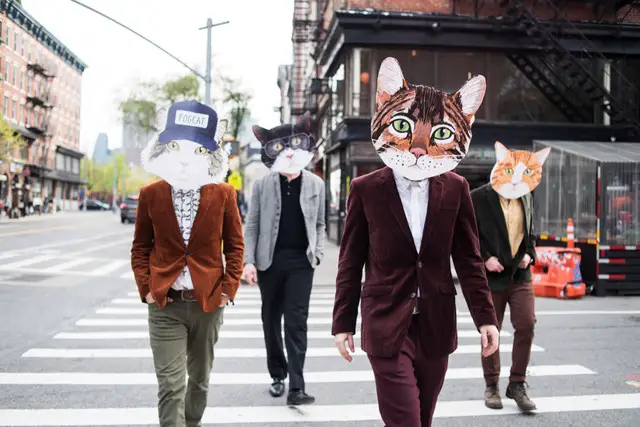 Captured in the wilds of the Pocono Mountains, the album shifts between genres and different decades of music. By mixing electrified 60's folk and 70's AM radio gold with 80's heartland rock and 90's alt-country, it encompasses a raw feel of longtime friends making music for the sheer joy of it.
"Their music is at once fun, freewheeling, achingly intimate, and beautifully honest. They can joke about themselves and the state of things while tapping into deeply meaningful and relatable emotions… Fantastic Cat's songs are a reminder that, even in our darkest moments, we can find a little light and love to hold onto." 

– Atwood Magazine
Along with the great music the band produces, they have a very fun and humorous vibe in all their videos and photos. Particularly, the photos and videos where they wear the giant cut out cat heads. Fantastic Cat has impressively made its way into the spotlight collectively. Through the four transcend their respective roots, they have emerged as an instrument-swapping, harmony-trading, tear-jerking, wise-cracking rock and roll cooperative far greater than the sum of its parts. 
Key Tracks: