From October 6 to 8, Kings Theatre in Brooklyn will host the national R.E.S.P.E.C.T. tour, which celebrates the iconic Aretha Franklin and brings the ultimate concert experience.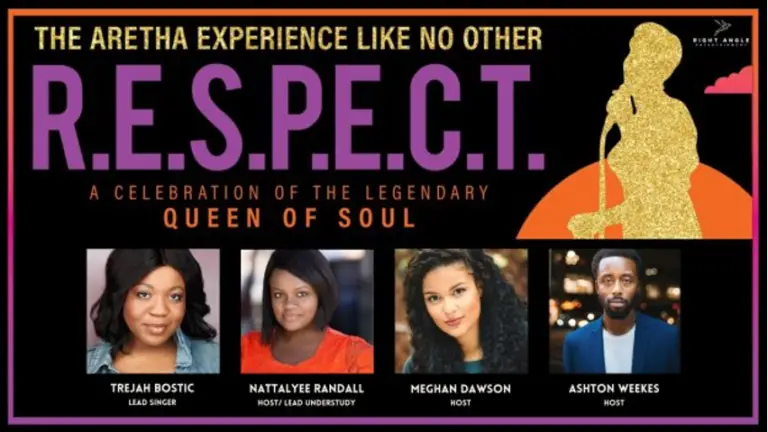 After a national search for the perfect cast, the performers were recently finalized. Brooklyn native Trejah Bostic will lead the band, and vocalists Meghan Dawson, Nattalyee Randall, and Ashton Weeks will also act as hosts. Directed by Broadway's Christina Sajous (Spongebob Squarepants, Spider-Man: Turn off the Dark), the show follows the life of Aretha Franklin using her biggest hits to tell her impressive story.
I am super excited to be a part of this amazing cast and I'm looking forward to going on this journey and experiencing all the beautiful audiences that we will come to meet.

-Trejah Bostic, Lead Singer
Audiences at the Kings Theatre can expect to hear fan favorites such as "Natural Woman," "Think," "I Knew You Were Waiting for Me," "Chain of Fools," and many more to celebrate the Queen of Soul. The soundtrack, with musical direction from Darnell White, explores the human condition intertwined with the timeless music from Franklin.
The Kings Theatre in Brooklyn recently reopened in 2015 and provides the perfect venue for large-scale entertainment such as the R.E.S.P.E.C.T. tour, with over 3,000 seats available. The architecture was inspired by the French Renaissance Revival style of the Palace of Versailles and the Paris Opera House – making it a beautiful addition and atmosphere for any entertainment. 
All shows from October 6 through 8 will begin promptly at 8:00 pm and tickets range from $35 – $75. For tickets and more information about the R.E.S.P.E.C.T. tour, visit the Kings Theatre website, here.