Phish made their much anticipated and welcomed return to Bethel Woods this weekend. Two packed shows on Friday and Saturday, not far from the original Woodstock grounds, saw the band delight fans with song selections that covered every facet of their ever-growing musical catalog. Phish first played Bethel Woods eleven years ago, with three legendary shows that seemed to serve as prime examples that the band was fully engaged again after reuniting two years prior. Although it was only two shows this weekend, they certainly didn't do anything to ruin the mystique between Phish and these hallowed grounds.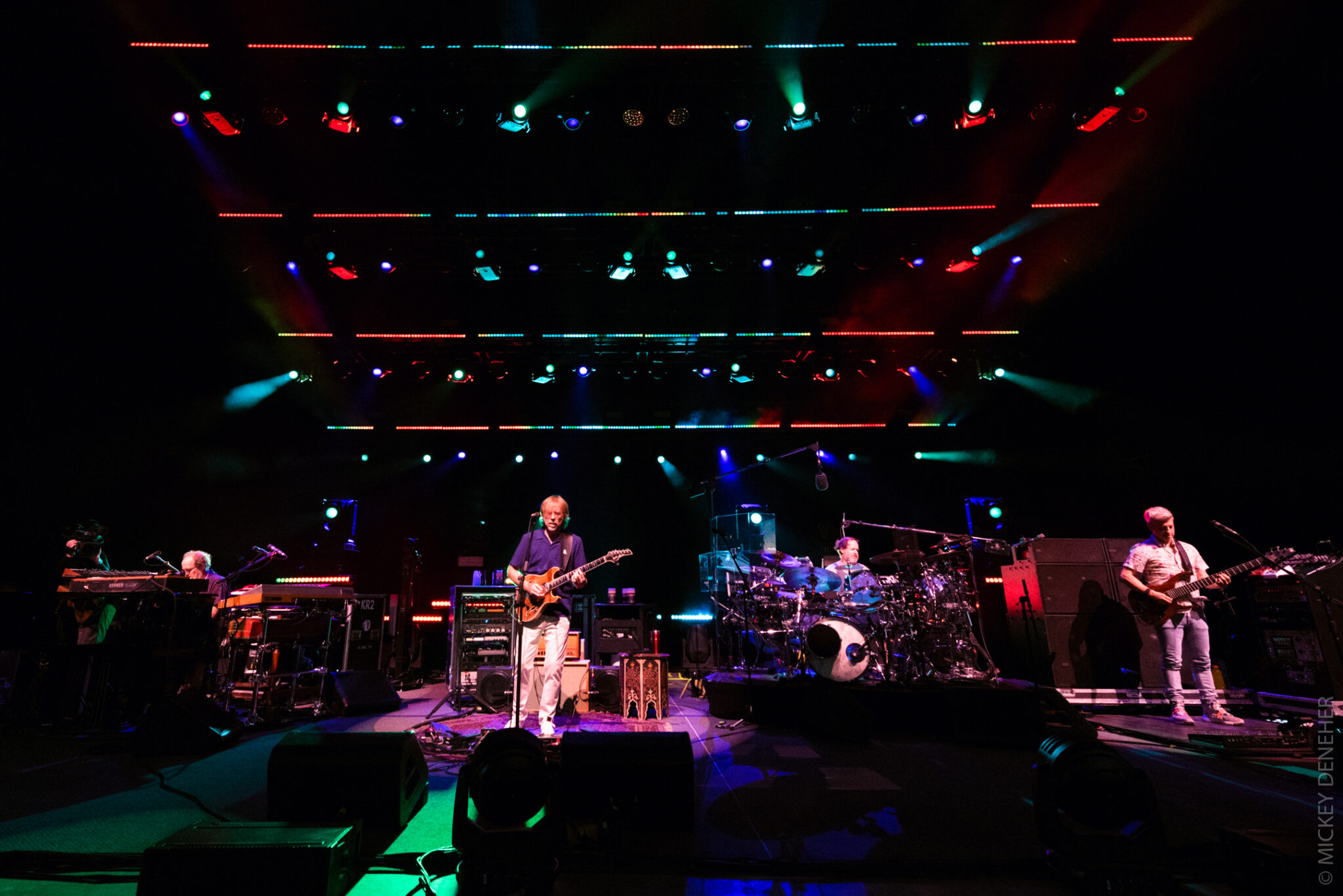 Friday night's show had a discernable old school feel to it right from the get-go, courtesy of a "Golgi Apparatus" show opener, the first one of those in nearly seven years. The "Sample In a Jar" that followed reached heights that few "Samples" have seen, fueled by a monstrous jam that evoked memories of The Baker's Dozen and is a must hear. The rest of the first set featured other older songs like "Timber" and a "My Friend My Friend" > "Guelah Papyrus" sequence. And it wasn't just limited to originals, with "My Soul" and a raucous and much welcomed "Walk Away" to close out Bethel's opening set.
In typical fashion, Phish stretched things out a tad in the second set with a boisterous "Mr. Completely" to start that set the stage for an incredibly captivating "You Enjoy Myself." Bassist Mike Gordon shined on a cover of "Boogie On Reggae Woman" later on which preceded a harmonious "Scents And Subtle Sounds" with a wonderfully slow build in emotion. The closing sequence on Friday night reverted back to the 'classic' format with a trifecta of "Wilson" > "Possum" > "Cavern."
Phish Bethel Woods Center For The Arts – Bethel, NY 7/22/22
Set 1: Golgi Apparatus > Sample in a Jar, My Soul, Gumbo[1] -> Saw It Again > Timber (Jerry the Mule) > Meat, Lawn Boy > My Friend, My Friend > Guelah Papyrus, Brian and Robert, Walk Away
Set 2: Mr. Completely > You Enjoy Myself > Fuego > Joy, Boogie On Reggae Woman, Scents and Subtle Sounds > Wilson > Possum > Cavern
E: A Life Beyond The Dream
[1] Unfinished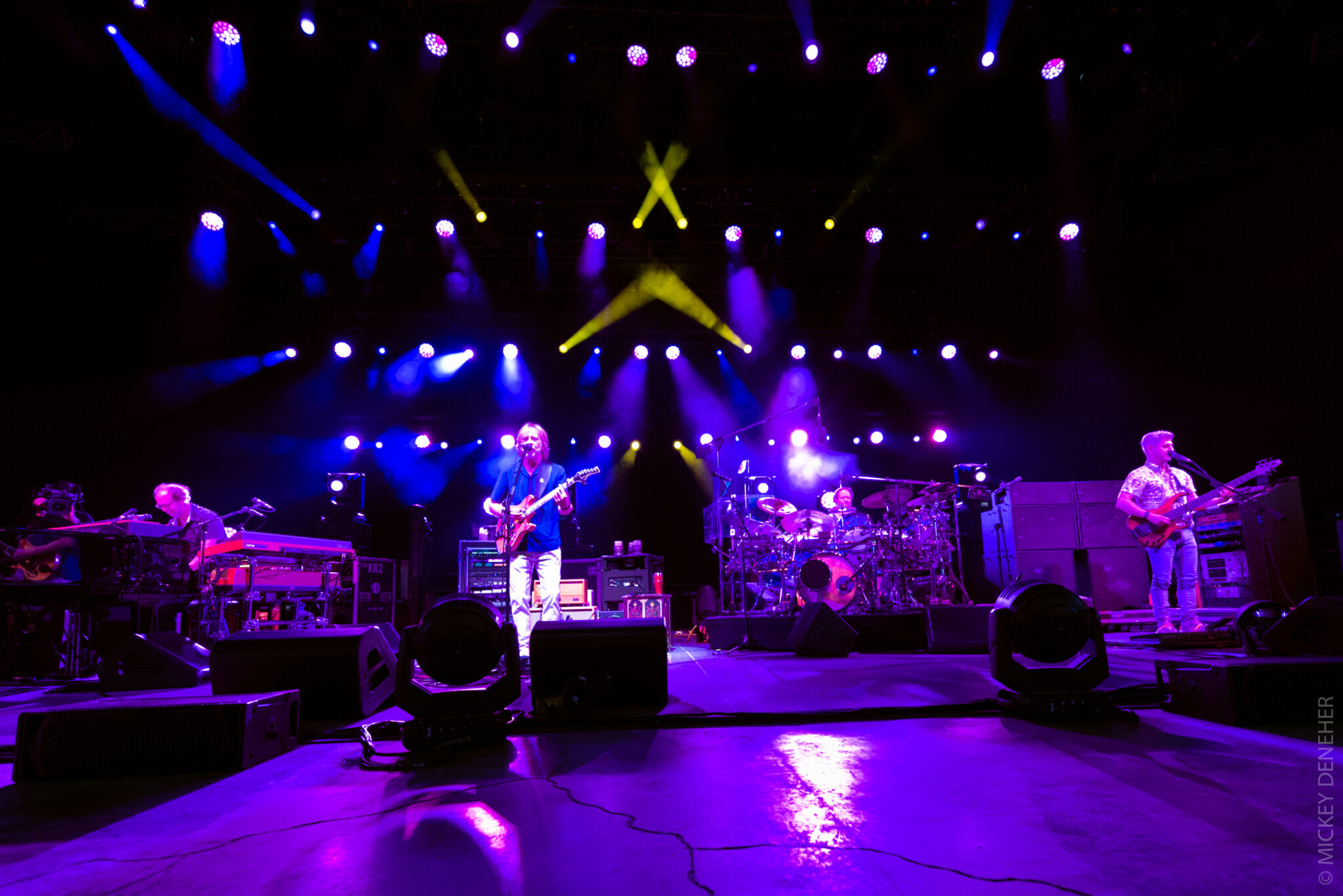 Phish returned to Bethel Woods on Saturday night for one more go 'round and the old school vibes were thrown out the window right away with a show opening "Evening Song," a tune from the band's recent Sigma Oasis release and only the fourth one ever performed live. Next, the band dusted off some Kasvot Vaxt material with "Turtle In The Clouds" and Gordon and Trey Anastasio's signature dance moves on full display. The emotional peaks of the opening set were handled by a "Fast Enough For You" that fed right into the ever majestic "Divided Sky."
Phish made the last set, and certainly the encore, count before heading out of Bethel Woods. A somewhat surprising "Prince Caspian" began the proceedings before Phish injected a mega-dose of funk with a sterling cover of The Talking Heads' "Crosseyed and Painless." A mid-set "Miss You" served as a needed breather before the set later concluded with two more vintage jam staples in a "Twist" > "Carini" combination. To cap things off for a memorable two-night Bethel run, Phish played not one but five songs, clearly not wanting to leave just yet. A "Horse" > "Silent In The Morning" traditional pairing kicked things off, followed by "Fuck Your Face" and the grand return of "Buffalo Bill," the first one in three years, close behind. Fittingly, on the grounds of Woodstock, the show came to end with a raging cover of "Fire" that saw Anastasio channel his inner Hendrix, replete with an instrumental run through of "The Star-Spangled Banner."
Phish Bethel Woods Center For The Arts – Bethel, NY 7/23/22
Set 1: Evening Song, Turtle in the Clouds, Vultures, My Sweet One, Undermind > Fast Enough for You > Divided Sky, Suzy Greenberg > Ghost
Set 2: Prince Caspian > Crosseyed and Painless > Miss You > Set Your Soul Free > Prince Caspian > Twist > Carini
E: The Horse > Silent in the Morning, Fuck Your Face, Buffalo Bill, Fire
Set Your Soul Free contained a short Crosseyed and Painless jam with quotes from Trey. Trey also quoted Crosseyed and Painless in Twist. Trey played The Star-Spangled Banner in its entirety during Fire.