The Ajkun Ballet Theatre performs Don Quixote – a Spanish celebration of love and laughter in a breathtaking ballet on Friday, August 12 at 7:30pm at The Egg in Albany.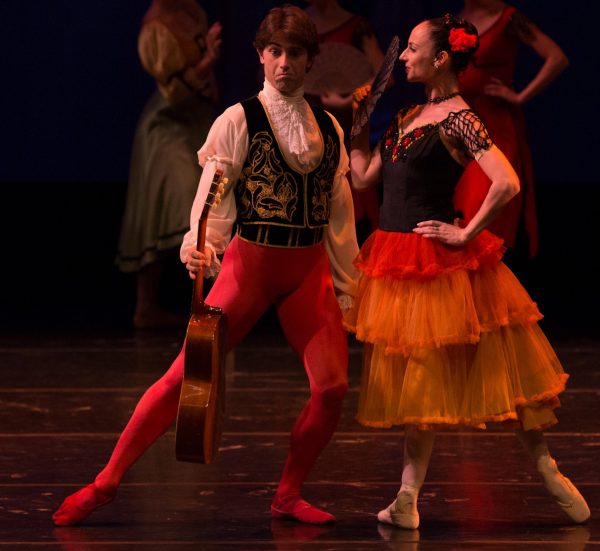 The Ajkun Ballet Theatre (AjkunBT) is a New York City based professional company presenting classical and contemporary ballets in the Greater New York area, throughout the USA and internationally. Every summer, dancers from 135 countries have travelled to Albany for this experience and many have become employed in over 150 dance companies, worldwide. 
The ballet Don Quixote is based on Miguel de Cervantes's novel "Don Quixote de la Mancha" (1605 and 1615) with music by Leon Minkus and was originally choreographed in 1869. It won global popularity with the verson of Mikhail Baryshnikov in 1980.
Company Artists Kylie Brown (Mercedes), Telmen Munkherdene (Espada), Areum Jeong (Dulcinea), Ariel Corrêa (Gamache), Ergys Jake (Don Quixote), the Ajkun Ballet Theatre's corps de ballet and talented emerging artists from all over the world perform in the show.
This version of Don Quixote, which was choregraphed by Chiara Ajkun, focused on dancing and infused with the vibrancy of Spain. The music filled with sounds of guitars and tambourines, the dancing of flirtatious gypsies and toreadors. The redesign of Don Quixote represented Chiara Ajkun's belief that to offer access to the theater for all with in mind that today's audience is worldly, educated, and well-travelled.
The performers are also outstanding in the play. Momoko Burbine (Kitri) has been with the Ajkun Ballet company since 2012, when she joined the corps de ballet from her native Osaka, Japan. Momoko quicky rose for the astonishing petite allegro and romantic finesses. Basilio is also performed by an electrifying dancer, Kelvis Tafaj, who presents elegant charisma from his energy, physicality, gravity-defying leaps. Tafaj joined the Ajkun Ballet in 2014 from Tropojë, Albania, and performed Ajkun's works throughout Italy, the UK, Argentina, Brazil and Bolivia.