Seeing the Grateful Dead on a hot summer night is a quintessential live music experience. That not being an option these days, seeing a founding member construct a crack team of musicians to recreate their music on a hot summer night will have to suffice. And at 82 years young, Phil Lesh is still trucking along doing just that.
Seeing a big summer show plopped right in the middle of an apple orchard might not be a quintessential live music experience, but for Central New Yorkers it is quickly becoming one. Beak and Skiff Orchards, booked by Dan Smalls Presents, is a hot destination for some of the areas biggest shows this summer and on this night, Phil Lesh and his Friends, among them his son Grahame Lesh, Stu Allen, Jason Crosby, Cody Dickinson and Amy Helm, brought their lowercase-f friends to the orchard to join in the communion of live Grateful Dead music. The apple trees immediately bordering the concert field were well fumigated at this show. Keep an eye out for a special THC-infused apple variety this fall.
It wasn't even seven o'clock and the crowd was deep and grooving to "Reuben and Cherise" while the band was showing the tightness of a group that had been together for decades, not days. All 5 members were improvising at a high level and then reined it back in for a tight and tidy finish.
Amy Helm came on from her watching perch just behind the stage a few songs in to lead the band on Bob Dylan's "When I Paint My Masterpiece." She was a splash of color breaking through the grays and dark blues, slinking about among the statuesque guitarists. Such a beautiful voice, the only regret from the evening was that she was not utilized more fully. There was a great mix of vocals throughout the night with Stu, Phil, Grahame, Phil, and Amy all taking leads. Still, a bit more from Amy would have been welcome.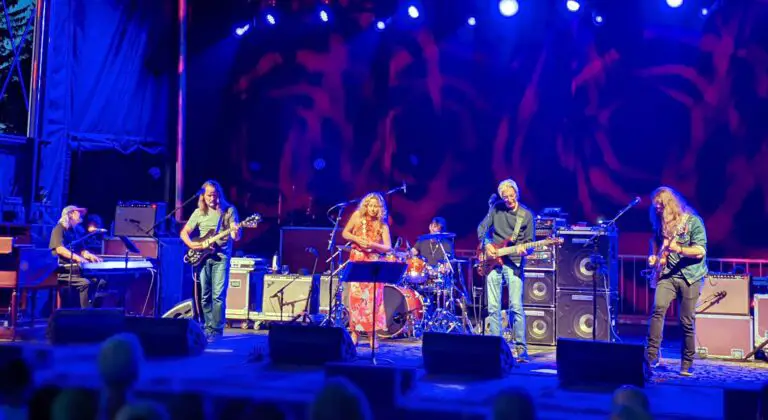 After a solid warmup set, the band came out of the gates for part two with a magnificent "Playing in the Band." All five musicians playing circles in and around each other, listening and reacting, as they carried it through multiple distinct sections, rocking, groovy, spacey. Through it all, a highlight machine emerged from the back, Cody Dickinson on drums. Not typically seen anchoring such free form improvisation, he was a constant flurry of activity, holding the pieces together while maintaining a long leash with which to flourish himself.
"Cassidy" followed and was also an unexpected highlight, going where "Cassidy" is not typically known to go. Crosby moved to the electric piano which got it grooving with some late-70's Dead energy and behind more stellar drumming and playing from everyone, it just launched into the stratosphere for one hell of a jam.
"Mountains of the Moon" similarly went atypically off the beaten path. Phil and Grahame had a nice father and son catch, passing the ball back and forth, guitar and bass lines playing off each other. Crosby grabbed his fiddle to mix it up further and the whole thing eventually dove into a deep oozing rumble. Phil hit on a nice dub groove and just sat with it for a few minutes and things got pretty groovy and interesting before fizzling right into a fun and bright "China Cat Sunflower">"I Know You Rider" that had all the Friends on vocals, and friends too, in a big old singalong.
Prior to the "Eyes of the World", "Brokedown Palace" encore that would send everyone back home with huge smiles, Phil came out to encourage everyone to become organ donors, as he's been doing for 24 years. 24 extra years we've all had to enjoy his incredible music. "You give us the hope and the heart, and we give you the music," he said.
Phil and Friends – Beak and Skiff, Lafayette, NY – July 8, 2022
Set 1: Dupree's Diamond Blues, Rubin and Cherise, Minglewood Blues, When I Paint My Masterpiece, Dire Wolf, Casey Jones, Ripple
Set 2: Playing in the Band, Cassidy, St. Stephen > Born Cross-Eyed, Mountains of the Moon, China Cat Sunflower > I Know You Rider
Encore: Eyes of the World, Brokedown Palace