Fox Fest has announced its 2022 lineup which will kick off August 6th. Fox Fest is a great opportunity to enjoy the summer by relaxing, listening to great music, eating great food, and socializing.
A non-profit outdoor music event located at the home of George and Dodi Ryan, in Syracuse, Fox Fest will host music performed by 8-10 local bands, an attractive venue and food sold by Limp Lizard and the Spud Shack.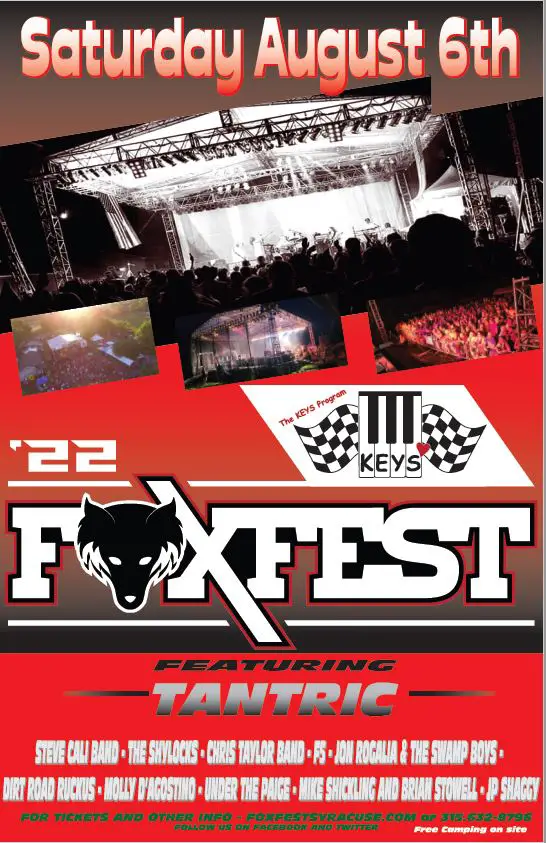 Supporting different charities for 14 years, Fox Fest is benefiting the KEYS program this year. The KEYS Program a nonprofit organization that has been delivering smiles since 1993 by providing award-winning music therapy outreach, family respite days and sibling support programs to kids battling cancer and those in need of healing.
Fox Fest is funded by the generous donations of local sponsors and attendees. A $30 donation upon entry is the cost for the day, and patrons can donate prior to July 10th and receive a free shirt. Pre-sale forms are located at Tanner Valley Golf Course, Limp Lizard in Western Lights and Franks Moondance.
Along with the music event, there is also free camping on site. Sites are first come, first serve. There is plenty of room for everyone to RV, Pop-Up, tent, or pass out under the stars.
Pets are not allowed for both the safety of crowds and pets. No alcohol is provided but patrons are allowed to bring their own beverage. More information could be found at foxfestsyracuse.com
Fox Fest Lineup
12-1pm Steve Cali Band
1:15-2pm The Shylocks
2:15-3:15pm Chirs Taylor Band
3:30-4:30pm F5
4:45-5:45pm Jon Rogalia & The Swamp Boys
6-6:45pm Dirt Road Ruckus
7-7:45pm Molly D'agostino
8-9:30pm Under the Paige
10-11:30pm Tantric