The Beau Fleuve Music & Arts Celebration returns to Buffalo for its sixth annual event at the Buffalo Central Terminal on August 28. The event includes a diverse set of musical performances, art exhibits, a silent disco, speaker panels, and much more.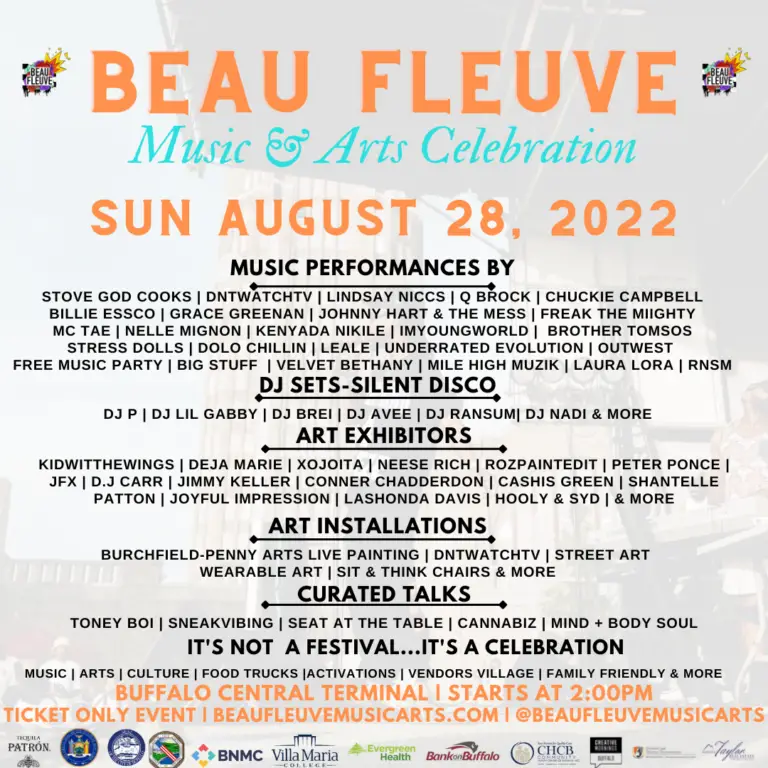 The one-day celebration, previously described as "WNY-Buffalo's Most Diverse Festival," will welcome national and international musical acts, including performances by Stove God Cooks, DNTWATCHTV, Q Brock, Lindsay Niccs, and Grace Greenan among others. 
In addition to giving space to many musical acts, the festival will also host art exhibitors kidwitthewings, Deja Marie, xoJOITA, Peter Ponce, and more. Attendees can also get a chance to see Burchfield-Penny Arts live painting, and numerous wearable and street art installations. 
The Beau Fleuve Music & Arts Celebration also includes curated talks, hosted by mind + body + soul, CannaBiz, Seat at the Table, and Toneyboi. There will also be food trucks, a beer and wine garden, a family fun area, and more.
Founded by Buffalo native Lindsey Taylor, the festival has provided audiences with a wide array of exciting content since 2017 and aims to offer the community a way to connect through the arts. The annual event has continued to grow throughout the years, starting with an audience of 700 during its debut and now boasting over 2,000 attendees.
This year's celebration will be held from 2:00pm to 9:00pm and is a ticketed event. Single and group general admission tickets can be purchased are now available on the festival's website.
Leading up to the big event, Beau Fleuve will host entertainment from August 25 and end with their celebration on August 28. The events will include a comedy show on the 25th, a happy hour on the 26th, a field day and softball game on the 27th, and finally, finish on the 28th with the music and arts festival.
Beau Fleuve Music & Arts Festival Lineup – August 28
Notable Music Performances will be by National Recording & Touring Artist STOVE GOD COOKS, DNTWATCHTV, Q BROCK, LINDSAY NICCS, GRACE GREENAN, JOHNNY HART & THE MESS, CHUCKIE CAMPBELL, IMYOUNGWORLD, MC TAE, STRESS DOLLS & MORE 
Notable Art Exhibitors include KIDWITTHEWINGS, DEJA MARIE, XOJOITA, PETER PONCE, JIMMY KELLER & MORE. 
Notable Art Installation/Activation Areas include BURCHFIELD-PENNY ARTS LIVE PAINTING, STREET-ART, WEARABLE ART, SIT & THINK CHAIRS & MORE 
Curated Talks will include MIND + BODY + SOUL, CANNABIZ, SEAT AT THE TABLE & TONEYBOI