Ballard Park, located in the heart of historic Westport on Lake Champlain, has just announced their summer 2022 concert series. This summer's concerts at Westport, New York's Ballard Park will take place on Thursdays at 7 PM, from July 7th to August 18th.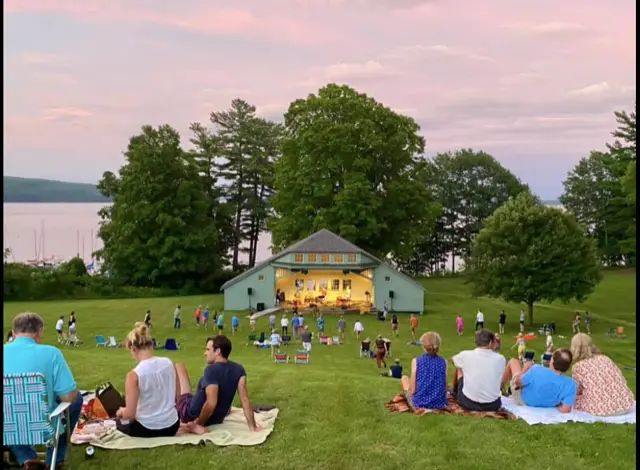 Come enjoy a beautiful, outdoor summer evening listening to some of the finest musicians in New England and the Adirondacks. You won't want to miss the beautiful view of this park either.
Ballard Park was once the location of the infamous Westport Inn, a grand hotel of the Adirondacks and a focal point of Westport summer life. Though demolished in 1967, the property was purchased by Anne Ballard ("Petey") Cerf, a long-time summer resident.
Through her visionary philanthropy, Ballard Park was established in 1989, named in honor of her parents. Ballard Park serves as a park in the Adirondacks with lake and beach access, a summer concert series, and skating rink, that is open to all. 
The summer series concerts are free to all, with open seating on a grassy hillside overlooking the Pavilion and Lake Champlain, with the Green Mountains of Vermont beyond. Blankets or low chairs are recommended, picnicking is encouraged but there will also be food available for purchase.
The series kicks off on Thursday, July 7 with Mile 12. Although their sound is rooted in traditional bluegrass, Mile Twelve surveys a broad landscape on their newest album, City on a Hill. All five band members bring their own influences and observations into the music, resulting in a project that feels contemporary, thoughtfully crafted, and relevant. City on a Hill follows significant recognition from the bluegrass community, including three IBMA Momentum Awards. 
Ballard Park Summer Concert Series lineup
July 7th Mile 12, a Boston-based bluegrass band 
July 14th Will Patton Ensemble, with Will Patton on mandolin and a musical world tour
July 21st HEARD World Music—vibrant, danceable music with a strong African beat 
July 28th Ray Vega—Vermont's master of jazz 
August 4th Meadowmount School of Music, Petey Cerf Memorial Concert — strings students from Westport's renowned summer camp 
August 11th Cricket Blue—Vermont-based folk/indie group makes magic with cellos and voice 
August 18th Big Hat, No Cattle—a hoe-down on the hillside with this upbeat cowboy Western swing group 
For more information about upcoming concerts at this historic place, visit here.