After its absence in 2020 and 2021 attributed to the coronavirus pandemic, Boston Calling returned to the athletic complex of Harvard University in Allston, MA this past Memorial Day weekend for the first time in three years. Inaugurated in 2013, the eleventh edition of the festival (it was held twice per year from 2013 to 2015) was a welcome event not only for the 40,000 fans in attendance each day (who were able to roll their tickets over from the two previously cancelled years), but also for the musical artists, some of which had yet to play their new material to a live audience.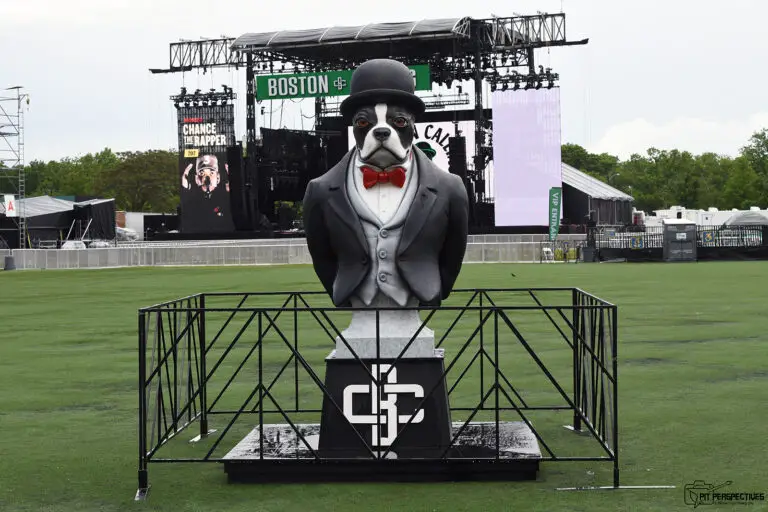 This year's headliners were heavy metal legends Metallica (formed in 1981 in Los Angeles) and industrial rockers Nine Inch Nails (formed in 1998 in Cleveland). Nine Inch Nails replaced the previously announced headliner Foo Fighters who cancelled the remaining dates on their tour following the tragic death of drummer Taylor Hawkins back on March 25. Trent Reznor, Atticus Ross and company also graciously stepped in for The Strokes on Day 2 of the festival after a late scratch Friday afternoon related to COVID-19. The coronavirus would claim one more casualty during the long weekend, King Gizzard & The Lizard Wizard, the psychedelic rock band from Australia who were initially scheduled to perform Saturday evening.
The three-day festival lineup included forty-eight (48) other artists performing across four stages, including the following: HAIM, The Struts, Rüfüs Du Sol, Cheap Trick, Avril Lavigne and Oliver Tree on Day 1 (Friday); Black Pumas, Run The Jewels, Orville Peck and Glass Animals on Day 2 (Saturday); and Weezer, Modest Mouse, Goose and Japanese Breakfast on Day 3 (Sunday).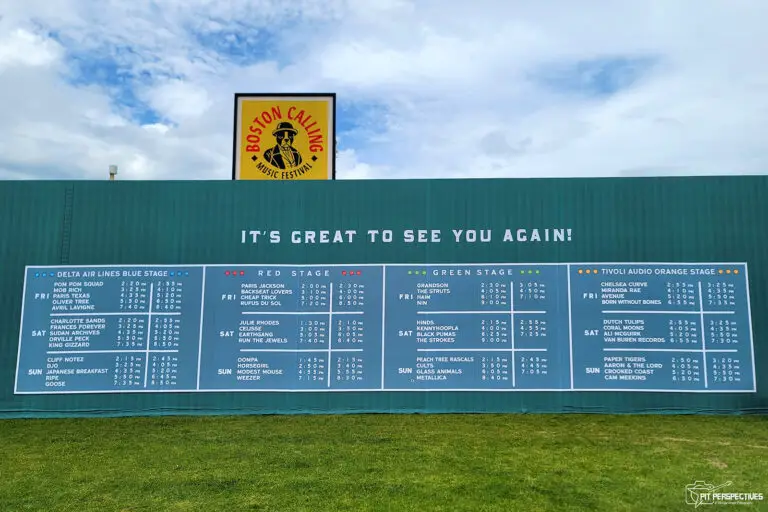 Across social media accounts related to Boston Calling, it was hard not to notice several festivalgoer posts voicing their displeasure with the line-up changes and merch lines – which did appear to be long every time I walked by. That aside, the festival was a welcome reprieve from the recent and very sad news regarding gun violence in our nation, with relatively few other hiccups.
Day 1 (Friday)
The gates to the festival grounds opened promptly at 1:00 pm and patrons had four stages (designated by color) from which to choose from throughout the day – Green, Red, Delta Airlines Blue and Tivoli Audio Orange (the smallest of the stages which showcased Boston-area acts). Being a fan of Nine Inch Nails since the early '90s and wanting to witness their set as close as possible, I opted to 'camp out' at the Green Stage where the band would be playing a mere eight hours later! And I was not alone, as I met Jeremy Dubiel and Scott Mack from Holyoke, Massachusetts and Stafford, Connecticut, respectively, who also had the same game plan as I did. Little did I know at the time, but these two gentlemen would be my concert cohorts for the entire weekend.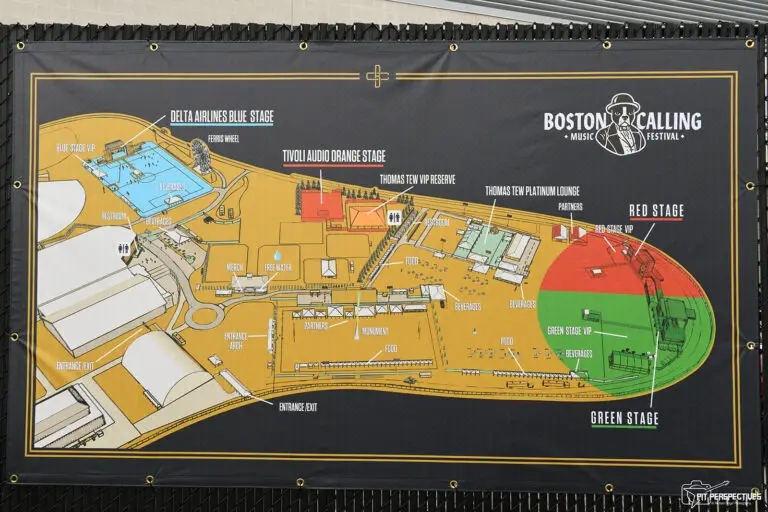 After devouring the first of four Tasty Burgers I would have this festival weekend (they are delicious and we don't have these in New York!), I made the short walk over to the adjacent Red Stage where model/actress/singer Paris Jackson (daughter of the "King of Pop" himself) would be the first performer of the weekend. Nearing the end of her 30-minute set, I headed back to the Green Stage to catch Grandson, a Canadian-American singer that can best be described as an Eminem-Justin Timberlake hybrid. Of the fourteen (14) musical acts I was to see over the next few days, Grandson would be right near the top. I was blown away by his onstage energy as he repeatedly flew from the top of the drum kit riser, ran along the perimeter of the stage apron clutching the hands of his fans or climbing the security rail as he jumped into a sea of people.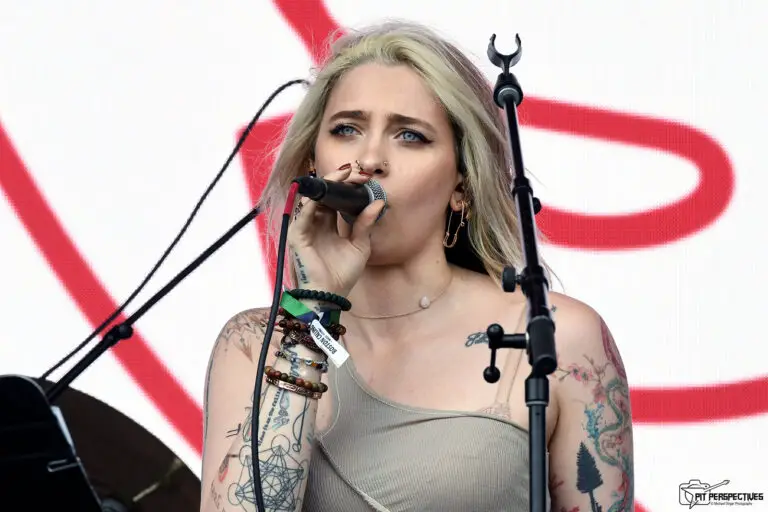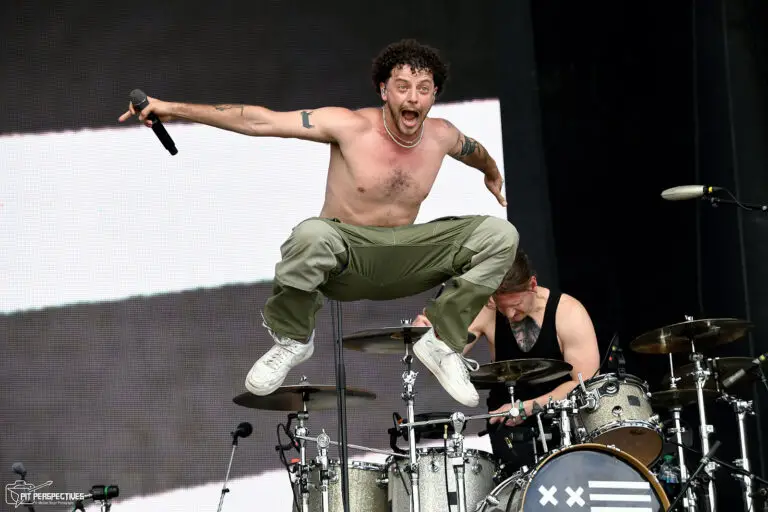 Shortly after Grandson's set concluded, Rick Nielsen and Rock & Roll Hall of Famers Cheap Trick appeared on the Red Stage, thrilling the crowd with their hits, including "Dream Police," "The Flame," "I Want You to Want Me" and "Surrender," performed with Paris Jackson.
Up next on the Green Stage were The Struts, a British rock quartet fronted by their flamboyant frontman, Luke Spiller. Among several standout offerings from their 8-song set was the closing number "Could Have Been Me," along with the '70s style pop duet "Low Key In Love," performed with Paris Jackson. Ms. Jackson was making the most of her Boston Calling debut as she navigated back and forth between the Red and Green Stages, looking like she was having the time of her life.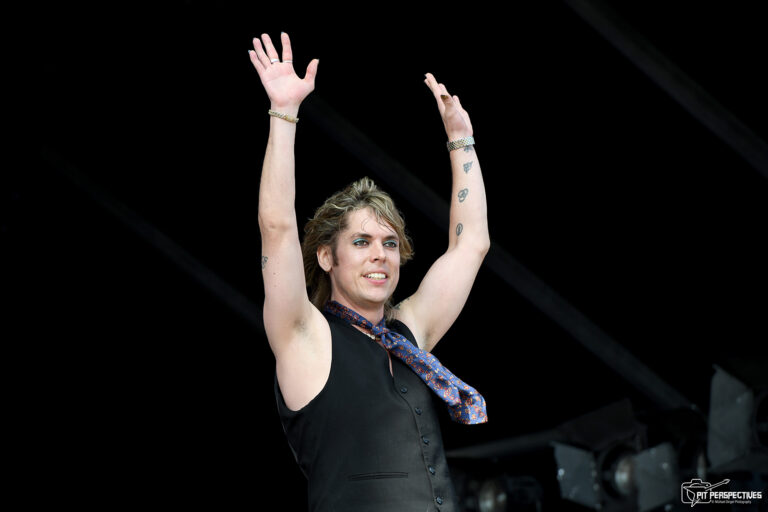 The third act to hit the Green Stage on Day 1 were HAIM, a pop rock band based in Los Angeles comprised of sisters Danielle, Este and Alana, the last of which who starred as an actress in last year's Licorice Pizza, written and directed by Paul Thomas Anderson. Clad in matching black bikini tops and stylish leather pants, all three young women displayed their musical prowess, each playing several different instruments (guitar, bass, drums, piano) with great proficiency.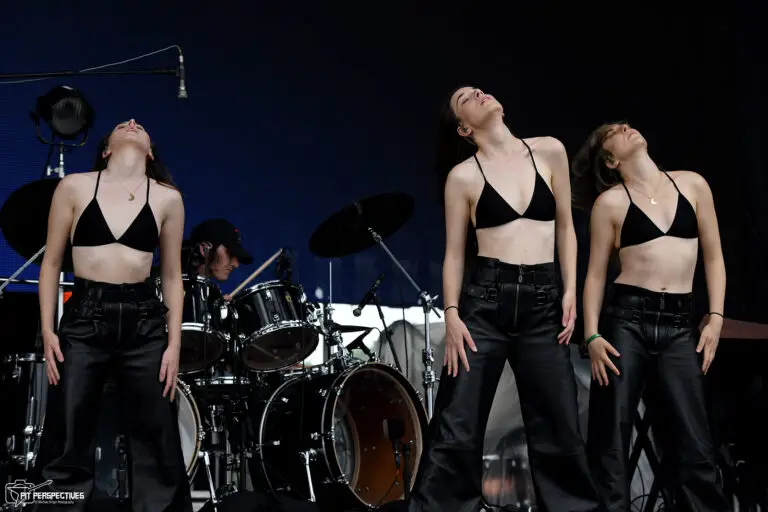 Right on schedule, Nine Inch Nails entered the main stage at 9:00 pm Friday night to thunderous applause from the audience grateful to have them there. Their first tour in nearly four years, this band holds a special place in the collective heart of Generation Xers, who first fell in love with Reznor's studio wizardry more than 20 years ago. At that time, there were no other bands creating their now signature, chaotic sound of drum machines, keyboards and guitars, accompanied by dark and tormented lyrics.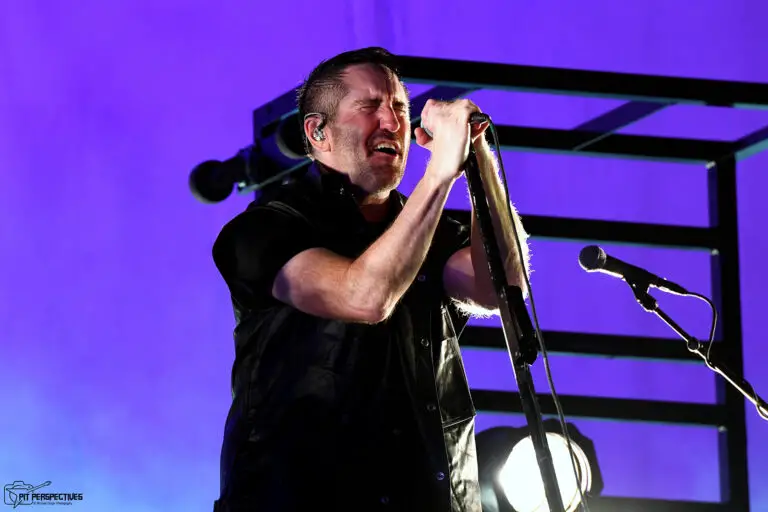 Side-by-side on stage with fellow composer\producer Atticus Ross, a frequent collaborator on numerous film scores, Nine Inch Nails' performance was also visually stunning, set against high-intensity, flashing strobe lights. The 21-song set list covered a wide range of their discography, including "Closer," "Sanctified," "The Perfect Drug," "Head Like A Hole" and "Hurt," including a stirring cover of David Bowie's "I'm Afraid Of Americans." For any fans who missed Friday's performance, or wanted to do it all over again, they had less than 24 more hours to wait for an encore performance on Saturday night.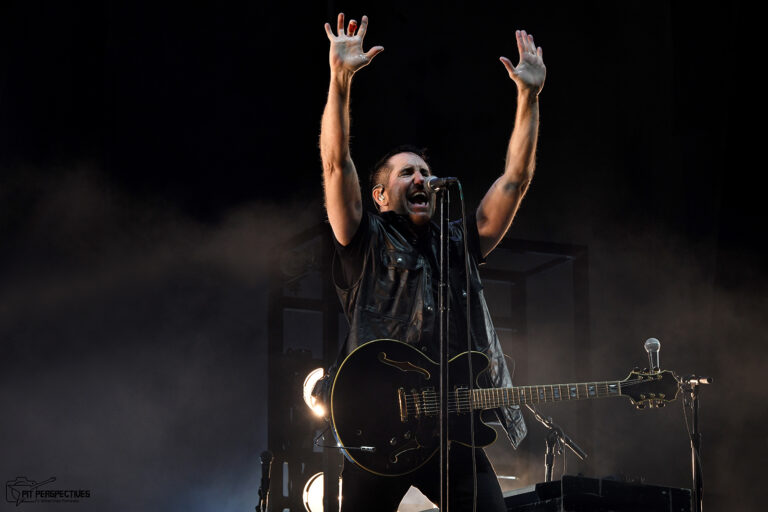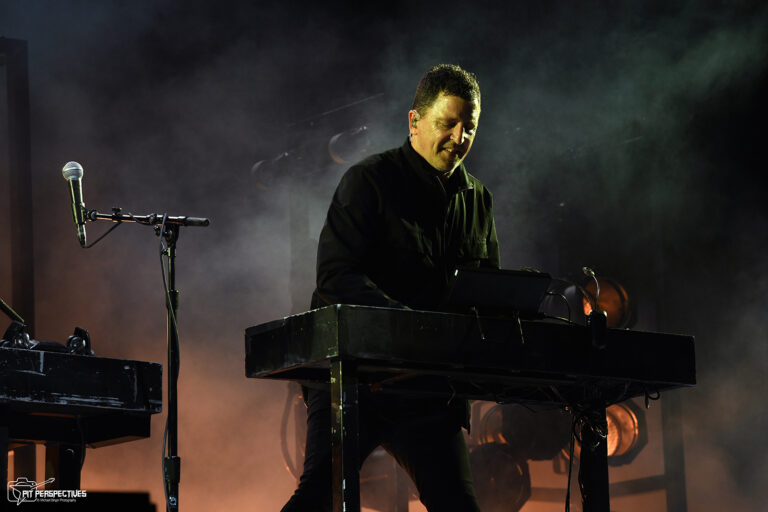 Day 2 (Saturday)
After spending most of the day at the Green Stage on Friday, I perused the entire festival grounds to take in the entire vibe of the festival. Arriving just as the Boston-based indie band Dutch Tulip's last song was finishing up on the Tivoli Audio Orange Stage, I made my way to the Blue Stage where Charlotte Sands was set to perform at 2:20 pm. Shadowed by a 100-foot Ferris wheel that is a staple at Boston Calling festivals, the Blue Stage's floor area was packed with mostly young adult fans waiting in anticipation for the hip-hop rapper with folk-style lyrics.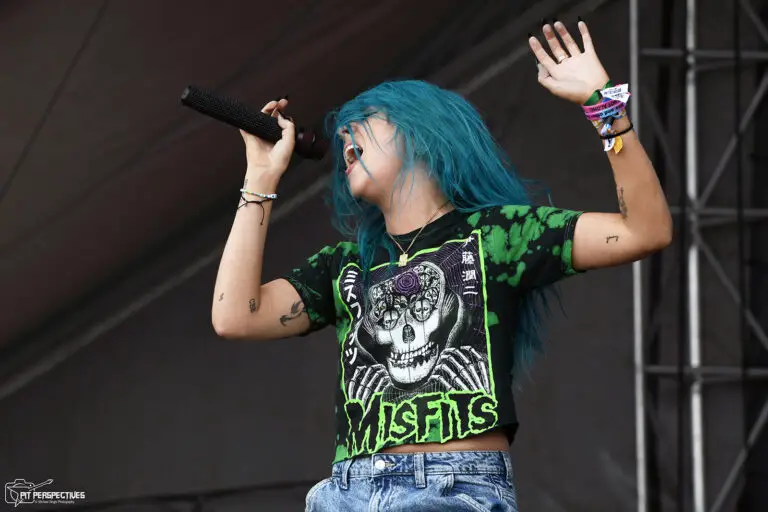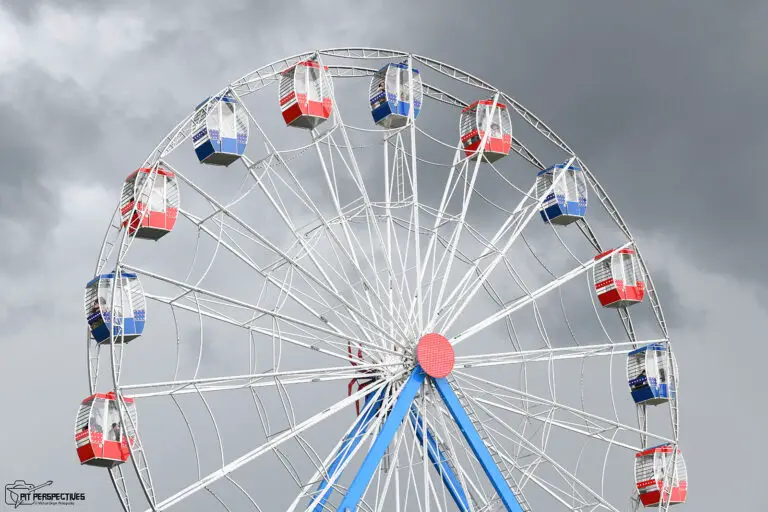 Not wanting to miss the end of Hinds' set, a Spanish indie rock band from Madrid, formed in 2011 and comprised of Carlotta Cosials, Ana García Perrote, Ade Martin and Amber Grimbergen, I made the longest walk between stages back to the Green Stage. Near the conclusion of their set, I made the quick jaunt over to the Red Stage, weaving through the crowd until I was a few rows back to see Celisse, an R&B and soul singer-songwriter who plays face-melting, blues-tinged guitar with infectious hooks.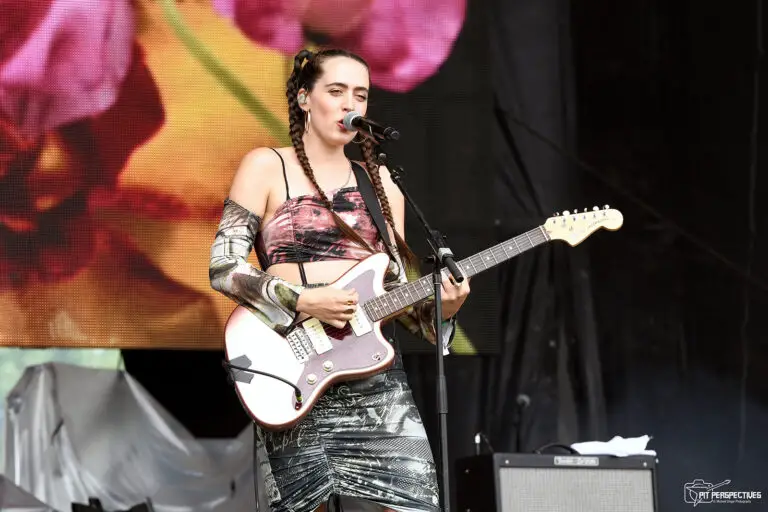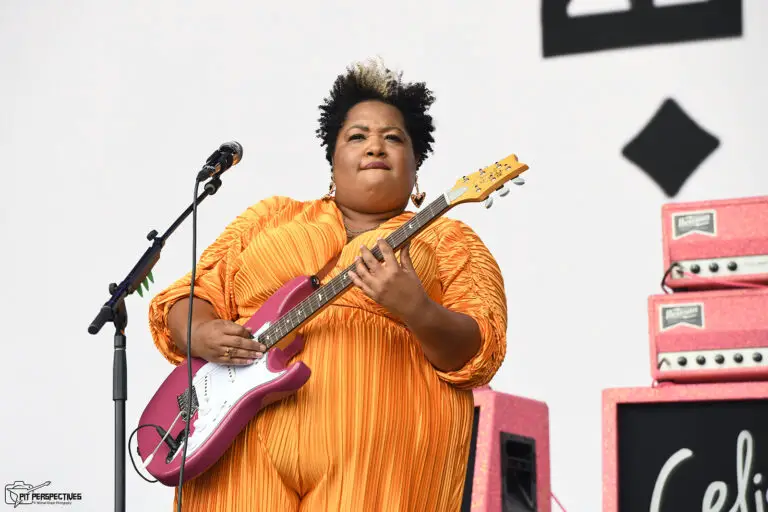 After a brief stop at one of the strategically-placed medic tents for a bandage wrap (my feet were already killing me early on the second day), I headed back to the Blue Stage to catch Frances Forever, best known for their song "Space Girl," which became a viral hit on TikTok in 2020, at 3:30 pm. However, moments before their time on stage, it was then when I noticed that the skies above had turned an ominous gray, and the stagehands did too – as they quickly swooped in to cover up Frances Forever's instruments under plastic sheeting.
Only a couple of minutes later, due to nearby lightning and thunderstorms, a directive came over the PA system that all fans and staff were to evacuate the festival grounds and take shelter in nearby Harvard Square or Harvard Stadium. I was one of the many thousands who headed to the stadium, packed into the historic concourse beneath the stands for nearly the next 2 hours. Time passed quickly, however, aided by a positive attitude from the collective people seeking shelter from the torrential downpour. It was in these damp and dark quarters where an impromptu sing-along erupted to the chorus of Neil Diamond's "Sweet Caroline," an eighth inning tradition at nearby Fenway Park, home of the Boston Red Sox. Others passed the time by participating in random "Go Celtics" chants ahead of their Game 7 NBA conference final playoff game that was to take place at TD Garden the following night.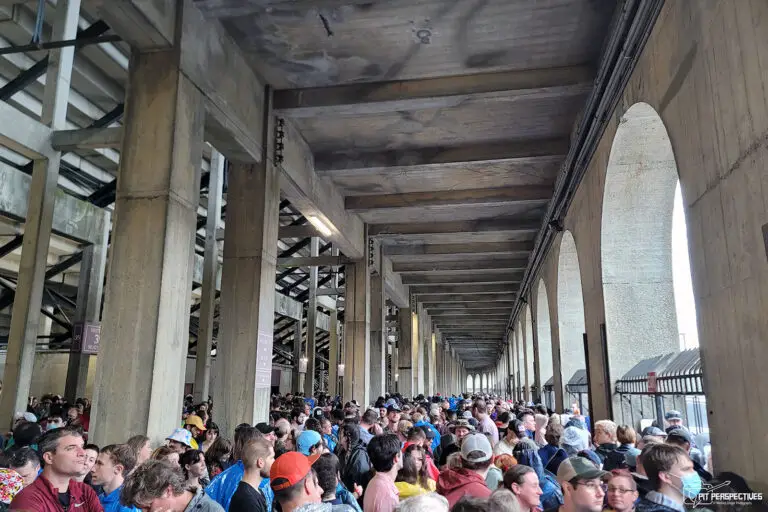 With the rain finally letting up, but before the fans and staff were permitted to return to the festival grounds, I made the decision to return to the main grounds in search of a 'porta potty.' It was there that I encountered an eerie, almost post-apocalyptic scene – a field that was once filled with thousands upon thousands of concertgoers earlier in the day, was now completely void of any souls (albeit two pink rain poncho clad girls). Seeking refuge in a beer tent until the last of the rain had finally dissipated, fans were allowed to return at approximately 5:30 pm. I watched as they trickled in, back through the main gate, while the Green and Red stages were being brought back to life by various staff and roadies.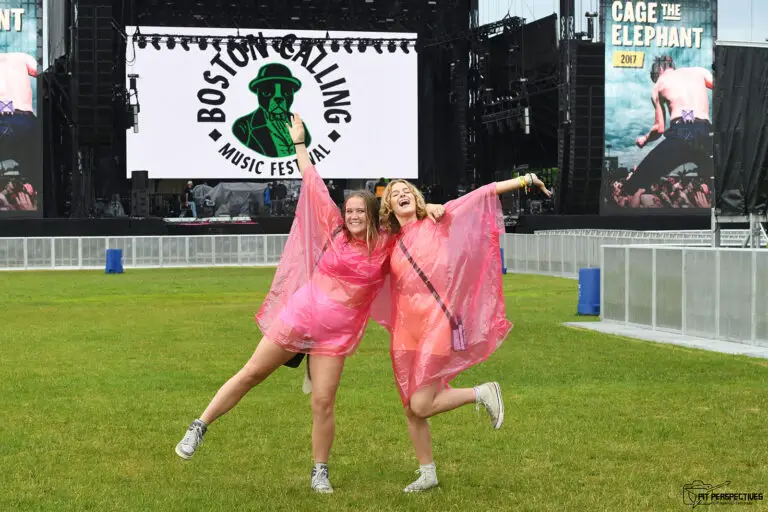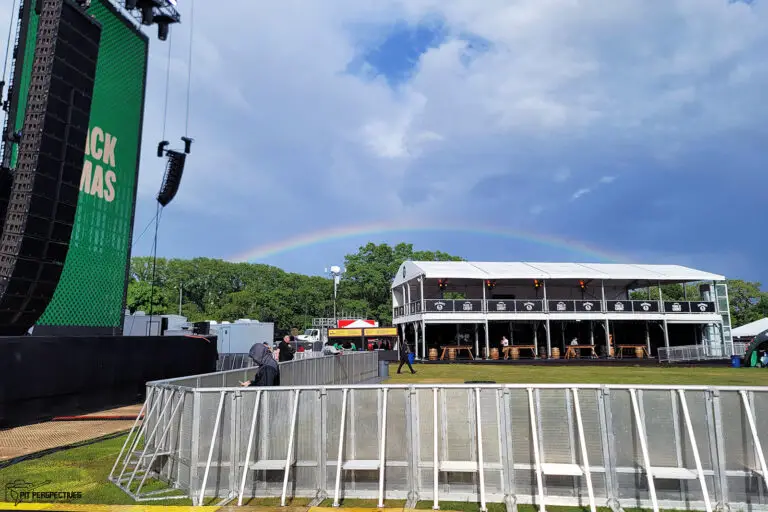 With a revamped schedule for the remainder of the day, the musical festivities would resume with Black Pumas on the Green Stage at 6:30 pm, a psychedelic soul band based in Austin, Texas, led by singer/songwriter Eric Burton and guitarist/producer Adrian Quesada. Coming off their first Grammy Award nomination in 2020 for Best New Artist, Mr. Burton thoroughly enjoyed himself, playing tag with the photographers in the pit as they chased him while he posed for the camera with the fans as a backdrop.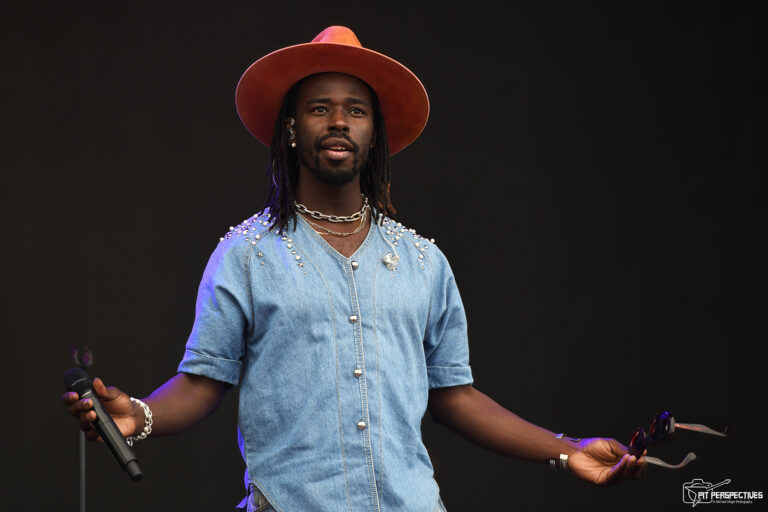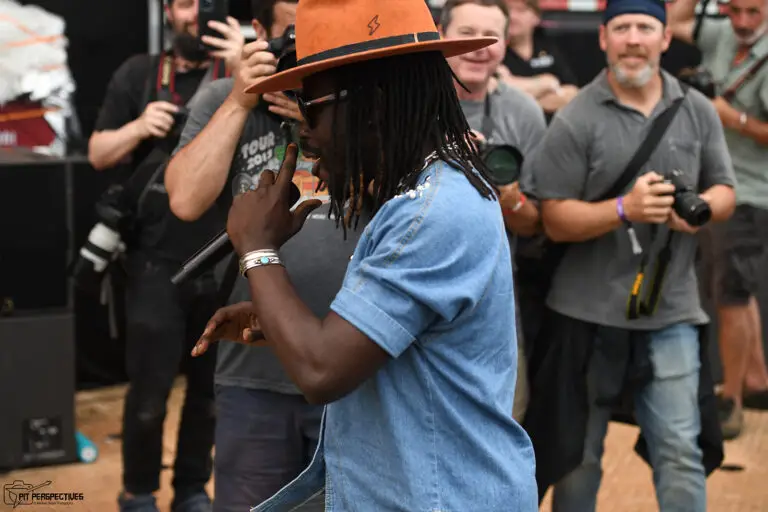 Outside of Metallica and Nine Inch Nails, I was most excited to see the performance by Run The Jewels (a.k.a. RTJ) on the Red Stage, which commenced shortly after 7:30 pm on Day 2. RTJ are the hip hop duo composed of Atlanta-based rapper Killer Mike and Brooklyn-based rapper and producer El-P. The former is a sociopolitical activist whose anti-establishment messaging and calls for peace and an end to police violence are evident throughout his lyrics. As the sun began to set halfway through RTJ's set, the mosh pit opened up while a few crowd surfers rode the wave to the front of the stage where they landed into the arms of waiting security.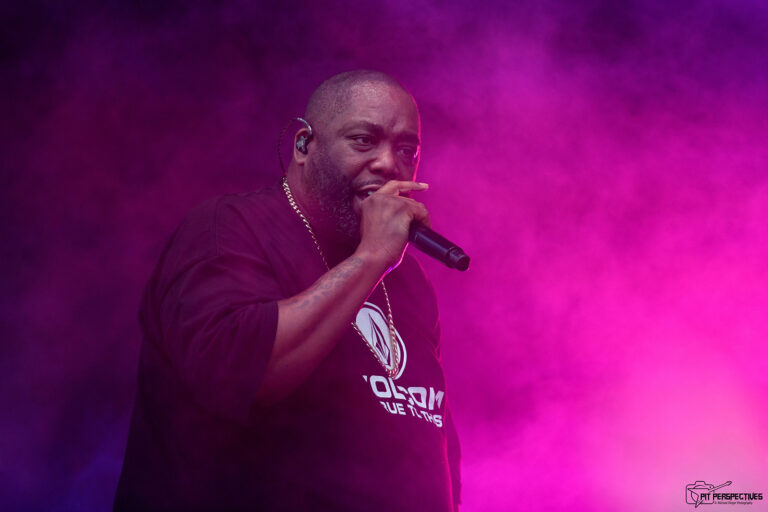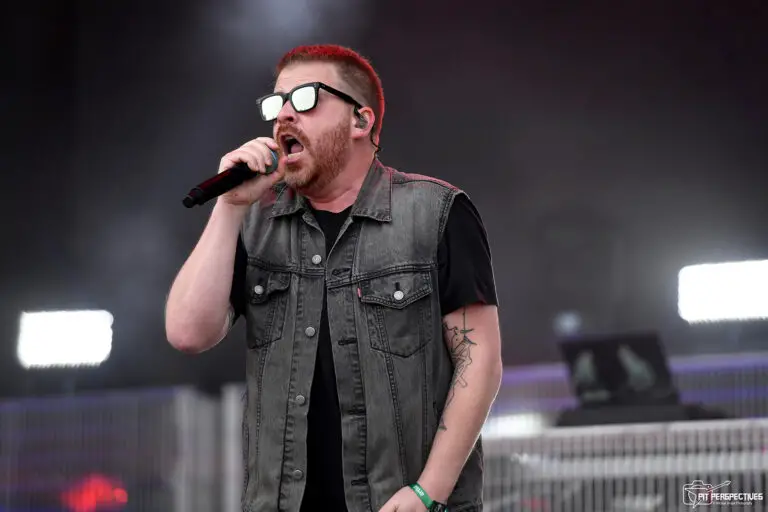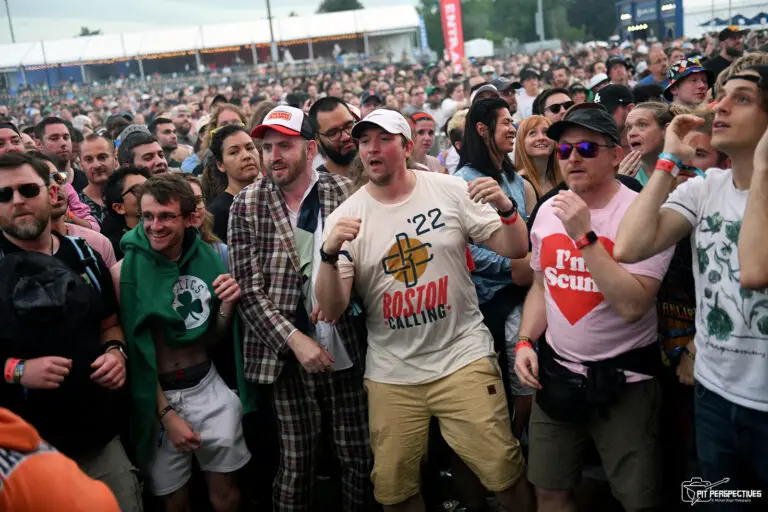 After by-passing the Tasty Burger food tent, it was not easy (trust me), I had more than thirty other options from top, local area restaurants to choose my next meal from. I finally expanded my culinary horizons and opted for a mouth-watering pastrami Reuben from Mamaleh's, a sandwich that would rival the famous Katz's Deli, a Jewish institution in Lower Manhattan dating to 1888. After washing it all down with an Oatmeal Stout by Beer Geek Breakfast (7.5%), I maneuvered my way through the packed audience towards the rear of Harvard's athletic field where I positioned myself to view the remainder of Nine Inch Nails' set from the exact opposite vantage point from the previous night, taking in the enormity of the venue and the miraculous stage lighting. Hoping to grab an Uber ride back to my Airbnb before the local streets of Allston were crammed with others trying to do the same thing (a lesson learned from Friday night), I exited the festival grounds while Nine Inch Nails were nearing their set's completion – mission accomplished.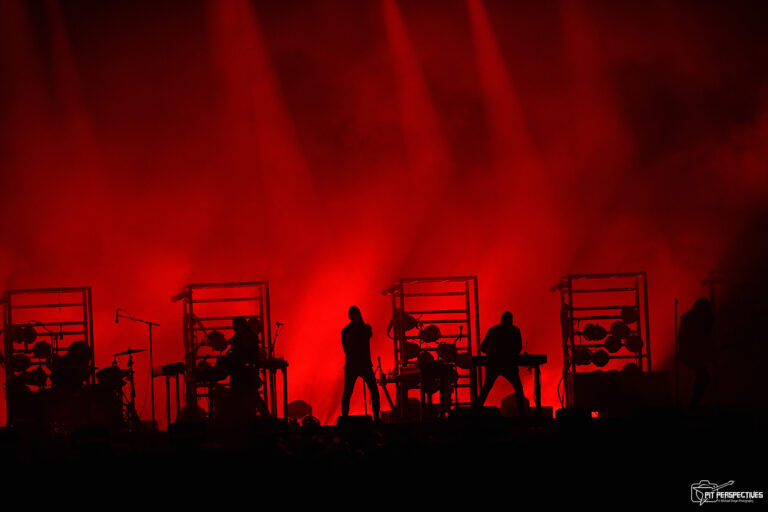 Day 3 (Sunday)
The festival's final day arrived without any other surprises such as another line-up change or looming bad weather – aside from the size of the crowd, because James Hetfield, Lars Ulrich, Kirk Hammett and Robert Trujillo of Metallica would be concluding the festival weekend in epic fashion later this night.
But before Metallica, there was still a full afternoon of music to be had by all. The first band to play the Green Stage on Sunday were Peach The Rascals, an indie music collective from San Jose, CA who also achieved fame via TikTok with their song "Mariposa" last year. Cults followed next, the pop band duo of Madeline Follin and Brian Oblivion hailing from New York City. Although their set was hindered with an apparently faulty guitar instrument cable that was not resolved until the final song, their heavily-layered instrumentation was still a joyful listen.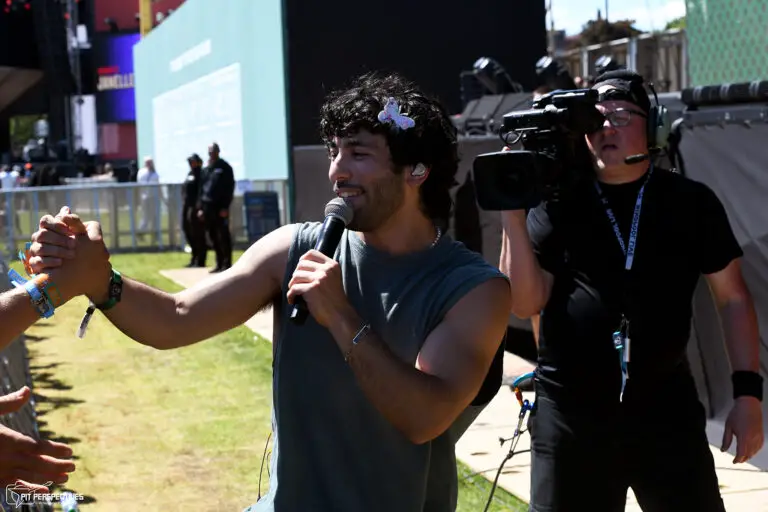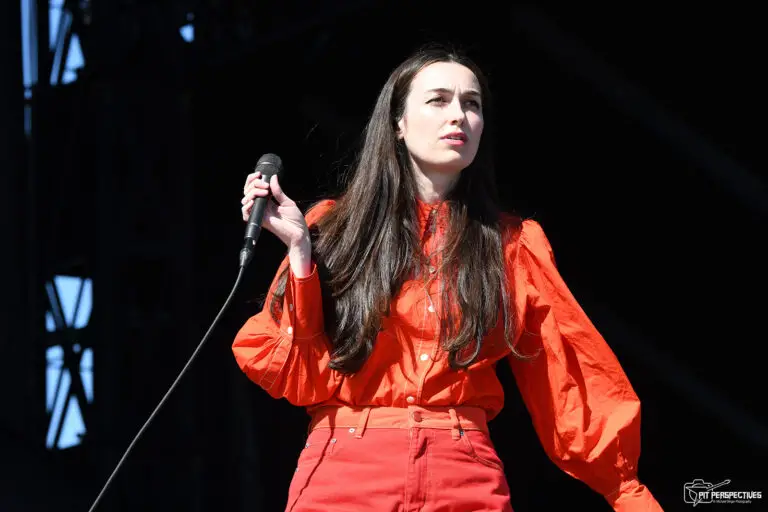 The Green Stage's penultimate act of Day 3 were Glass Animals, a jovial rock band from England that lead singer Dave Bayley formed in 2010 with childhood friends Joe Seaward, Ed Irwin-Singer and Drew MacFarlane. Easily one of the best performances of the weekend, their stage setup was the cover of their latest record Dreamland (released in August 2020), reincarnated with hanging neon signs, pastel purple palm trees, a giant television and pyramid, basketball hoop, and of course, their pineapple mascot.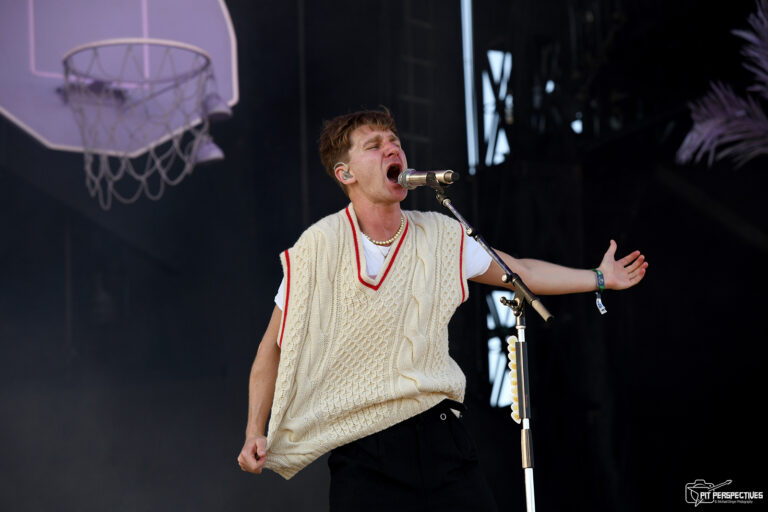 Not wanting to chance it by veering too far away from my coveted spot on the Green Stage's rail, I made the difficult decision to sacrifice checking out performances by Japanese Breakfast (fresh off their Saturday Night Live season finale appearance) and Goose on the Delta Airlines Blue Stage, as well as Modest Mouse and Weezer on the Red Stage. A case of FOMO hit me hard as I glanced over in the direction of the Red Stage often, taking in the visual images of Rivers Cuomo and his Weezer bandmates as they appeared on the large, vertical video boards on either side of the stage.
On this very hot Boston afternoon, dehydration also hit me hard, as well as many others in the first several rows who were packed shoulder-to-shoulder like sardines in a tin can. Thankfully, security guard Scott Turner, who I had gotten to know earlier in the day from chatting with him, repeatedly pushed bottles of water into the waiting hands of desperate audience members.
As dusk approached, and Weezer's encore offering of "Buddy Holly" having concluded, Tuukka Rask, the recently retired goalie who played for 15 seasons with the Boston Bruins, took a quick seat at Lars' drum kit for a quick photo op, before he and his small entourage exited stage left to the crowd chanting, "Tuukka, Tuukka, Tuukka!"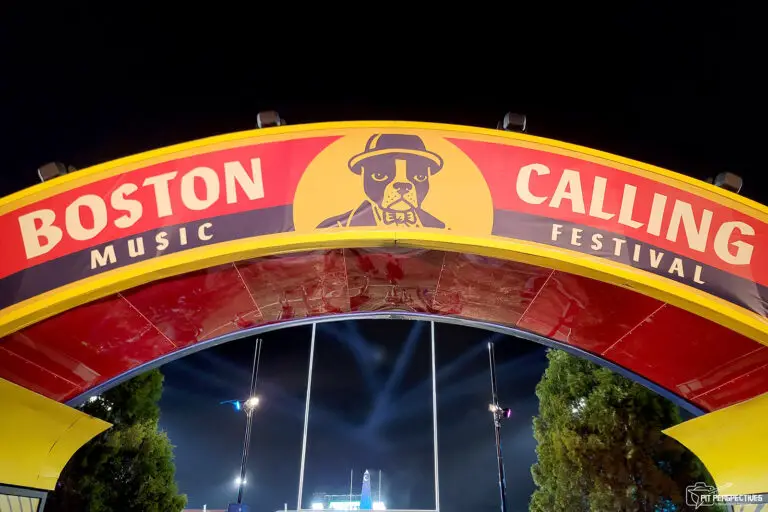 Not before long, AC/DC's "It's a Long Way to the Top (If You Wanna Rock 'n' Roll)" played over the house speakers, signaling Metallica's imminent arrival. However, as per tradition at every Metallica show since 1983, Ennio Morricone's "The Ecstasy of Gold" played next, accompanied by video footage from the classic 1966 Western film starring Clint Eastwood, The Good, the Bad and the Ugly. At 8:50 pm, drummer Lars Ullrich was the first band member to appear on stage in front of the largest Boston Calling crowd of all time, followed shortly by guitarist Kirk Hammett and bassist Robert Trujillo. James Hetfield was the last to arrive, and equipped with his iconic white, well-worn Flying V, these metal gods launched into the first of sixteen songs, "Whiplash," from their debut studio album Kill 'Em All (1983).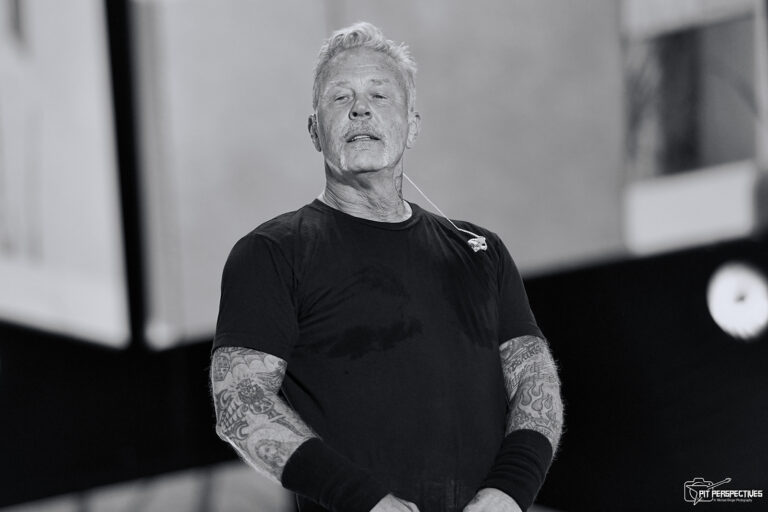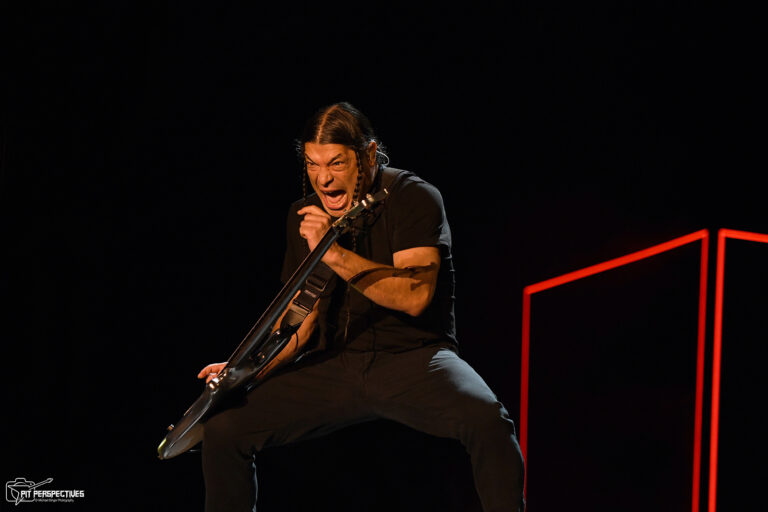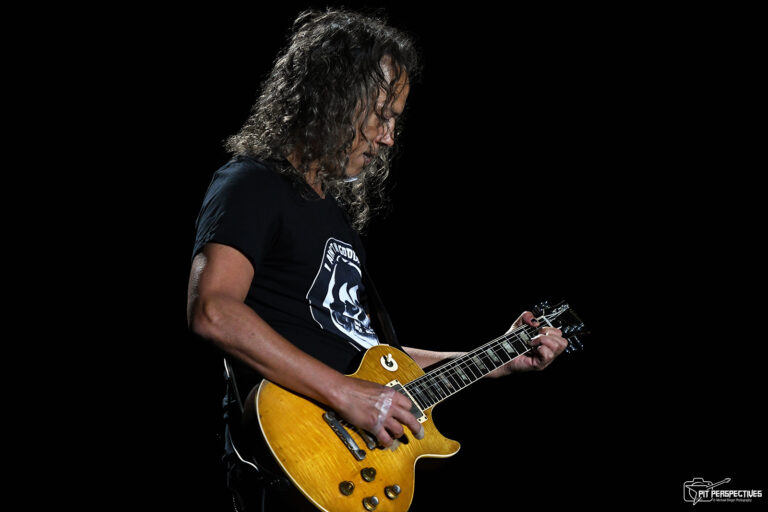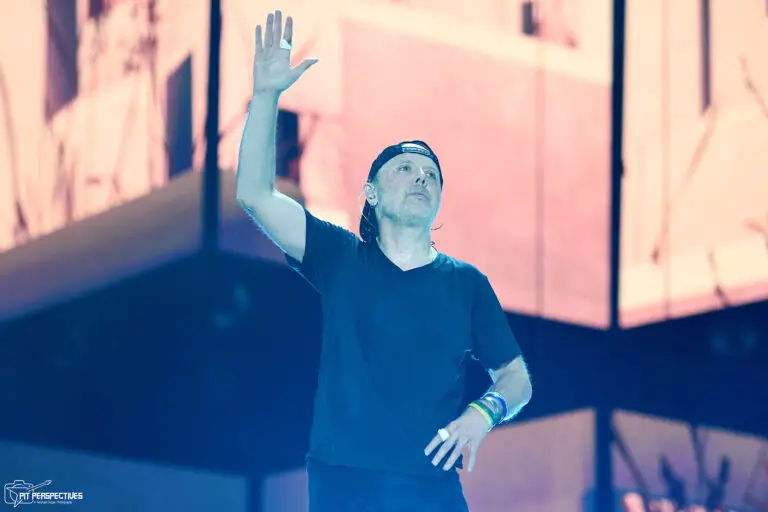 Over the next two hours, diehard fans in attendance would be treated to hits taken from Ride the Lightning (1984), Master of Puppets (1986), …And Justice for All (1988) and Metallica (1991), better known as The Black Album. The unforgettable night culminated with a three-song encore of "Battery," "Nothing Else Matters" (with a restart needed when Hammett humorously bungled the intricate guitar picking of the song's introduction) and "Enter Sandman."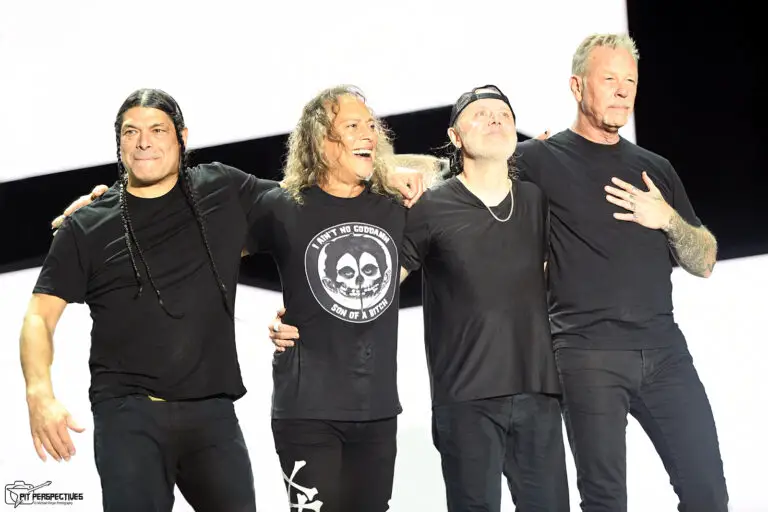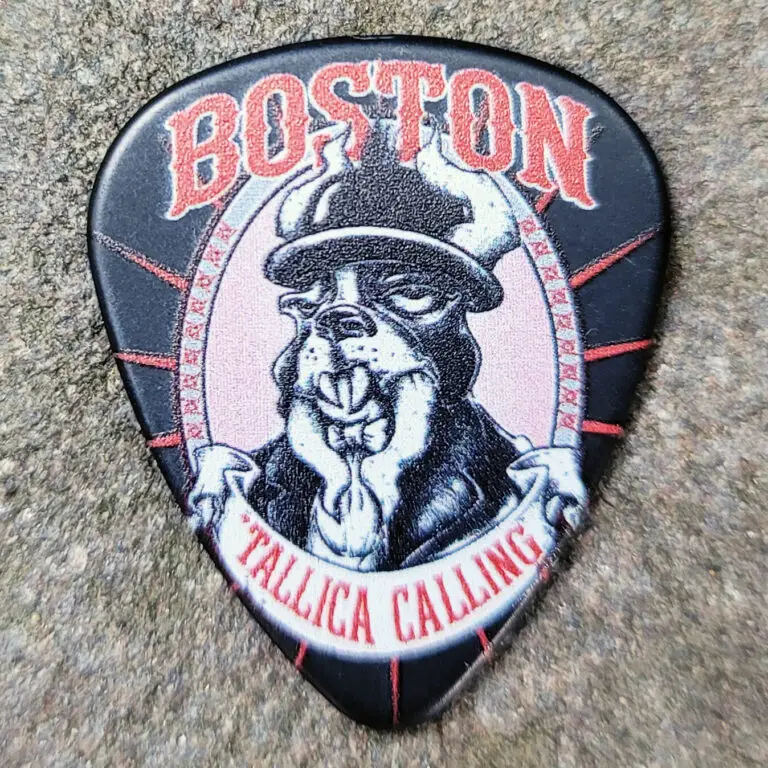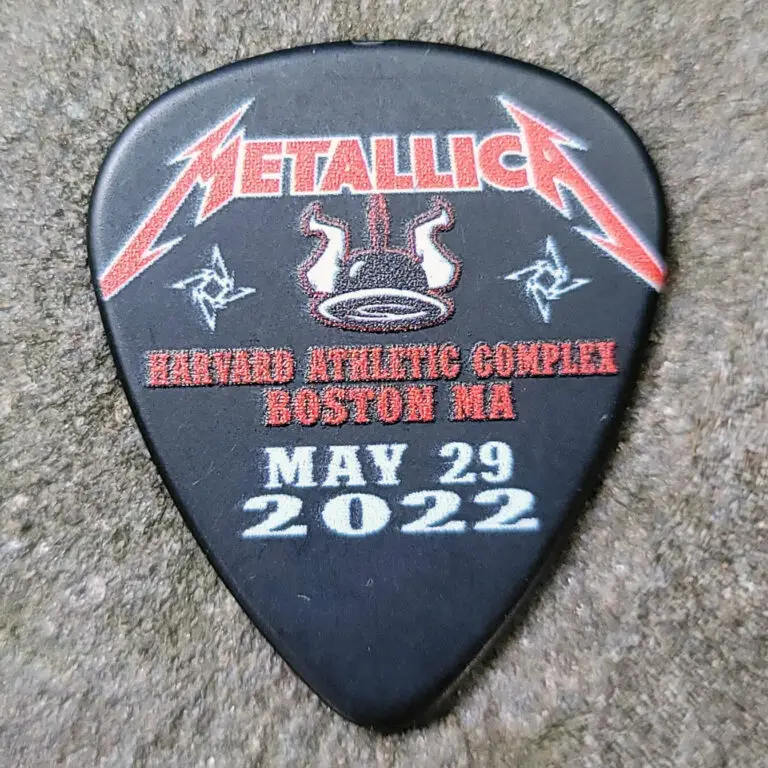 Follow Boston Calling
Website: https://bostoncalling.com/
Facebook: https://www.facebook.com/Bostoncalling/
Instagram: https://www.instagram.com/bostoncalling/
Twitter: https://twitter.com/bostoncalling
Spotify: https://open.spotify.com/playlist/2xPrRHsCXAKlXTzANbNzmc?si=c753cc9589d54952&nd=1
YouTube: https://www.youtube.com/user/BostonCalling