Coming this June to Albany's Lark Hall is the first annual Capital District Digital Listen Up Awards. Sponsored by Mirth Films and RadioRadioX, the awards shows aim to give the fans a chance to vote for their favorites among a wide selection of categories – some typical, some unique to the Listen Up Awards.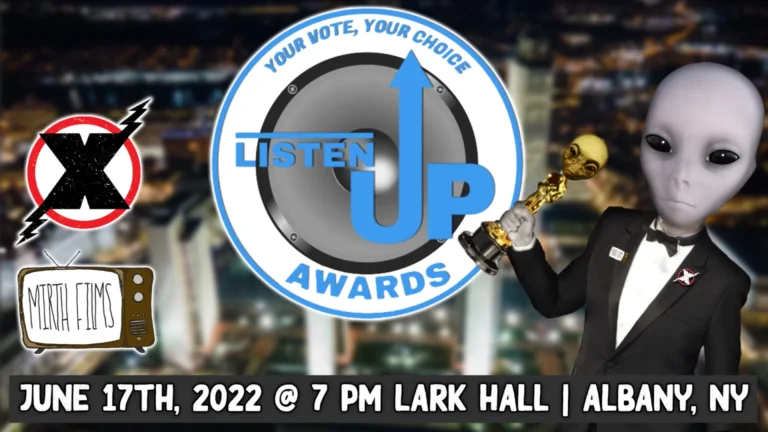 With voting now closed, Mirth Films' Frankie Cavone looks ahead to the awards show, to be held at Lark Hall on Friday, June 17th, starting at 7pm.
Discussing the genesis of the event, Cavone said "We started the Listen Up Awards to give fans a chance to pick who their favorite band is in the Capital Region throughout numerous categories. We thought this was a great way to see who the music fanatics in the Capital Region are going to see live, listening and following." Cavone stressed the people's choice style to the event, emphasizing, "Your Vote, Your Choice."
Fans should not expect a traditional award ceremony, with superlative awards given out and a show-casual attire, meaning wear your favorite band shirt and a pair of blue jeans.
We want the Listen Up Awards to be a fun experience not only for the fans, but the bands and artists as well. There will be live music performances and much more that you will have to find out by coming to Lark Hall on June 17th

Frankie Cavone – Mirth Films
With the continually strong Capital District music scene having a diverse music scene, Cavone feels "We couldn't have a better array of bands and artists across all genres. It has been great to get to know a lot of them over the years and watching their careers flourish just puts a smile on your face. It makes you love being part of the community that much more and coming back night after night. There is nothing I would change about it."
"For us at Mirth Films, we as members of this community embrace and do our best to contribute to what exists. But most importantly remain a fan first, always. We at Mirth Films are just happy to be able to help assist them in anyway possible,"
The Listen Up Awards will be held at Lark Hall in Albany on June 17th starting at 7pm. See what bands/artists made the cut below.
Favorite Solo Duo:
Marty Wendell
Mark Emanatian
Sean Rowe
Nick Bisanz Music
Josh Casano
Curious Comet
SIRSY
Solo Duo Covers:
Jeremy Walz & Mark Emanatian
North Alen Duo
Brian Kane
Pat Decker
Midnight Radio
Geo
Favorite Party Band:
Lawn Sausages
The Refrigerators
Soul Sky
Mike and the Monsters
Off the record
GROOVESTICK(Groovebeats)
Favorite Country Bluegrass:
Northern Borne
Marty Wendell
Jim Gaudet
The Saratoga Strings Band
Brule County Bab Boys
Favorite Country Cover Band:
Beating The Odds
Whiskey Highway
Skeeter Creek
Hammer and Nail
Favorite Rock Cover Band:
Soul Sky
Legend
Brian Kane and the Beginning
Chris Busone Band
Vinyl Vault
Favorite Americana Artist:
Eastbound Jesus
Big Frank and the Bargain Bingers
Northern Borne
Marty Wendell
Deb Cavanaugh
Favorite Rock Pop Band:
Sydney Worthley
Soul Sky
The Hard Luck Souls
Shortwave Radio
The Jagaloons
Favorite Hard Rock Band:
Blase Debris
Gozer
Sly Fox and the Hustlers
Joe Mansman and The Midnight Revival Band
Ikes Wasted World
Favorite Alt/Indie Band:
Haunted Cat
Laveda
Curious Comet
The Pine Boys
Candy Ambulance
Favorite Folk Artist:
Deb Cavanaugh Music
Mark Emanatian
Sean Rowe
Keanen and Orion
Reese Fulmer
Favorite Jazz Artist:
Marcus Benoit
Joe Barna
Todd Nelson
Brad Monkell
Carol Daggs
Favorite Punk Garage Band:
The Va Va Voodos
The Hauntings
Black Cat Elliot
Fine Grain
Short Wave Radio
Lawn Sausages
Favorite Metal Band:
TYRANIZE
Faced
Psychomanteum
Deveria
Favorite Jam Band:
Glass Pony
Timbre Coup
Annie in the Water
Hilltop the Band
Ampevene
Favorite Blues Act:
Brian LaPoint
Sly Fox and Hustlers
George Fletcher Blues Band
Soul Sky
Dealt The Blues
Misty Blues
Favorite R&B/Soul/Funk Act:
Victory Soul Orchestra
Saliyah Itoka
The Age
Doc Horton
Donna Tritico
Favorite Electronica Artist:
Hazeyy
SM Ink
Architrave
100 Psychic Dreams
Favorite Performing/Recording DJ:
Dj Irod
DJ Trumastr
Dj Mercury
JB aka Dirty Moses
Hazeyy
Favorite Irish Artist/Band:
Killashandra
The Mckrells
Get Up Jack
Hair of the dog
Emerald Dawn
Celtic Guiness
Favorite Hip Hop Artist:
JB Aka Dirty Moses
Freedom Stratton
PNal
B.Chaps
Lil Timmy
Algorithm
Mel Peezy
Favorite Grateful Dead Cover Band:
Neon Avenue
The Deadbeats
The Wheel
Brown Eyed Women
Gratefully Yours
Former Rocker Turned Blues Guy:
Mark Emanatian
Rick Bedrosian
Andrew Wheeler
Sonny Speed
Chris Itani
Leslie Barkham
Best hair/Make up:
Tommy Love
Peggy From Troy
The Eroitcs
Joanna off the record
Mike Trash
Most Likely To Fall Off Stage:
Jonny Morse
Mike Trash
Tommy Love
Alex Mansman
Jim Barrett
Best Dressed:
Joe Mansman and the Midnight Revival Band
Joanna off the record
Jeff Prescott
John Morse
Tommy Love
The Most Likely To Owe Club Money:
Jeff Prescott
The Lawn Sausages
John Morse
Floral Arrangements
Underwater Bosses