Pre-Goose Peter Anspach project, Great Blue, wrapped up a memorable five-show run of dates through the East Coast over May 14-19. Featuring their first festival appearance of the season, the short-lived mini-tour managed to create a significant buzz amongst the jam scene faithful and included stops in Philadelphia, Rhode Island, DomeFest in Ohio, and a pair of New York shows in Rochester and Saratoga Springs, respectively.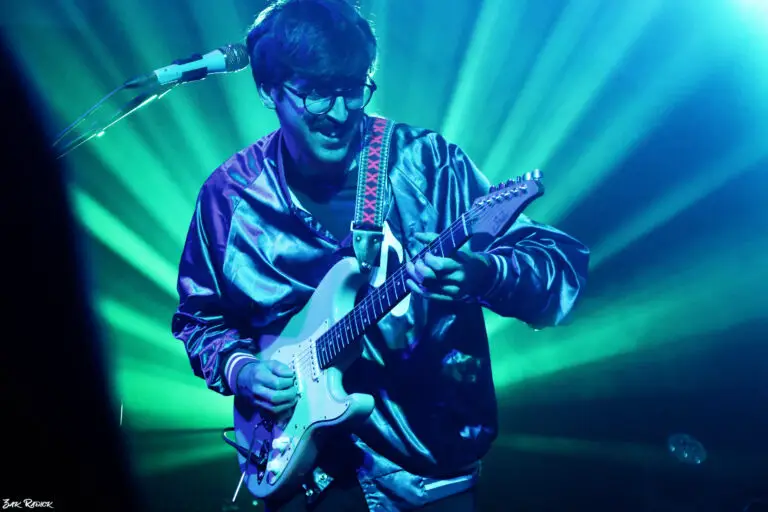 While the fun-loving Anspach is mainly known for his work with breakthrough psychedelic improv rockers Goose, these shows shinned the spotlight on a different side of "Handini."  Fully embracing the excessive "rock star" persona that's partially been suppressed with his main band, it was in these more relaxed club-like environments where Anspach was truly able to get his "ya-ya's" out. The result was nothing short of live music magic. 
Couldn't make it to any of the shows?  No worries!  NYS Music caught up with the band for their instant classic performance at Putnum Place on Thursday, May 19, and has all the sights (and some of the sounds) of the what many in attendance could be heard calling "one of the best show they've ever seen."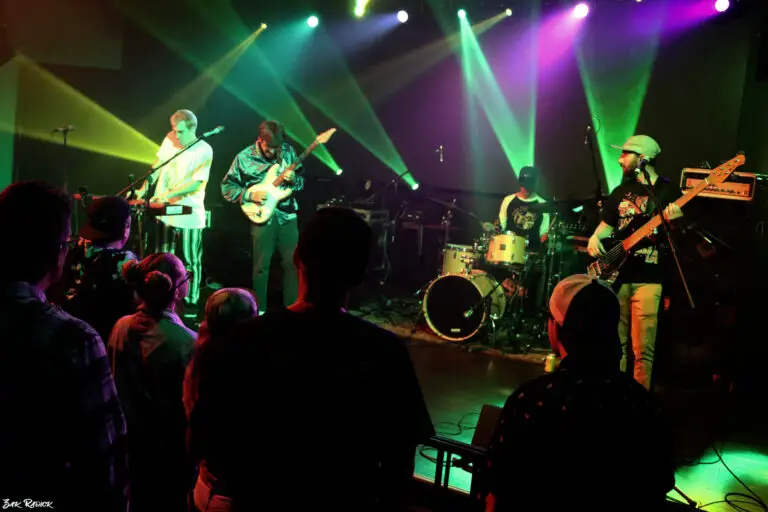 Kicking off the show with an outstanding opening set from genre bending electronic rockers Escaper, the NYC based band were also joined by special guest Luke Bemand of Lespsecial on bass for the evening.  With positive lyrics, danceable grooves and impressive compositions, even their seemingly simple jams morphed into straight-up heaters, particularly when the hard slapping hand of Bemand took the reins. After closing their set with a new, 9 minute sprawling epic called "Spaceship," Escaper front man Will Hanza humbly took the opportunity to express his sincere gratitude to those in attendance, saying "Thank you guys so much. You know, after all we've been through, all of us, it means a lot that we can all gather for these things, so thank you and please keep doing it."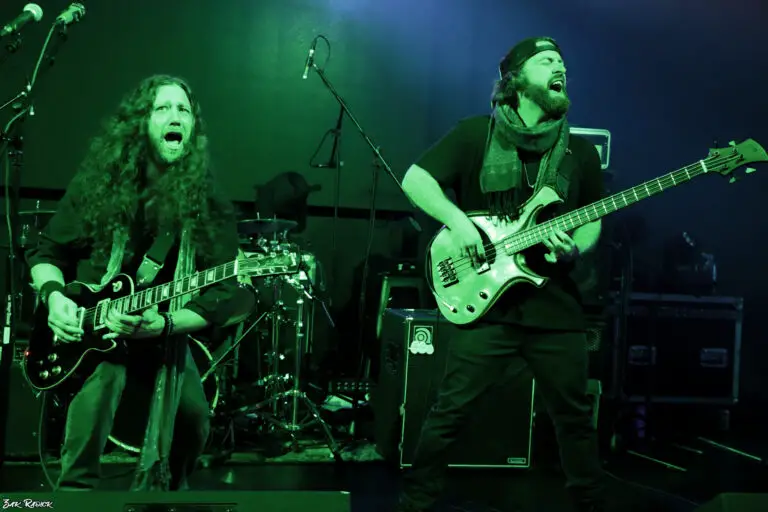 After a brief intermission, the Thursday night funk party resumed in full force as our evening's headliners Great Blue set their controls for the sun and lifted off like a rocket ship from hell, opening up with the songs "Lily's Tiger" quickly followed by "Willy" from their 2013 album Rewind.  While many Goose fans are only just discovering Great Blue, make no mistake, this is anything but a new band. Comprised of four longtime friends, their origins go all the way back to their high school days in the basement.  Along with Peter Anspach, Great Blue is also comprised of Ethan Michael on guitars and sometimes keyboards, Seth Suzker on bass, and presumably paying homage to the late Taylor Hawkins by wearing a Foo Fighters shirt, was Nick Hanna on drums.  
Together, Great Blue has been performing for more than a decade now and have four studio albums to their credit.  With no shortage of songs in their back catalog to choose from, the band would amp things up even more with a high octane rendition of "Together Not The Same" that featured an insane guitar solo from Anspach whole completely lost himself in the music, smiling ear to ear while thrashing about the stage in a pure punk rock fury.  After working their way through "Banana Jam" and a cover of Vampire Weekend's "Sunflower," Goose fans in attendance became audibly excited as the bass-heavy reggae groove of "Doc Brown" swept over the room.  While the "Back to the Future" inspired jam was originally written by Great Blue, in recent years the song has been adopted by Goose and has become a regular staple of their live show, but the surprises wouldn't end there as the quartet seamlessly sandwiched into another familiar Goose song in the form of "Whales" before eventually returning back to the reggae roots of "Doc Brown."
Following that up with 2014's "Crossfaded Mammoth," Great Blue then unveiled their latest neo-psychedelic jam "Blue Marbles." After "Pancakes," someone in the audience yelled out "You guys are so fucking good!" to which Anspach enthusiastically replied from the stage, "It's this band!" pointing over to his mates. "These guys are awesome, I love them."  Shifting gears, Peter would take a moment to reflect on former beloved band mascot Leo, a golden retriever who was with them back in their earliest days in the basement, always sitting in no matter how loud the PA was turned up.
"Lion in the Grass" was then played in memory of Leo and also featured one of the most memorable moments of the evening when Anspach and guitarist Ethan Michael ended up playing a portion of the song while both laying down on the stage. "Jeff Engborg," both a real person and a real song came next while the main portion of the show wrapped up with an emphatic rendition of "Seeker."  As the clock approached 1am on this Thursday night, Great Blue still had one more surprise up their sleeve. Like a spaceship returning from the great beyond, our fantastic voyage then touched down with a cover of the Red Hot Chili Pepper's smash hit, "Around the Word." Suddenly, in what appeared to be a spontaneous last second call, the band then busted into Goose fan favorite, "Yeti," perhaps the most well-known song originally penned by Great Blue and later adopted by their high flying friends.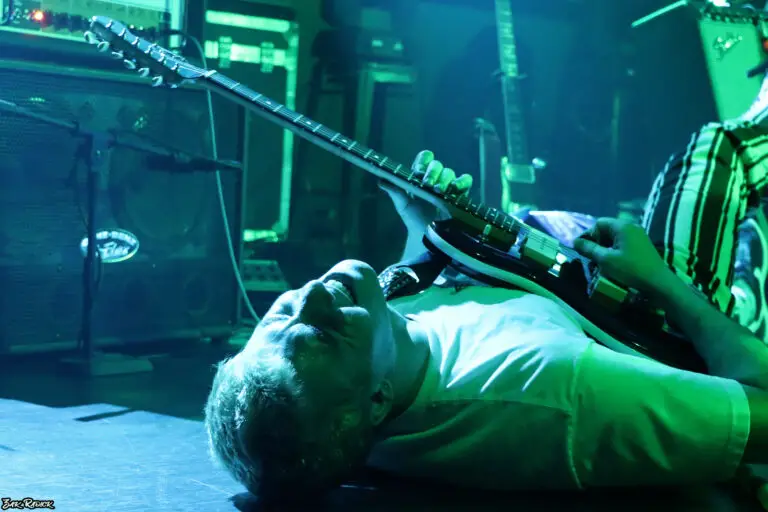 As the house lights came on and fans scurried to buy up any and all Great Blue merch, more than one person could be heard calling this "the best show they've seen in years" and "the best $15 they've ever spent." Indeed, it was a good one. Full of unbridled energy, youthful exuberance, danceable funk-filled grooves, soaring sonic peaks and over-the-top charisma, Great Blue unleashed an instant classic performance on this night in the Spa City.  With their mini-run now in the rearview, all eyes are looking ahead to the Westville Music Bowl this weekend when Peter Anspach rejoins his "other" band, Goose, for their highly anticipated summer tour kick off.
Great Blue | Putnum Place | Saratoga Springs, NY | 5/19/22
Setlist: Lily's Tiger, Willy, Together Not The Same, Banana Jam > Sunflower (Vampire Weekend) > Rogue II, Butterflies, Doc Brown >The Whales<Doc Brown, Mammoths, Blue Marbles, Pancakes, Lion in the Grass, Jeff Engborg, Seeker
Encore: Around The World (Red Hot Chili Peppers) > Yeti
Escaper | Putnum Place | Saratoga Springs, NY | 5/19/22
Setlist: Res Magna > No Stings > Breakaway, Cicada, Rare Form, Enjoy the Silence, Spaceship
*This set featured Luke Bemand of Lespecial sitting in on Bass
For more audience recorded video and images from the show, check out the full gallery by NYS Photojournalist Zak Radick below: