The Syracuse Jazz Festival is back after a five-year hiatus. Since 1981, the Syracuse Jazz Fest has served as Central NY's oldest, longest-running, and most-attended festival. It has received four International Awards and 30 National & Regional Awards.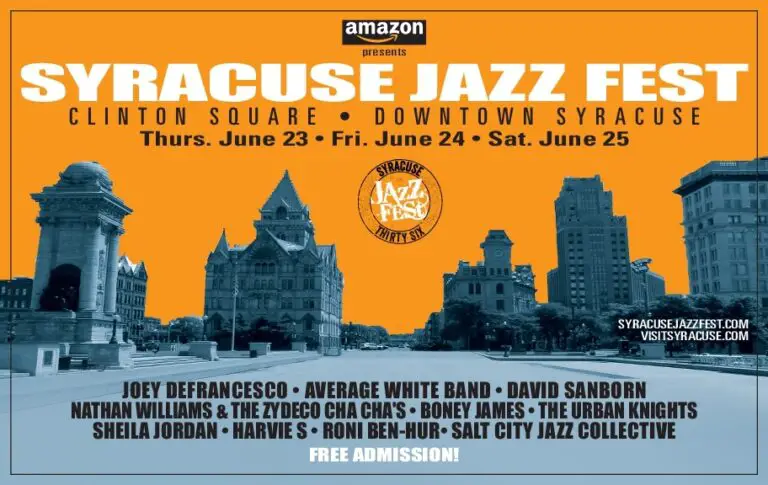 The Syracuse Jazz Fest will run for three nights from Thursday, June 23 through Saturday, June 25. It will feature international and national artists on the Clinton Square Main Stage in downtown Syracuse. There will also be performances by 20 of Syracuse's finest jazz groups, who will be appearing at clubs, bars, restaurants, and performance venues downtown.
Festival Founder Frank Malfitano thanked Amazon for sponsoring the event in a statement.
We couldn't possibly be more grateful to NYS Assemblyman Al Stirpe, Onondaga County Executive J Ryan McMajon, Syracuse Mayor Ben Walsh, US Senator Chuck Schumer and Amazon for co-sponsoring and bringing Syracuse Jazz Fest back to Downtown Syracuse this June. I know we're all thrilled to see this longtime Syracuse summertime tradition coming back, and that would simply not have been possible without Amazon's support.
A lot of legendary artists have performed at the festival, including Aretha Franklin, Dizzy Gillespie, Ray Charles, and Sonny Rollins. These performances gave the festival international acclaim.
The Syracuse Jazz Festival is back with a stellar lineup of world-renowned artists. And perhaps the best part about the annual festival that will be happening for three nights in June is that admission is free.