Music is Art, based in Buffalo, will host it's newest event, The 716 Music Expo, at Babeville on Saturday, April 23.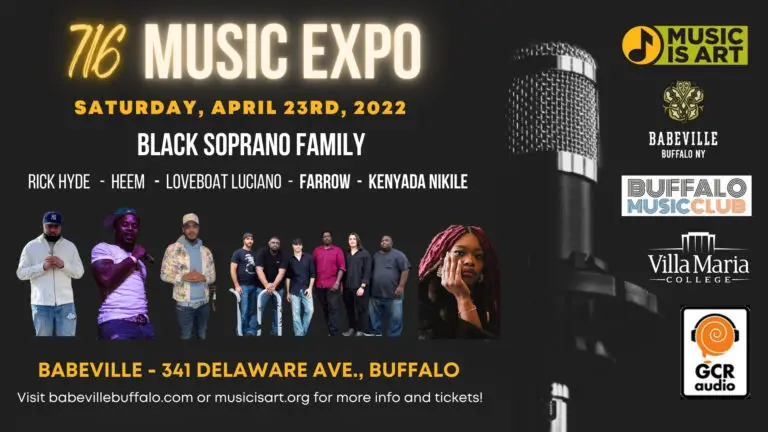 Music is Art is an organization dedicated to creating opportunities that fuel the unifying power of music in Western New York. The 501c3 organization was founded in 2003 by Goo Goo Dolls bassist and Buffalo resident Robby Takac.
Taking over Babeville on Saturday, April 23, the 716 Music Expo is for WNY musicians and music lovers alike. The day-long event features a trade show with music industry vendors, eight workshops presented in conjunction with Buffalo Music Club, and an evening performance featuring some of Buffalo's best soul, R&B, and hip hop artists.
The trade show will run from 1pm-5pm and feature venues, recording studios, merchandise providers, college music programs, production companies and more. Workshops will run from 2pm-6pm with two amazing options at the top of each hour. The evening performance will feature Kenyada Nikile, Farrow, and Buffalo hip hop artists Rick Hyde, Heem, and LoveBoat Luciano – collectively known as Black Soprano Family (BSF).  
For this, our inaugural event, we hope to mirror what goes on in the big music cities and offer something for every local musician, at every level. If you play music in WNY, you need to be here.

Tracy Fletcher, Music is Art's Executive Director
Music is Art is proud to enrich our community with access to music and encourages people to find their musical voice, think about how music touches their lives, and most importantly think about the fact that music is art.
Tickets are on sale now and range from $10 – $50. For a complete list of vendors, workshops and performers, or to purchase tickets please visit www.musicisart.org/expo.