German rock band, Scorpions, are set to perform a historic concert fit for the world's most famous arena, Madison Square Garden, on Friday, May 6. The rock outfit will take the stage in celebration of Bangladesh's 50th year of independence. Joining them on the special occasion will be Bangladeshi fusion/rock band, Chirkutt.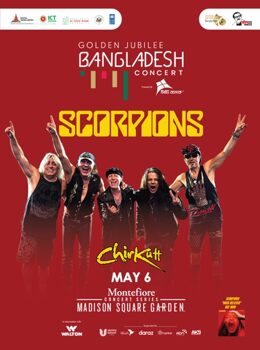 The charitable event will be organized by The Bangladesh Information and Communication Technology (ICT) division, with the support of the Bangladesh Hi-Tech Park Authority, the United Nations Development Programme, the U.S. Embassy in Bangladesh and local sponsors. The large-scale performance will be held in hopes of gaining a global audience and celebrating Bangladesh's half-century anniversary through this live, one-night-only musical performance. Keeping the philanthropic tone of the event, proceeds from the concert will benefit the United Nations Development Programme's global awareness campaign on cyber security programs for the youth and children, with a focus on under-developed countries.
With over 110 million records sold around the world and over 2.2 billion views on YouTube, Scorpion will more than likely play fan favorites from their impressive catalogue, which includes hits like "Wind of Change," "Still Loving You," "Rock You Like a Hurricane," "Send Me an Angel," and many more. Founded in Hannover, West Germany in 1965, they were part of the first wave of metal in the 1970's with their debut album, Lonesome Crow, released in 1972. The band was ranked #46 on VH1's Greatest Artists of Hard Rock, while their hit "Rock You Like a Hurricane" came in at #18 on VH1's list of the 100 Greatest Hard Rock Songs. 
The long-standing rock band has received multiple honors including World Music Award winners and a Star on the Hollywood Rock Walk. Most recently, they were honored with the Lower Saxon State Award. 
Chirkutt is one of the most popular fusion band music troupes in Bangladesh. Founded in 2002, the band has also worked on several local film music scores in their home country. After releasing their debut full-length album "Chirkuttnama" in 2010, and through live performances, they had a rapid upsurge in growth.
Tickets will go on sale on Monday, April 4 at 10 a.m. (EST) through Ticketmaster. Scorpions Rock Zone fan club members will have an exclusive, first access to tickets available starting Thursday March 31 at 10 a.m. (EST). For more information and to join the community visit The-Scorpions.com/RockZone