Knickerbocker Arena will always be one of those venues with a special place in Grateful Dead lore. The band played the downtown Albany arena thirteen times in their career which included three three-night runs at "The Knick." Today, we look back at the middle show of the last three-night run there in 1993. It may not reach the heights of the band's initial heralded run here in 1990 which helped provide material for their Dozin' At The Knick album, but it sees the Dead at a time when they're clearly comfortable in their own skin with this last incarnation of the band. The show provides a solid blend of Grateful Dead fan favorites, a pair of Dylan covers, and some newer original songs that were only played a smattering of times in this late era for the band.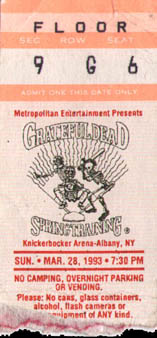 The show begins with a tune that was starting to entrench its spot as a show opener in this last phase of live Dead, "Mississippi Half-Step Uptown Toodleoo." Jerry Garcia sounds engaged right from the get-go and drops an immaculate guitar fill early on in the proceedings. The band takes their time dragging out the composed portion of the opener before Garcia lays down another heavenly solo. After a courtesy nod of gratitude from the Knick crowd, the opening licks to "Walkin' Blues" ring out loud and true and fellow guitarist Bob Weir takes control for the next number. He leads the way through a cover of the American blues classic before they resort back to one of their sentimental originals in "So Many Roads," replete with another feathery Garcia solo that serves as the bridge before a somewhat "Knockin' On Heaven's Door"-esque ending.
The Dead make the following cover selection more than clear with a joyous romp through Bob Dylan's "When I Paint My Masterpiece" that has both guitarists wailing on vocals by song's end. Things then slow down again somewhat with the "High Times" that comes next. This Grateful Dead classic serves up a classic blend of bluesy Garcia solos that merely matches vocals of the same tenor. This sets the stage for yet another late-era Dead regular that never seemed to take off, "Eternity," co-crafted by Weir and his fellow Ratdog bandmate Rob Wasserman.
A slow transition into "Deal" then follows, with bassist Phil Lesh pushing the tempo early and often before a jam that reaches near hysterical proportions closes out the first set earnestly. The second one begins with the familiar tones of "Scarlet Begonias" as the Knick crowd gets brought back to life with this vintage Dead number. This triggers a brief but blissful jam, with Garcia's tricked out guitar creating the effects of a veritable flute solo, that serves as the springboard into a raging "Fire On The Mountain."
After a somewhat abrupt ending to "Fire," the drum-fueled intro to "Samson and Delilah" emerges. Some vintage bass bombs from Lesh are peppered throughout on a frenzied take on this live show staple. Another old standby in "Ship Of Fools" then follows, graced with a typical breathtaking solo from Garcia, before the Dead break out "Wave To The Wind," a song co-written by Lesh and longtime band lyricist Robert Hunter that was played only a handful of times in 1992 and '93.
A post-song segue into "Truckin'" gets a little murky but the band soon finds their footing and treats the Knickerbocker Arena crowd to another classic Dead sing-along number. It sees some strong piano fills thrown in from Vince Welnick that help fuel a brief but explosive jam that sets the table for the traditional "Drums" > "Space" portion of the evening.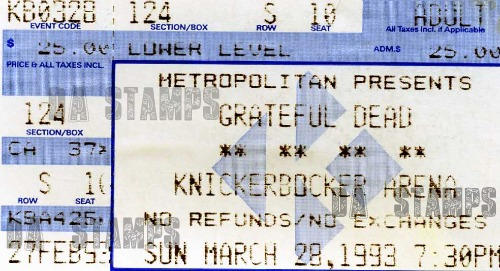 From the psychedelic mist emerges another song synonymous with '90s-era Dead, "Long Way To Go Home" with an energized Welnick taking charge and leading the way on vocals. The tone then shifts from new school to old school in a hurry as the band dusts off "Attics Of My Life." It ends a 41-show gap from its last performance, which just happened to be here at The Knick last June. The set then comes to a rousing finish with a "Turn On Your Lovelight" that sees Bob Weir doling out the signature bluesy vocals and Garcia once more digging into his bag of tricks and emitting joyous trumpet-sounding guitar fills on the closer. The second and final Dylan cover of the night then serves as the encore as the show ends with a beautifully somber take of "Knockin' On Heaven's Door." The Grateful Dead would return to Knickerbocker Arena the next day to close out this run and, two years later, they would play their final shows at this heralded venue.
Check out video of the entire show here and below thanks to YouTube.
View This And More Grateful Dead Shows From Across The Years In New York State With Our Interactive Map Below
Grateful Dead Knickerbocker Arena – Albany, NY 3/28/93
Set 1: Mississippi Half-Step Uptown Toodeloo, Walkin' Blues, So Many Roads, When I Paint My Masterpiece, High Time, Eternity, Deal
Set 2: Scarlet Begonias > Fire On The Mountain, Samson And Delilah, Ship Of Fools, Wave To The Wind > Truckin' > Drums > Space > Way To Go Home, Attics Of My Life > Turn On Your Lovelight
E: Knockin' On Heaven's Door