This weekend, The Disco Biscuits return to Port Chester and The Capitol Theatre with a trifecta of performances that will also feature pre-shows each evening at the adjacent Garcia's. With signs of spring finally starting to emerge in the Northeast, one of the more iconic jam bands of the region will help turn the calendar from March to April with three nights of electronica-infused music.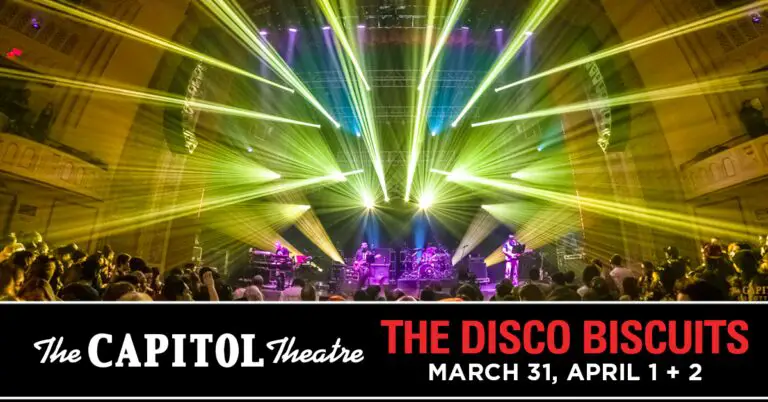 This weekend will see The Disco Biscuits reach the "Double Digit" Club for shows at The Capitol Theatre with the last one on Saturday, April 2 being their eleventh show overall at this fabled venue. The band first played here in March of 2016 on a two-night run, with a rendition of "Helicopters" started on the first night and finished the next evening. The first show also featured the lone (to date) cover of Carl Carlton's "She's A Bad Mama Jama."
The Disco Biscuits followed this up the next year with a three-night run at the Capitol Theatre from April 27 to 29. This time, it was "Shem-Rah-Boo" that was spread across the first two nights, with the first night also featuring a monstrous "House Dog Party Favor" to close out the second set. The following night sees one of the earlier versions of "The Champions" played and the last night's first set gets capped off in grand fashion with a particularly spirited "Confrontation" > "Rock Candy (unfinished)" > "Confrontation" sequence of events.
The last time the Disco Biscuits graced the stage of The Capitol Theatre was in 2019 with yet another three-night run spanning January 31 – February 2. This run is probably best known for the last night as the Biscuits paid homage to their jam fore fathers The Grateful Dead who played plenty a memorable show here and started the show with a completely unexpected bust out of "Help On The Way" > "Slipknot!" > "Franklin's Tower." The last night also featured an inverted "Shelby Rose" and a sublime jam emerging from a first set "Shem" that seamlessly flowed into the beginning of "Cyclone."
The band is surely guaranteed to only add to their own legacy at The Cap and it all starts each night with thee free pre-shows that start as soon as doors open. PEAK kicks off the weekend on Thursday, March 31, Microcave jams on Friday, April 1, and Sweeping Views spins some far out dance tracks on Saturday, April 2.
Attendees need a ticket to The Disco Biscuits shows to attend the pre-shows! Tickets are still available for purchase here.