Billy Strings completed a four night run of sold out shows at The Capitol Theatre in Port Chester over February 3rd to 6th. This was the second year celebrating a telepathic experiment conducted by The Grateful Dead 51 years ago.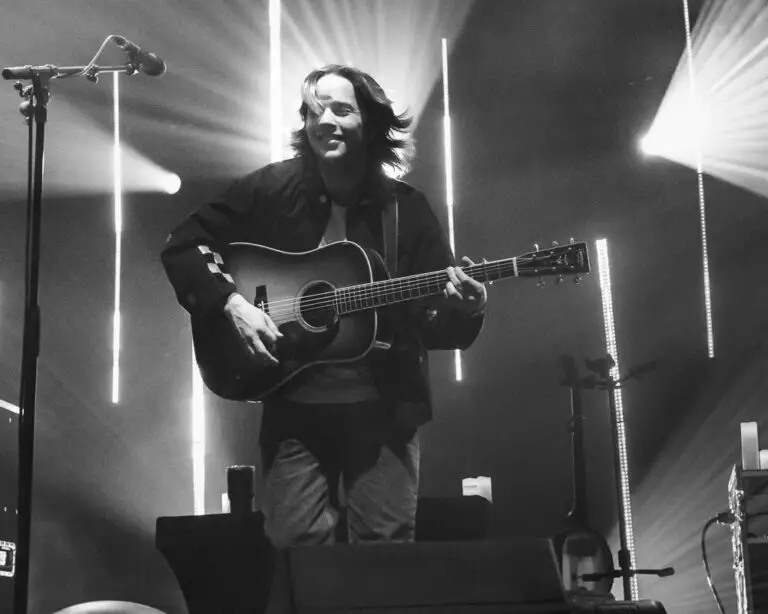 Fans were asked to send images with their minds to selected celebrity participants while they sat at home for the duration of the concert, but without viewing it. After each show, Billy, Royal Masat (bass), Billy Failing (banjo), and Jarrod Walker (mandolin) interviewed participants via video call.
Song selections throughout the weekend ranged from bluegrass standards to hot tracks off the latest album Renewal. Grateful Dead favorites were peppered in for good measure. 
Spiritual Dance Party
The Capitol Theatre has been a coveted venue for artists throughout the decades. A sense of importance could be felt. Perhaps a supernatural energy vibrated by those attuned to such mysteries. Security carried themselves with pride, as if they had answered a higher calling to protect the spirits as they arrived to dance.

Attendees young and old accumulated mass as the general admission section filled the room. Stories were passed about the first show, or the most recent. The conclusion was always that the best show was the most recent attended.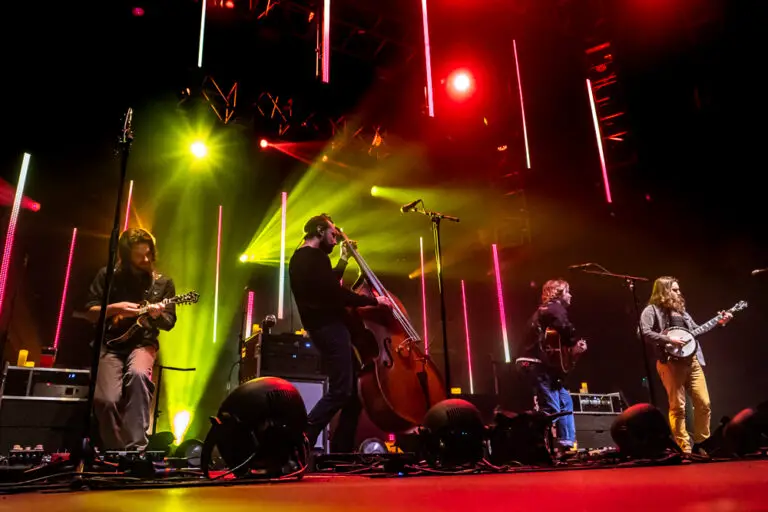 Going To Church
A man seeing Billy play for the first time questioned "is this Billy guy really as good as my buddy says he is?" A seasoned fan insisted Billy was about to take the new guy to church.
Not far into "Pyramid Country," the new guy propped an arm on his buddy's shoulder and signaled satisfaction towards the seasoned fan. "Ole Slew-Foot" played soon after. A big hug was given to the new guy's buddy, promptly followed by a Slew-Foot sized hug with the seasoned fan. Comments were made about the playing being unreal as well as the superior mixing by Sound Engineer Andy Lytle. Suddenly, the new guy vanished, and was replaced with a glowing, dancing, euphoric human. This believer was free of ego and self doubt. Replaced in his soul was a cup filled with gratitude and joy.
Transformation
Little did this believer know that the experience was about to enter a next level of intensity: "Wargasm.'  With help from Lighting Designer Roger Gant, the anthemic powerhouse sound converged with light to take form in a way one might only read about in a fantasy novel series.
Shapes and colors woven harmoniously together with perfectly timed layers created a supernatural depth and texture.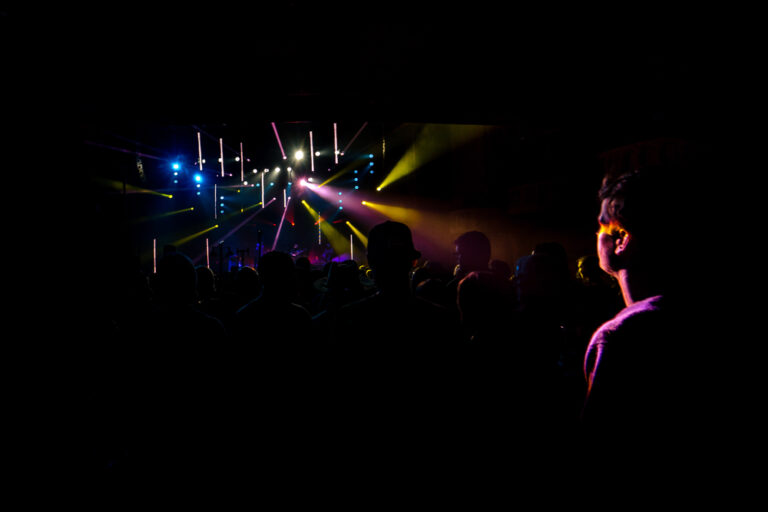 Alive
At last, the theater walls which have seen so much, were given a voice to share stories of dancing bears and grinding gears. The visceral journey shattered any preconceived notion about what music should feel like.
As "Wargasm" built up in intensity, once again, the believer evolved. Transformation occurred during Billy's guitar solo when the believer's dancing slowed, eyes widened, palms with outstretched fingers rested over his temples and jaw slowly dropped. That is how a new disciple to the church of Billy was born. 
Experimental
It was very clear why people traveled from 48 states. Those sequined jacket gals glistened like the snowflakes of Colorado from which they hailed. Tie dye armies converged, their uniforms unique by region like a family's plaid and crest. All gathered and communicated as one stomping, singing, boisterous ball of life.
The people, all so different, blended together beautifully in a way that mimicked the pairing of projections on the walls and ceilings with the futuristic lights. Like the individuals in attendance, the music and the lights were on a journey all reflecting one another. Supernatural energy was conjured.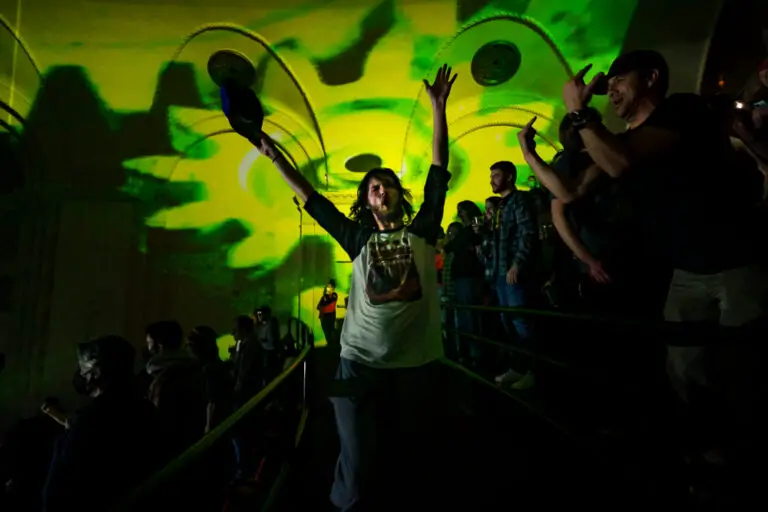 Clairvoyance
Lights paused, showing bright white lights in perfect timing with the return to the hook of the song. Spirits of the past materialized and could be seen all over the theatre.
Through the haze, there was a young woman glowing in white overalls perched in the balcony. She danced with one specific person down on the GA floor who emanated sonic maternal energy. It appeared as if they had known each other for decades.
Teleportation
The great mother appeared on the balcony beside the woman in white. As if to acknowledge all the spiritual boogie happening that weekend, and to continue the dream-like reality of the Deja-Tu Experiment, Billy showed up in the balcony next to the great mother and her friend in white. Billy performed an epic solo duel with mandolinist Jarrod Walker who played from the opposite side.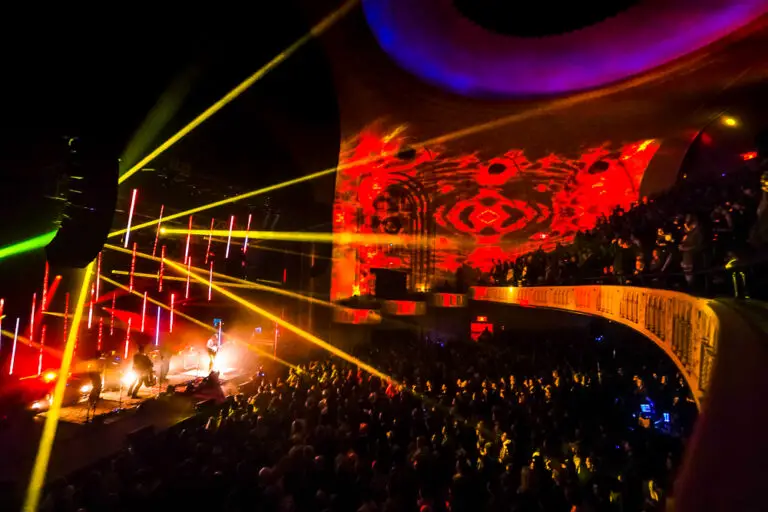 Each and every attendee  experienced at least one form of Deja Vu over the cold February weekend. One attendee recalled feeling like they were back to mom's couch with the tape player and the big headphones where "China Doll" tapes were listened to over and over. Another noticed the variety of swagger bassist Royal Masat carried with ease. That person was immediately taken back to a fond memory of that Rolling Stones show 30 years ago. As the deep pink lights blanketed the audience during "In the Morning Light," a young couple were together reminded of when they met and realized life was about to change for the better.
Terrestrial
Waking up on Monday morning, all in attendance faithfully checked instagram for last night's photos while sipping their morning coffee. Receiving the grounding signal from Photographer Jesse Faatz provided closure and peace for all that had been experienced. Colorful imagery depicted emotions and encapsulated memories. These photos confirmed that the past few days were more than just the feeling of Deja Vu.
Transmutation
Billy Strings and The Capitol Theatre together created a healing fountain for people to connect, dance with spirits and feel alive again.
Setlist February 3: You Don't Know My Mind (Bluegrass Allstars), Pyramid Country, Ole Slew-Foot (Johnny Horton), Cold on the Shoulder (Gordon Lightfoot), West Dakota Rose (Chris Henry), Love & Regret, Wargasm, Along the Road (Dan Fogelberg), Streamline Cannonball (Roy Acuff), Ground Speed (Earl Scruggs), John Hardy (Traditional), Bronzeback, Secrets, Slipstream (Bela Fleck), Red Rocking Chair (Traditional), Pretty Daughter (Danny Barnes), Love Like Me, Away From the Mire, Long Forgotten Dream, Dire Wolf (Grateful Dead), Come Down the Mountain Katie Daly (traditional)

Encore February 3: If You Hair's Too Long (There's Sin in Your Heart)
Setlist February 4: Know It All, How Mountain Girls Can Love (The Stanley Brothers), Tipper (Tony Rice), Run Down (Jeff Austin), There Is A Time (The Dillards), Dust in a Baggie, Dealing Despair, Living Like an Animal, Me and My Uncle (John Phillips), Heartbeat of America, John Deere Tractor (Larry Sparks), On the Line, Freeborn Man (Keith Allison), Thunder (Robert Hunter), My Love Comes Rolling Down (The Doc Watson Family), Ernest T. Grass (The Dillards), Air Mail Special (Jim and Jesse), Show Me the Door, Oh Babe, It Ain't No Lie (Elizabeth Cotten), Rosa Lee McFall (Charlie Monroe), Turmoil & Tinfoil

Encore February 4: Roll On Buddy Roll On (Bill Monroe and the Bluegrass Boys)
Setlist February 5: Red Daisy, Thirst Mutilator, A Good Woman's Love (Bill Monroe), A Robin Built A Nest on Daddy's Grave (The Stanley Brothers), While I'm Waiting Here, Home of the Red Fox (Bill Emerson), Little Maggie (Traditional), China Doll (Grateful Dead), I'm Still Here (John Hartford), Last Train to Clarksville (The Monkees), Everything's the Same, Doin' My Time (Lester Flatt & Earl Scruggs), Running, Ice Bridges, In the Morning Light, Meet Me at the Creek, Shady Grove (Traditional), Deal (Jerry Garcia)

Encore February 5: Don't Let Your Deal Go Down (Lester Flatt & Earl Scruggs)

Setlist February 6: Fire on My Tongue, Must Be Seven, Hellbender, Fire Line, Reuben's Train (traditional), End of the Rainbow (Frank Wakefield), Running the Route, Home, Highway Hypnosis, Taking Water, The Likes of Me (Jerry Reed), All Fall Down (John Hartford), Tennessee (Jimmy Martin), Nothing's Working, Doin' Things Right, Peggy-O (Traditional), Hide & Seek

Encore February 6: U.S. Blues (Grateful Dead)