Saranac Lake Winter Carnival 2022 kicks off on Friday, February 4 for the 125th anniversary event. With events outdoors, the Ice Castle and Parade on Saturday, February 12, the event bounces back with a theme of Totally 80s.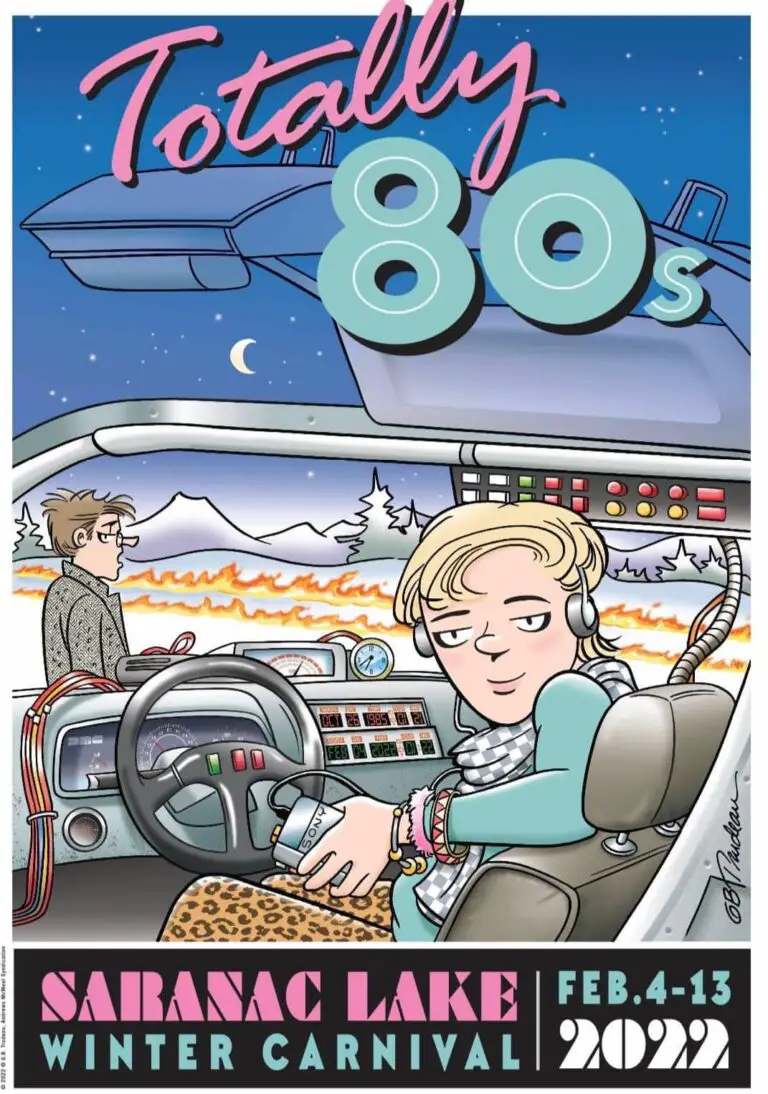 Saranac Lake Winter Carnival dates back to 1897, when the logging community in the Adirondacks, established already as a healing and rejuvenation location for sufferers of tuberculosis, sought to snap the winter chill and promote outdoor games and activities. The Pontiac Club initially sponsored a one day fancy dress carnival in the inaugural year, and has been held on and off until 1947-48 when the event was resurrected and been held annually ever since.
For full details, visit the Winter Carnival website, and check out the schedule of events below.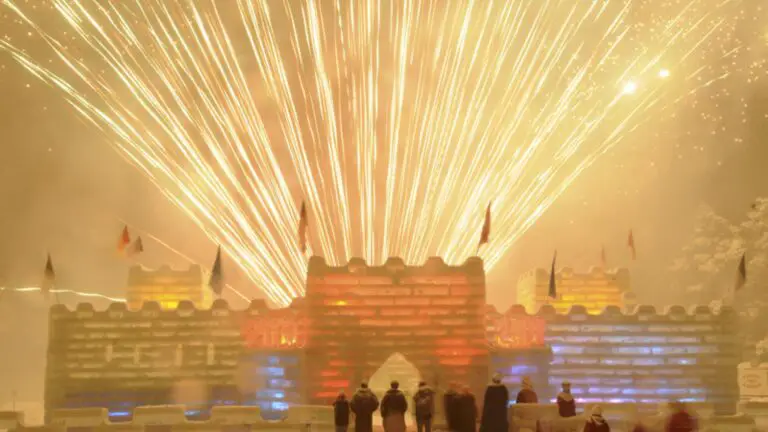 THURSDAY, FEBRUARY 3, 2022 
5:30 pm 21th Annual Past Royalty Mixer and Dinner – Open to Past Royalty Only (Red Fox Restaurant, 5034 Route 3, contact Marilyn Bigelow, 518-891-1286, $)
FRIDAY, FEBRUARY 4, 2022
11:00 am – 12:30 pm AND 4:00 pm – 6:00 pm NEW Winter Carnival Suncatcher Contest–Drop off your completed Suncatchers (Display Area to the left of the Ice Palace, How to Make an Ice Suncatcher Video)
4:00 pm – 6:00 pm NEW Winter Carnival History Hut and Gift Shop–Learn about Winter Carnival, Shop for Official Merchandise (Winter Carnival History Hut near the Ice Palace) 
7:30 pm *Women's Civic Chamber Coronation of Winter Carnival Royalty–By Invitation Only this Year (Harrietstown Town Hall, 39 Main St)
Post Coronation *Winter Carnival Royalty Reception (Elks Lodge #1508, 30 Broadway Ave)
8:30 pm *Waterhole Presents Annie in the Water wsg Chestnut Grove (48 Main St, $, Doors open at 7:30pm)
SATURDAY, FEBRUARY 5, 2022
10:00 am – 6:00 pm NEW Winter Carnival History Hut and Gift Shop–Learn about Winter Carnival, Shop for Official Merchandise (Winter Carnival History Hut near the Ice Palace)
10:00 am NBT Bank Ice Palace Fun Run – 4 miles (Ice Palace, State Boat Launch)
10:00 am – 4:00 pm Edward Jones Arctic Golf Build-an-Obstacle Contest (Prescott Park next to the State Boat Launch)
10:00 am – 4:00 pm *Catharine Moore's "Good Vibrations" Art Exhibit (NorthWind Fine Arts Gallery, 85 Main St)
10:00 am – 4:00 pm *Paul Smith's Booster Club Annual Chocolate Festival (Romano's Saranac Lake Bowling Lanes, 11 Bloomingdale Ave)
11:00 am – 5:00 pm *"Totally 80s" Art Exhibit–Featuring Artwork Produced in the 80s plus More (Adirondack Artists' Guild, 52 Main St.) 
11:00 am Long Run Wealth Advisors Curling Exhibition (Lake Flower near the Ice Palace)
11:00 am *Paul Smiths College Woodsmen Exhibition (Riverside Park)
12:00 pm Heat Keepers Icicle Contest — prizes for longest natural icicle (Riverside Park, icicle check-in at 11:30 am)
12:00 pm Lake Placid Curling Club "Hit the Button" Curling Competition — Open to all ($, Lake Flower near the Ice Palace)
12:30 pm Saranac Teachers Association Little Ladies Fry Pan Toss — For Girls 6-17 (Riverside Park, Registration 11:00-12:00)
1:00 pm Taylor Rental Ladies Fry Pan Toss — For Ladies 18 and Up (Riverside Park, Registration 11:00-12:30)
1:00 pm NEW *Women's Civic "Corn-A-Ment" Cornhole Tournament, registration forms found here  (On the ice in front of Saranac Waterfront Lodge, $40 registration fee per 2-Player team,  contact Deb Reilly at debreilly6@gmail.com for information)
** NO Annual Winter Carnival Spaghetti Dinner presented by Catholic Daughters of America — check back next year **
7:00 p.m. (roads closing at 6:15 pm) Lighting of the Ice Palace and Hotel Saranac Opening Fireworks Display (Ice Palace, State Boat Launch)
8:30 pm *Waterhole Presents High & Mighty Brass wsg The Reflexions (48 Main St, $, Doors open at 7:30pm)
SUNDAY, FEBRUARY 6, 2022
10:00 am – 6:00 pm NEW Winter Carnival History Hut and Gift Shop–Learn about Winter Carnival, Shop for Official Merchandise (Winter Carnival History Hut near the Ice Palace)
10:00 am – 3:00 pm Edward Jones Arctic Golf (Prescott Park next to the State Boat Launch)
10:00 am *White Stag Downhill Ski Races (Mt. Pisgah Ski Center, 92 Mt. Pisgah Lane, $)
10:00 am – 4:00 pm *Catharine Moore's "Good Vibrations" Art Exhibit (NorthWind Fine Arts Gallery, 85 Main St)
11:00 am – 2:30 pm *Arctic Bar-B-Que — Friends of Mt. Pishgah (Mt. Pisgah Ski Center, Mt. Pisgah Lane, $)
11:00 am – 3:00 pm *"Totally 80s" Art Exhibit–Featuring Artwork Produced in the 80s plus More (Adirondack Artists' Guild, 52 Main St.)
12:00 pm – 4:00 pm *Cross-Country Ski and Open House at Blue Line Compost–Free (Blue Line Compost, 1421 State Route 3)
1:00 pm Life Power Chiropractic Ultimate Frisbee Games (Saranac Lake High School Football Field, 79 Canaras Ave, Call 518-637-3238 for details)
2:30 pm ANCA FlowerBall (Lake Flower near the Ice Palace)
5:00 pm *80's Trivia at the Elk's Lodge – Relive the decade of big hair and Ferris Bueller, Kids welcome (Elk's Lodge #1508, 30 Bloomingdale Ave, Food available, Donation requested)
MONDAY, FEBRUARY 7, 2022
 1:00 pm – 5:00 pm NEW Winter Carnival History Hut and Gift Shop–Learn about Winter Carnival, Shop for Official Merchandise (Winter Carnival History Hut near the Ice Palace)
7:00 pm *Community Celebration Service (St. Luke's Church, 136 Main St)
TUESDAY, FEBRUARY 8, 2022
1:00 pm – 5:00 pm NEW Winter Carnival History Hut and Gift Shop–Learn about Winter Carnival, Shop for Official Merchandise (Winter Carnival History Hut near the Ice Palace)
3:30 pm *Scavenger Hunt for Middle School Students (Saranac Lake Youth Center, 29 Woodruff St)
5:00 pm Winter Carnival Grand Marshall Reception (Saranac Waterfront Lodge, 250 Lake Flower Ave, Cash Bar)
6:00 pm Winter Carnival Royalty Dinner (Saranac Waterfront Lodge, 250 Lake Flower Ave, $, RSVP required by 2/1, call 518-891-4367)
WEDNESDAY, FEBRUARY 9, 2022
11:00 am – 5:00 pm *"Totally 80s" Art Exhibit–Featuring Artwork Produced in the 80s plus More (Adirondack Artists' Guild, 52 Main St.)
1:00 pm – 5:00 pm NEW Winter Carnival History Hut and Gift Shop–Learn about Winter Carnival, Shop for Official Merchandise (Winter Carnival History Hut near the Ice Palace)
6:00 pm Curtis Lumber Snowshoe Races — All Ages (Dewey Mountain, Route 3, call 518-891-2697)
8:00 pm *Waterhole Presents Kat Wright wsg Giovanina Bucci (48 Main St, $, Doors open at 7:00pm)
THURSDAY, February 10, 2022
11:00 am – 5:00 pm *"Totally 80s" Art Exhibit–Featuring Artwork Produced in the 80s plus More (Adirondack Artists' Guild, 52 Main St.)
1:00 pm – 5:00 pm NEW Winter Carnival History Hut and Gift Shop–Learn about Winter Carnival, Shop for Official Merchandise (Winter Carnival History Hut near the Ice Palace)
6:00 pm American Management Association Torchlight Skiing and Fireworks (Mt. Pisgah Ski Center, 92 Mt. Pisgah Lane)
8:30 pm *Waterhole Presents Ryan Montbleau wsg The Outcrops (48 Main St, $, Doors open at 7:30pm)
FRIDAY, February 11, 2022
10:00 am Adirondack Bank Innertube Races (Mt. Pisgah Ski Center, 92 Mt. Pisgah Lane)
11:00 am – 5:00 pm *"Totally 80s" Art Exhibit–Featuring Artwork Produced in the 80s plus More (Adirondack Artists' Guild, 52 Main St.)
12:30 pm Coakley Home and Hardware Children's Skating Races (Saranac Lake Civic Center, 213 Ampersand Ave)
1:00 pm – 6:00 pm NEW Winter Carnival History Hut and Gift Shop–Learn about Winter Carnival, Shop for Official Merchandise (Winter Carnival History Hut near the Ice Palace)
1:30 pm – 3:30 pm NEW Coakley Home and Hardware Open Skate with Free Hot Chocolate (Right after the Skating Races, Saranac Lake Civic Center, 213 Ampersand Ave)
TBD Firefighter's Broom Ball (Saranac Lake Civic Center, 213 Ampersand Ave)
6:00 pm NEW Saranac Waterfront Lodge Snow Ball — Return of the classic formal dinner and dance (Saranac Waterfront Lodge, 250 Lake Flower Ave, $, Details to come)
8:30 pm *Waterhole Presents The Mallett Brothers Band wsg Folkfaces (48 Main St, $, Doors open at 7:30pm)
SATURDAY, February 12, 2022
10:00 am – 6:00 pm NEW Winter Carnival History Hut and Gift Shop–Learn about Winter Carnival, Shop for Official Merchandise (Winter Carnival History Hut near the Ice Palace)
10:00 am *CanAm Snow Rugby (Saranac Lake High School Track Field, 79 Canaras Ave, Call 518-524-5841)
11:00 am *Paul Smiths Woodsmen Exhibition (Riverside Park)
11:00 am – 2:00 pm *Paul Smiths College Alumni Reception (Hotel Saranac, 100 Main St)
11:00 am – 5:00 pm *"Totally 80s" Art Exhibit–Featuring Artwork Produced in the 80s plus More (Adirondack Artists' Guild, 52 Main St.)
12:00 pm Gala Parade Line-Up (Register at Nice N Easy Mobil, 196 Broadway Ave)
1:00 pm Gala Prade presented by Casella Waste and North Country Community College (Broadway and Main St from Ampersand Ave to LaPan Highway)
2:00 pm – 6:00 pm *Waterhole Presents The Big Takeover at the Post Parade Party–Free (48 Main St, After the Parade)
2:00 pm *Rusty Nail Presents 80's Metal Legends The Darkside Skinny Dippers–Free (83 Broadway Ave, After the Parade)
3:00 pm *Romano's Saranac Lanes and Sports Bar presents Sonic Boom playing an all 80's Show (11 Bloomingdale Ave, After the Parade)
8:00 pm *Romano's Saranac Lakes and Sports Bar presents Good Guy Productions DJ Show (11 Bloomingdale Ave)
9:00 pm *Waterhole Presents West End Blend wsg Sideways (48 Main St, $, Doors open at 8:00pm)
SUNDAY, February 13, 2022
10:00 am Community Bank Adult Cross-country Ski Races (Dewey Mountain, Route 3, Call 518-891-2697)
11:00 am Bionique Testing Labs Snowflake Volleyball Tournament (Saranac Lake Civic Center, Rotary Field, 213 Ampersand Ave)
11:00 am ANCA FlowerBall (Lake Flower near the Ice Palace)
11:00 am – 5:00 pm *"Totally 80s" Art Exhibit–Featuring Artwork Produced in the 80s plus More (Adirondack Artists' Guild, 52 Main St.)
12:00 pm – 6:00 pm NEW Winter Carnival History Hut and Gift Shop–Learn about Winter Carnival, Shop for Official Merchandise (Winter Carnival History Hut near the Ice Palace)
12:00 pm Adirondack Health Youth Cross-country Ski Races (Dewey Mountain, Route 3, Call 518-891-2697)
1:00 pm *The Village Mercantile Winter Carnival Shoebox Float Judging and Prizes (The Village Mercantile, 97 Main St, drop off your Shoebox Floats anytime February 4-12, call 518-354-7183 for more information)
1:00 pm *NEW TIME and NEW LOCATION Casella Waste Systems Kiddie Parade (Meet at the Adirondack Carousel, 2 Depot St)
2:00 pm – 6:00 pm *Waterhole Presents The Wormdogs, Bloody Mary Sunday–Free (Upstairs 48 Main St)
7:30 pm Guide Boat Realty Winter Carnival Slide Show (Ice Palace, State Boat Launch)
8:00 pm Guide Boat Realty "Storming the Ice Palace" Closing Fireworks Display (Ice Palace, State Boat Launch)  
Next year's Winter Carnival will be held on February 3-12, 2023