Summer Camp Music Festival has announced the second round of performers for the 2022 edition of the Midwest fest. Headliners include Smashing Pumpkins, Little Feat (performing their classic album, Waiting For Columbus), Joe Russo's Almost Dead, STS9, Zeds Dead, Bone Thugs-N-Harmony, as well as host bands moe. and Umphrey's McGee. The festival will take place from May 25 -29, 2021 at the Three Sisters Park in Chillicothe, Illinois.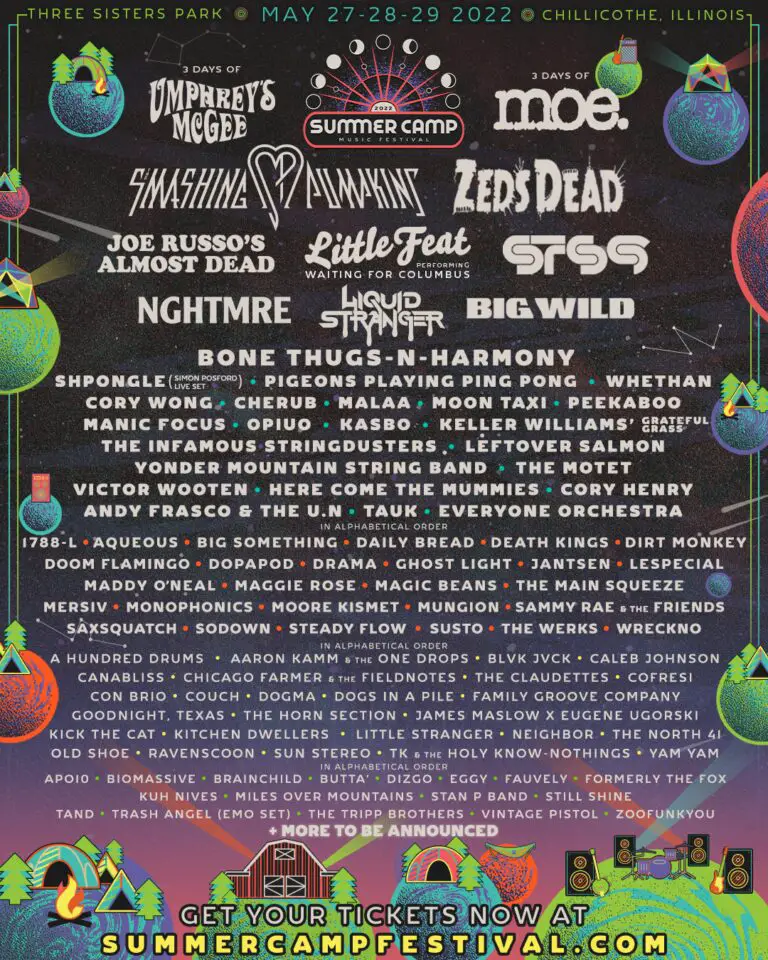 Summer Camp Music Festival first took place back in 2001 and brought about 1,000 patrons to enjoy over 15 bands on two stages during the 2-day event at Three Sisters Park in Chillicothe, IL. Over the years the festival has transformed the grounds annually, making it possible to welcome more fans, more fun and way more music. The festivities take place across Memorial Day Weekend and multiple stages, different genres, and even camping.  
The current announced line up includes moe., Umphrey's McGee, The Smashing Pumpkins, Zeds Dead, Joe Russo's Almost Dead, Little Feat, STS9, NGHTMRE, Liquid Stranger, Big Wild, Bone Thugs-N-Harmony, Shpongle (Simon Posford Live Set), Pigeons Playing Ping Pong, Whethan, Cory Wong, Cherub, Malaa, Moon Taxi, Peekaboo, Manic Focus, OPIUO, Kasbo, Keller Williams' Grateful Grass ft. The Hillbenders, The Infamous Stringdusters, Leftover Salmon, Yonder Mountain String Band, The Motet, Victor Wooten, Here Come the Mummies, Cory Henry, Andy Frasco & The U.N, TAUK, and Everyone Orchestra.
Additional artists, in alphabetical order include 1788-L, Aqueous, Big Something, Daily Bread, Death Kings, Dirt Monkey, Doom Flamingo, Dopapod, DRAMA, Ghost Light, Jantsen, lespecial, Maddy O'Neal, Maggie Rose, Magic Beans, The Main Squeeze, Mersiv, Monophonics, Moore Kismet, Mungion, Sammy Rae & The Friends, Saxsquatch, SoDown, Steady Flow, SUSTO, The Werks and Wreckno,
And more artists in alphabetical order: A Hundred Drums, Aaron Kamm & The One Drops, BLVK JVCK, Caleb Johnson, Canabliss, Chicago Farmer & The Fieldnotes, The Claudettes, Cofresi, Con Brio, Couch, DOGMA, Dogs In A Pile, Family Groove Company, Goodnight, Texas, The Horn Section, James Maslow x Eugene Ugorski, Kick The Cat, Kitchen Dwellers, Little Stranger, Neighbor, The North 41, Old Shoe, Ravenscoon, Sun Stereo, TK & The Holy Know-Nothings and, Yam Yam
Further artists include, in alphabetial order, APO10, Biomassive, Brainchild, BUTTA', Dizgo, Eggy, Fauvely, Formerly The Fox, Kuh Nives, Miles Over Mountains, Stan P Band, Still Shine, Tand, Trash Angel (Emo Set), The Tripp Brothers, Vintage Pistol and Zoofunkyou, with even more bands to be announced.
The latest round of artists announced for Summer Camp 2022 include Big Gigantic, SNBRN, returning fan favorite DJ Paul (Three Six Mafia), Magic City Hippies, and a slew of other great artists set to perform this Memorial Day Weekend.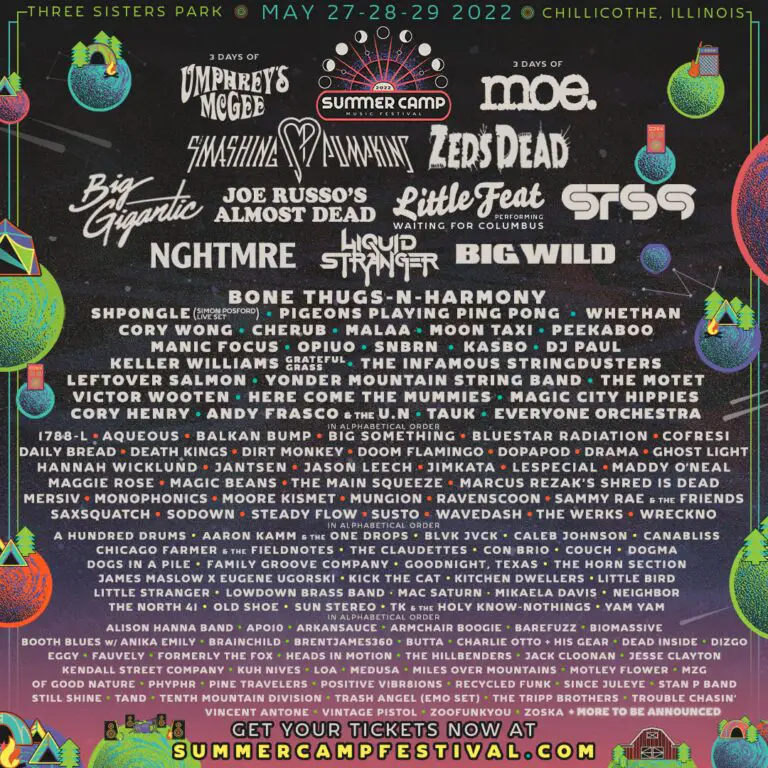 Tickets are on sale now including a variety of ticketing options. There are 3-Day GA Passes, Thursday Pre-Party Passes, VIP Upgrades, & RV / Car Camping Spots. Convenient Payment Plans are offered for those who need a little extra time to purchase their festival ticket. The plans are broken up into multiple installments to offer manageable monthly payments. To learn more about all Summer Camp Ticket Options, click here.
For more information on the 2022 Summer Camp Music Festival visit their website.