Papadelic kicked off the opening night of his Holidelic holiday-residency on December 10 like no other, with vibrant lights, outrageous costumes, a full band, as he transformed traditional holiday tunes into upbeat funk classics. The "flashy, bass-heavy retro futuristic take on the holidays" (New Yorker) showcased GRAMMY-nominated Everett Bradley's unbelievable ability to perform and entertain the audience with groovy vocals, dance numbers, outfit changes, and even reading a story to the crowd at the Lucille Lortel Theatre in the West Village.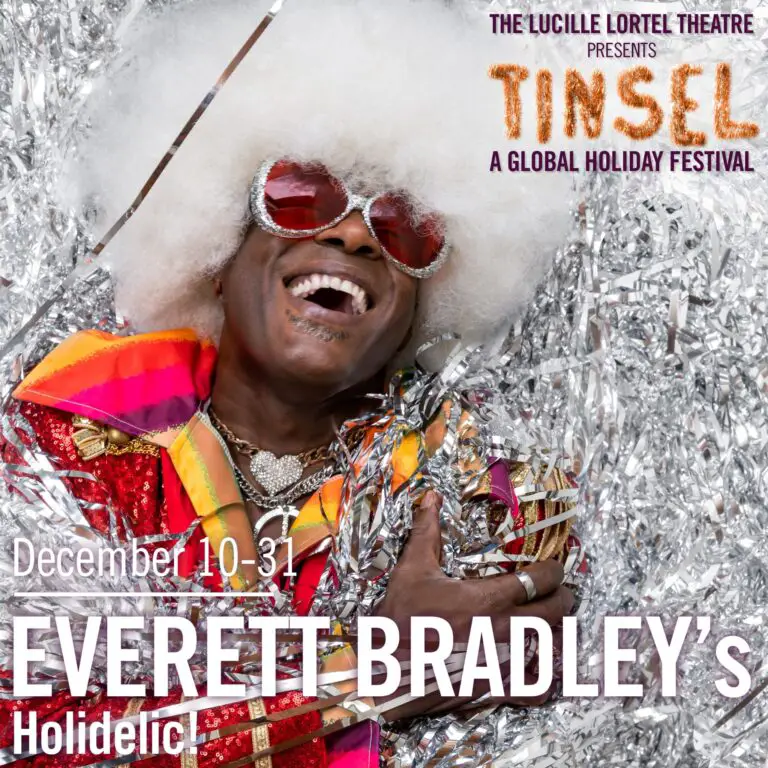 Everett sent laughs spinning around the theatre and welcomed the crowd with open arms. Papadelic was quick to disclose that the room was filled with love no matter your background, culture, or religion just before busting a groove of "Dreidel Dreidel, Dreidel." Each number had the slight reminisce of holiday songs with the new embedded humor and undeniable funk that made for an uncontrollable dance party in Lucille.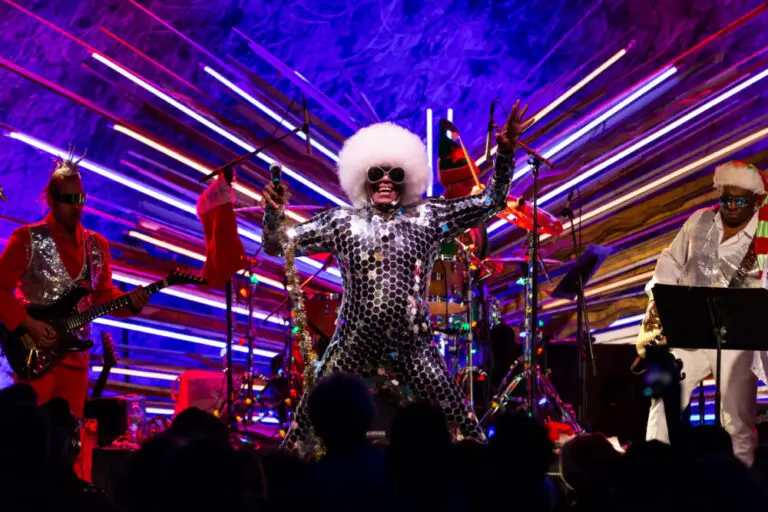 "DysFunktional" urged a full throttling bass line complimented with an oozing brass section and ad libs from three phenomenal background vocalists. Holidelic's white afro, bug eyed sunglasses, red soldier jacket and tight sequin shorts hailed a rambunctious personality from the North Pole putting New York City in the holiday spirit.
Holidelic brought the full fledged experience of creating a light show within itself. Not only did Papadelic's white afro glow in the dark, but the disco ball and running string lights through the theatre created varying ambiances through the show. For his solo number, he wielded a unique instrument that vibrated eerie synths and surged heavy reverb transporting us into an odd alter dimension. His band members retracted back allowing Papadelic to stand alone in the spotlight so we could take in his rich timbre, and have an intimate moment with the man himself in his own spotlight.
Cracking jokes in between made the performance more lighthearted, and one couldn't help but hear the roots in his voice that birthed each moment. One can easily forget that underneath the costume, Everett Bradley is a renowned artist, choreographer, songwriter, and multi-instrumentalist who worked alongside the greats like Daryl Hall & Oats, John Bon Jovi, and Carly Simon.
Everett's illustrious vocals and intimate moment with the audience, walking down the aisle eagerly asking audience members to help sing "Frosty the Snowman," distracted us from the band regrouping on stage for their next big number. Complete with outfit changes and all Everett, revealed an all new white fringed jacket and new white costumes for the band. Back with a full house groove, Papadelic brought out the real star of the show, Santa Claus. They performed a delightful humorous act "Down The Hatch" bringing a bottle of Jack Daniels on stage as a little "present" and proceeded in taking shots throughout the piece.
Everett's long standing Holidelic show at the Lucille Lortel Theatre has shown no signs of slowing down from its debut in 2002. The original idea of starting this show to bring some cheer after 9/11 still holds true, as we all need a little spirit after enduring the recent/on-going pandemic. Bradley was sure to include the importance of visiting the family for the holidays, never knowing when it might be our last.