World-class musicians from the Caroga Lake Music Festival will return to Fulton County over December 16-19 to celebrate the holiday season during WinterFest. Performances are slated for the towns of Caroga, Johnstown and Gloversville.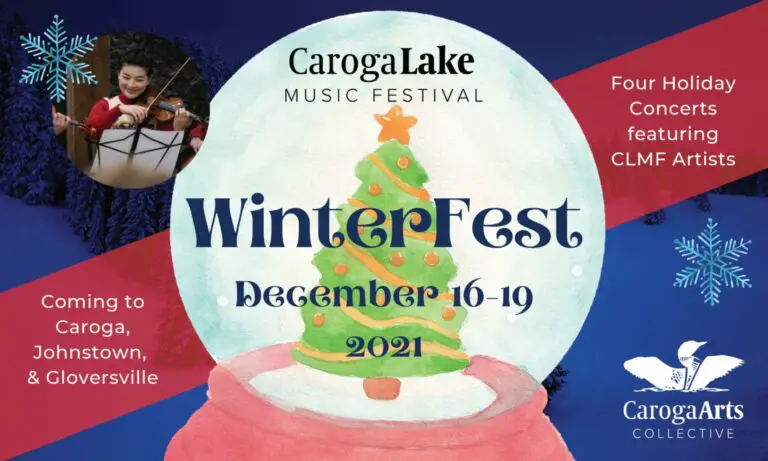 Among the four scheduled performances over December 16 to 19 will be musical festivities featuring works by Tchaikovsky, Bach, Corelli, holiday sing-along favorites and more. See below for a schedule of Caroga Lake Music Festival WinterFest events in the Mohawk Valley.
Encore! Jazz Sessions: A Low-Key Christmas 
Thursday, December 16 – 7:00pm – Nick Stoner Inn, Caroga Lake – Tickets: $15 
Featuring Grammy Award-winning bassist Geoff Saunders and friends
CLMF WinterFest at Paul Nigra Center 
Friday, December 17 – 7:00pm – Paul Nigra Center for the Creative Arts, Gloversville  – Tickets: $15 (Livestream available)
CLMF WinterFest at St. John's Johnstown 
Saturday, December 18 – 7:00pm – St. John's Episcopal Church, Johnstown, NY – Free Admission 
Donations appreciated and split between Caroga Arts and One Church Street. Livestream available via St. John's Episocpal Church facebook page
Holiday Sweets & Suites! – Featuring Caroga Arts Ensemble 
Sunday, December 19 – 4:00pm – The Glove Theatre, Gloversville – Tickets: $10 per person, $30 per family of four 
Special guests Suliman Tekalli (violin) and Mathieu Cognet (piano) performing Tekalli's original virtuosic arrangement of The Nutcracker Suite.