In a step up from their past holiday concert celebrations, Connecticut indie-jam darlings Goose will bring their eighth annual Goosemas show to Mohegan Sun Arena on Saturday, December 18.
The past two years have seen Connecticut rockers Goose grow from a local bar band to a premiere festival headliner who are today announcing their biggest show to date.
Goosemas began as a tradition with humble roots in the basement of a Norwalk, CT music studio. While the next four years would see the band hold an intimate event inside underground venues in Norwalk, the sixth iteration of Goosemas found the band moving the event to Wall Street Theatre. During 2020, Goosemas went up to the top of Rockefeller Plaza for a Twitch exclusive livestream, drawing over 60,000 viewers worldwide,and raised over $45,000 for charity.
We're so stoked to host Goosemas back home in Connecticut. It has truly been incredible to see how the event has grown over the past few years, and we can't wait to do it again in front of a live audience

guitarist/vocalist Rick Mitarotonda
This year's show will see Goose take the stage for three sets, with plenty of surprises in store for fans. Goosemas will be the last show of a highly anticipated, 19-date national fall run, with over half of the tour already sold out.
Initial tickets will be available through a lottery, with a request period running today Tuesday, August 24th at 12 PM ET through Wednesday, August 25 at 5 PM ET. Winners will be notified before the general on-sale, beginning Friday, August 27 at 10 AM ET. Venue Presale will be held on Thurs, Aug 26 @ 10am-10pm ET — password STOCKS 
For more information, and to purchase tickets, visit goosetheband.com/tour.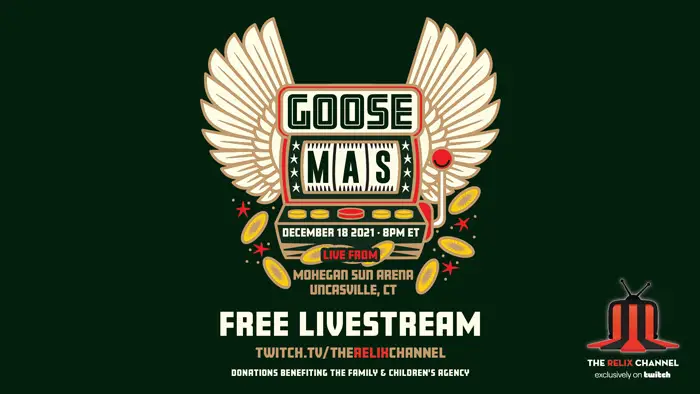 Connecticut-based rock quintet Goose celebrates the holidays with Goosemas live from Mohegan Sun Arena, the band's first-ever arena performance.  Goosemas is the band's eighth annual holiday celebration and premieres Saturday, December 18 at 8PM ET exclusively on The Relix Channel via Twitch. This year's show sees Goose take the stage for three sets, with plenty of surprises in store for fans attending both in person and at home.
Proceeds from the livestream benefit Family & Children's Agency, a Norwalk, Connecticut non-profit serving thousands of children, families, adults, and seniors each year. Viewers can donate to the organization directly through the livestream or on Family & Children Agency's website.
On Saturday, December 18, PhanArt brings together artists and vendors from the growing Goose community for the first time, with a show at Mohegan Sun, The Hometown Flodown.
Held on the day of Connecticut jam band Goose's annual end of year celebration, Goosemas, The Hometown Flodown will represent artist and vendors rising out of the Goose scene, with a wide array of apparel, posters, stickers, household items, photography and much more in store. A perfect gathering spot for fans pre-show, PhanArt shows bring live music fans together for a mix of familiar and unfamiliar faces, new and preferred styles of art, just in time for the holidays.
Located in the Uncas Ballroom of Mohegan Sun, doors for The Hometown Flodown open at 1pm, with a great opportunity to find deals from artists spanning the Goose and jam band communities. Admission is free, with tubes for sale. More details at PhanArt.net
GOOSE FALL TOUR: 
SEP 3:  4848 Festival – Snowshoe, WV (Sold Out) 
SEP 4: Bonnaroo – Manchester, TN (Sold Out) 
SEP 18: Sea.Hear.Now Festival / Asbury Park, NJ
OCT 8:  Terminal 5  / New York, NY (Sold Out) 
OCT 9:  Terminal 5  / New York, NY (Sold Out) 
OCT 28: State Theatre / Portland, ME
OCT 29: State Theatre / Portland, ME (Sold Out) 
OCT 30: The Palladium / Worcester, MA  (Sold Out) 
OCT 31: The Palladium / Worcester, MA
NOV 6: The Eastern /  Atlanta, GA (Sold Out) 
NOV 7 : The Eastern /  Atlanta, GA (Sold Out) 
NOV 9: Republic New Orleans / New Orleans, LA (Sold Out) 
NOV 10:  House of Blues  / Houston, TX 
NOV 11: Scoot Inn / Austin, TX  (Sold Out) 
NOV 12: Scoot Inn / Austin, TX  (Sold Out) 
NOV 13: The HiFi Dallas / Dallas, TX (Sold Out)
NOV 16: Tower Theatre / Oklahoma City, OK
NOV 17: The Truman KC / Kansas City, MO
NOV 21: The Mission Ballroom / Denver, CO (Sold Out)
NOV  22: The Mission Ballroom / Denver, CO 
DEC 18: Goosemas / Mohegan Sun Arena / Uncasville, CT 
GOOSE WINTER TOUR 2022: 
JAN 26: Marquee Theatre / Tempe, AZ
JAN 27: The Observatory North Park / San Diego, CA (Sold Out)
JAN 28: The Fonda Theatre / Hollywood, CA (Sold Out)
JAN 29: The Regency Ballroom / San Francisco, CA (Sold Out)
JAN 30: The Regency Ballroom / San Francisco, CA  
FEB 2: Midtown Ballroom / Bend, OR
FEB 3: Wonder Ballroom / Portland, OR (Sold Out)
FEB 4: Wonder Ballroom / Portland, OR (Sold Out)
FEB 5: Neptune Theatre / Seattle, WA (Sold Out)
FEB 7: The ELM / Bozeman, MT