The Hollies, one of the most iconic bands in British music and Rock & Roll Hall of Fame inductees will celebrate their 60th anniversary with a return to the US in 2022.
The dates mark the band's first US tour in over two decades and take in New York, Los Angeles, Chicago, New Jersey, and Washington DC.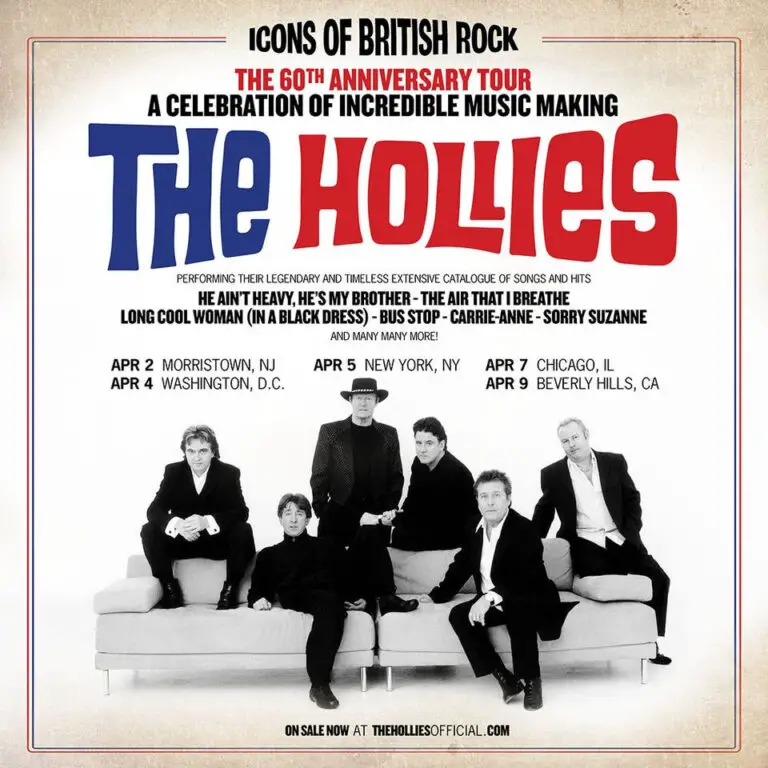 Famed for their soaring, distinctive melodies and brilliantly crafted songs, the 60th-anniversary tour will see The Hollies performing their best-known hits including 'He Ain't Heavy, He's My Brother', 'The Air That I Breathe', 'Long Cool Woman (In A Black Dress)', 'Bus Stop', 'Carrie-Anne' and 'Sorry Suzanne'.
We felt like this is something no other band gets to do, celebrate six decades together, 60 years of this band and these songs means so much to us and so many others.

Tony Hicks, guitarist
The line-up includes powerhouse drummer Bobby Elliott, and singer, songwriter, and lead guitarist Tony Hicks, both of whom are original members of the band. They are joined by lead singer Peter Howarth, as well as bass player Ray Stiles, Keyboardist Ian Parker, and Steve Lauri on Rhythm Guitar.
Celebrated as one of the most influential bands from the 1960s British Invasion era alongside the likes of the Beatles and the Rolling Stones, the Hollies have had over 20 worldwide hits, including number one singles in both the US and UK. They have spent an astonishing 263 weeks in the UK's top 40 official singles chart, and have been performing continuously since their formation in 1962.
We're incredibly excited performing for everyone on what will be some of the most special shows in the history of The Hollies.

Bobby Elliott, drummer
Their cultivated musicianship, coupled with the Hollies' extensive back catalog of memorable rock 'n' roll tunes, has ensured the longevity of one of the greatest groups to emerge from the early 1960's British Rock Revolution.
In 1995, they have bestowed the coveted Ivor Novello Award for Outstanding Contribution To British Music, and in 2010 were inducted into the American Rock 'n' Roll Hall of Fame for their 'impact on the evolution, development, and perpetuation of Rock and Roll'.
The Hollies 60th Anniversary Tour Dates
April 2 – Mayo Performing Arts Center, Morristown, NJ
April 4 – The Kennedy Center, Washington DC 
April 5 – Town Hall, New York, NY
April 7 – The Athenaeum, Chicago, IL
April 9 – The Saban, Los Angeles, CA
Tickets are on sale now here.