Prog rockers are not a group known for their sense of humor. But there is one towering prog godhead who is top of the heap as an instrumental virtuoso and teller of ridiculously entertaining tales, ones featured in his surprisingly stupendous memoir, Grumpy Old Rock Star.  It's Rick Wakeman, the keyboard wizard whose riffs can be heard on some of the most memorable works of Yes, The Strawbs, David Bowie, Cat Stevens, T. Rex, Al Stewart and a boatload of his symphonic solo albums.  
Wakeman brought his massive chops and incredibly funny tales to Woodstock's beautifully outfitted Bearsville Theater on November 1.  It was the last stop on the first swing of his "Even Grumpier Old Rock Star Tour."  The evening was equal parts baroque instrumental brilliance and Borsch Belt humor.  And it was all the more enjoyable for it.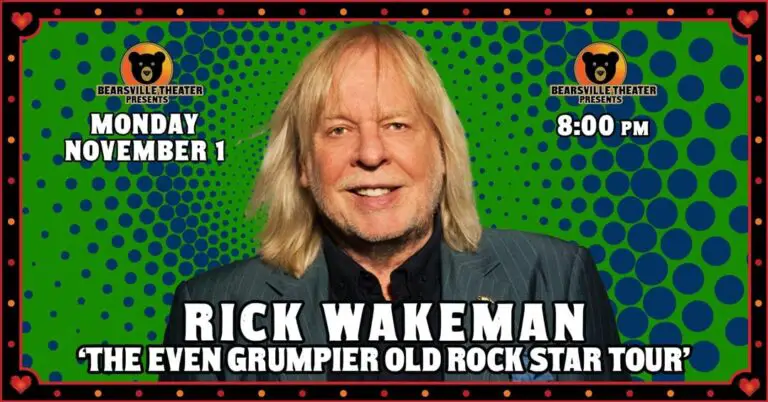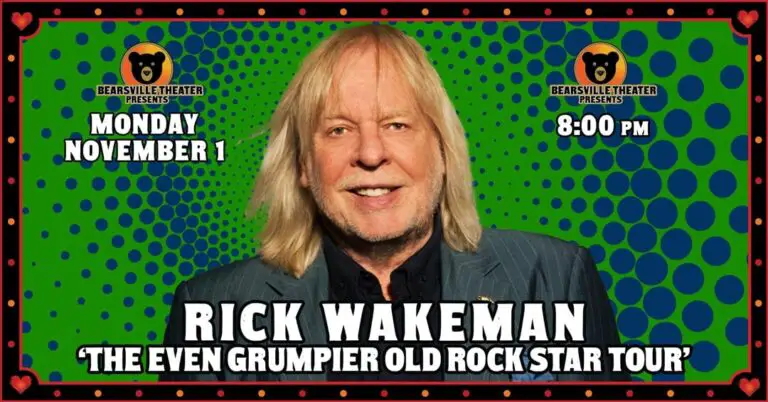 Dressed in a knee-length black morning jacket, Wakeman manned a duo of Korg Nautilus synths and a Yamaha grand piano to take the audience on a 14-song retrospective of his career as session man, bandmate and solo artist.  There was a similar cache of stories, as well as a Q&A session, where the keyboardist reeled off hilarious anecdotes with punchlines as well-oiled as his arpeggios.
After the gorgeous symphonic double synth-driven opener "Seahorses," Wakeman moved over to the piano. Here he told the story of one of his most memorable dates as a session man on Cat Stevens' classic "Morning Has Broken." According to the piano man, it wasn't really all that much of a song, just 40 seconds or so, when they first ran through it. Stevens' producer Paul Samuel-Smith asked his to lengthen it with a piano intro, a gorgeous one that is as memorable as Matthew Fisher's Bachesque organ on "Whiter Shade of Pale."  The producer and Cat liked it so much that they asked him to return to it several times, in the middle of the tune and for a coda, to bring the tune to single length.  Wakeman also recalls Stevens sitting in a corner chain smoking, all to muster the proper grit to commit his vocal to tape. He also remembers not getting paid, until 37 years later, the 12 British Pound session fee (about $120 is today's dollars)!
Wakeman then set up a medley of two tunes from his classic The Six Wives of Henry the VIII album by observing that "the King's life was prophetic of my own."  Like Henry, Rick had multiple marriages, one reason being "that I really liked cake." But where Henry "chopped off his wives' heads," Wakeman observes he "gave my wives houses."  After the laughs died down, Wakeman gave sharp, articulated performances of "Catherine of Aragon" and "Catherine Howard."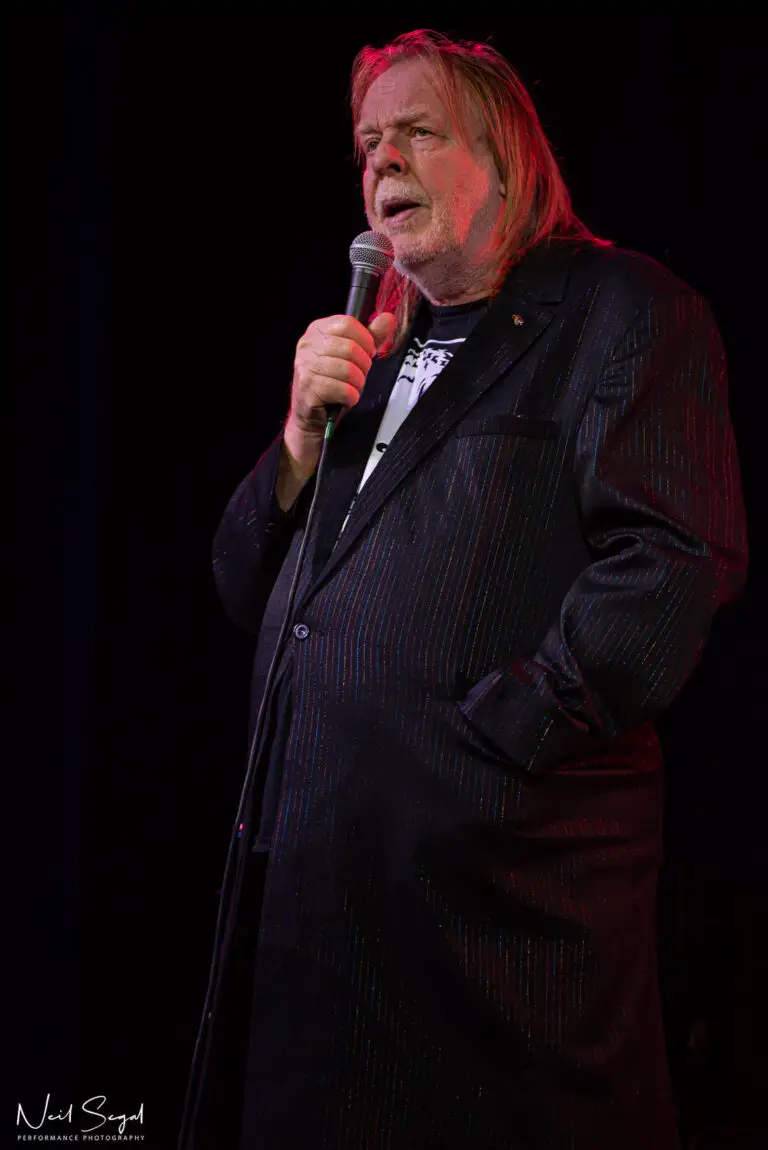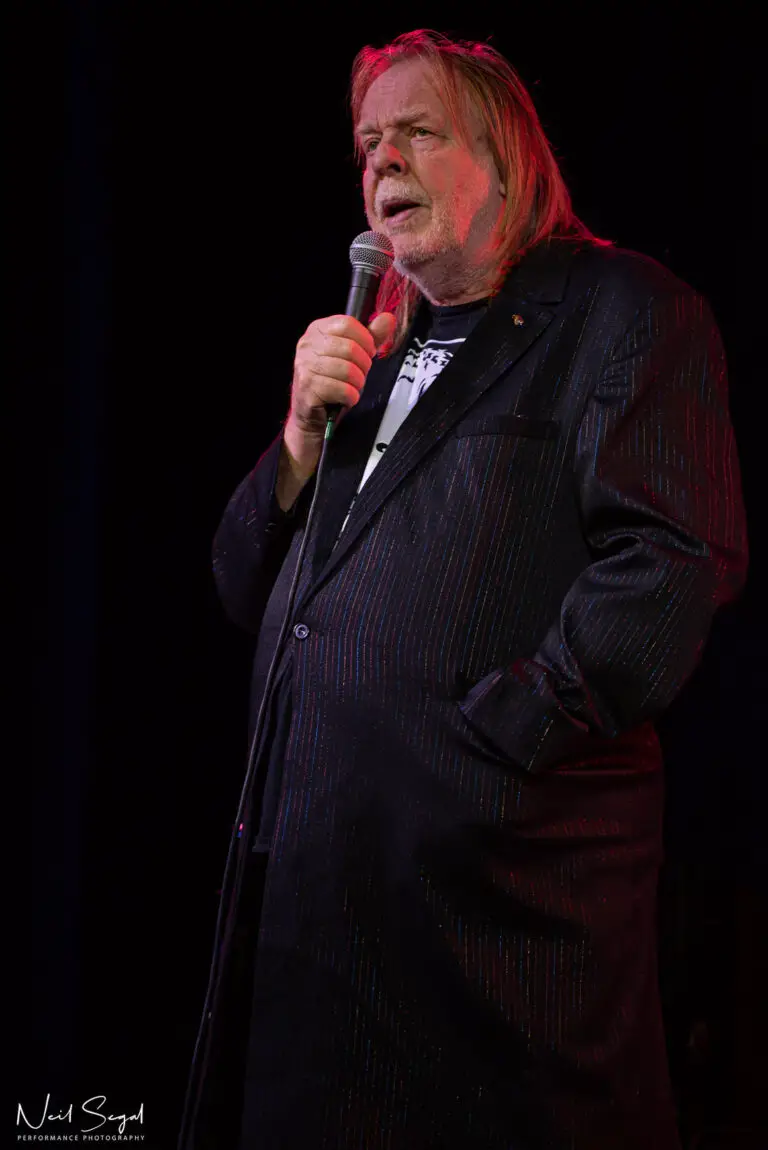 Before heading into a medley of Yes, a mashup of "The Meeting," "And You and I" and "Wonderous Stories," Rick told an anecdote about a clever putdown he launched at a know-nothing TV interviewer in Los Angeles. When asked where his bandmate Trevor Rabin was when he wrote Yes' biggest hit "Owner of A Lonely Heart," Wakeman said he was "did it on the toilet."  And that it "was the first time someone wrote a #1 while doing a #2!"  Naturally, the interview ended right there.
In the Q&A that followed, Rick answered 25 fan queries. He shared a host of trivia about his career, his love for his fellow prog keyboard titan, the late Keith Emerson, and that, yes, his long blonde hair was all his.  He then returned to the synths for "The Dance of a Thousand Lights" from his 1999 disc, Return to the Centre of the Earth.
The creative and emotional high point of the evening came with Wakeman's memories and medley of David Bowie, a giant whose last residence was a stone's throw from Bearsville.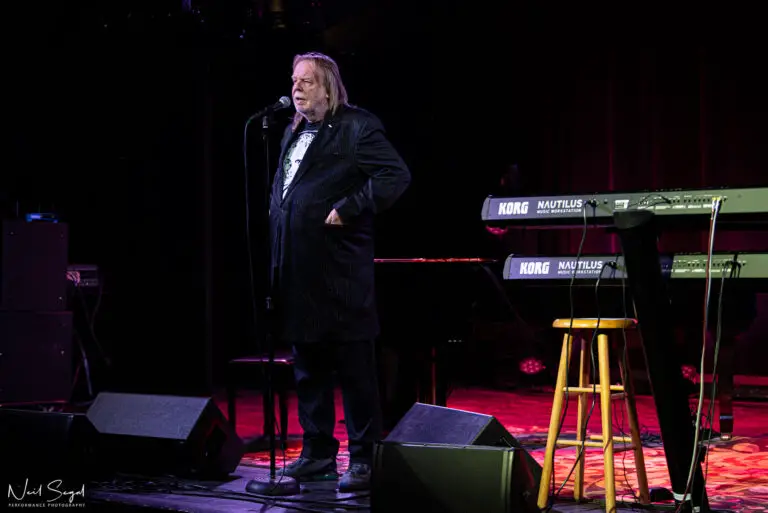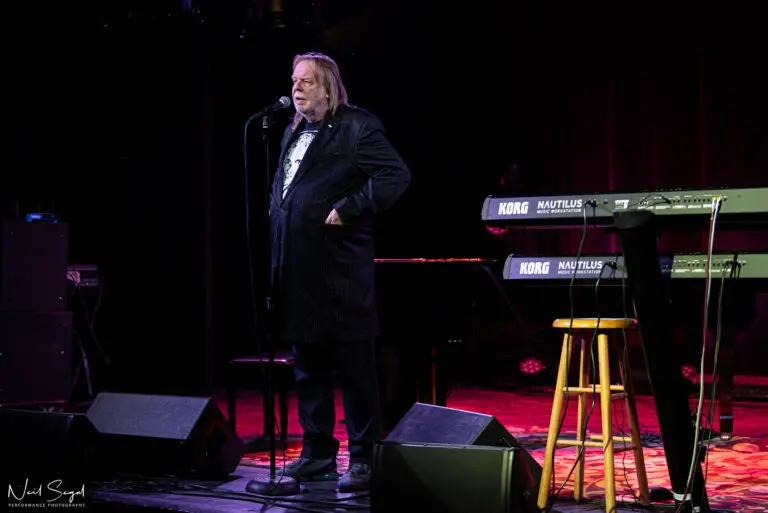 Rick was the pianist featured on two of Bowie's greatest works, his career-making "Space Oddity" and "Life on Mars." Before launching into the tunes, Rick recalled their days of neighbors in the U.K and various chance meetings while on tour. He also credited Bowie and his producer Tony Visconti as sources of knowledge in the area of record production that proved so vital in his career.
Rick Wakeman then told another humorous tale about Emerson and Deep Purple's Jon Lord, before dedicating the next medley to them, wildly original covers of The Beatles "Help!" and "Eleanor Rigby." Repeating an exercise he learned during his days at the Royal College of Music, he covered these in the styles of classical composers. The standout was his reinvention of "Eleanor Rigby" in the hyper style of Sergei Prokofiev.  It was blur of rapid arpeggios and pianistic filagree which could've been complemented by a horde of dancing Cossacks… if Rick could still afford the overkill of his infamous stage productions of the 1970s.
After a standing ovation and thunderous applause from the near sell-out crowd, Wakeman returned for a crowd-pleasing encore of story and sound.  First came another scatological tale about a "dodgy vindaloo" and being asked to autograph an album while on the toilet!   This was followed by yet another instrumental dazzler, the super syncopated "Merlin the Magician" from 1975 album, The Myths and Legends of King Arthur and the Knights of the Round Table.
Wakeman's concert is a model for what classic-era artists can bring to their audiences. It had musicianship that showed he hadn't lost a step to time and his formerly wild rocker lifestyle. It also had all the tall tales and trivia that die-hard fans have an inexhaustible hunger for.
Photos by Neil Segal