For the Halloween episode of Saturday Night Live, former cast member and Ted Lasso star Jason Sudeikis returned to Studio 8H for his first time as host. Joining Sudeikis was country rock superstar Brandi Carlile, who played two songs off her new album, In These Silent Days.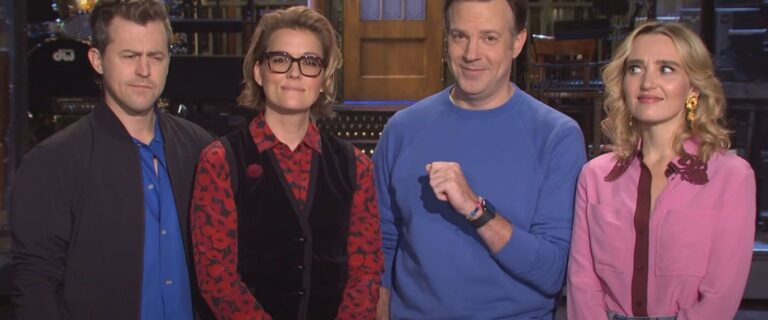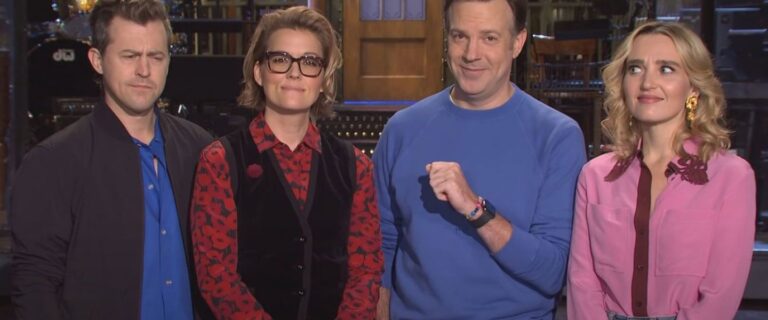 Following a cold open that featured multiple versions of Joe Biden, including Sudeikis' finger-gun shooting, aviator shade wearing rendition from Biden's time as Vice President, Sudeikis launched into a reflective, funny and heartfelt look back at the stage and studio that SNL has been filmed in for 47 years. Sudeikis tugged heartstrings in the way only Coach Lasso can do, reminiscing on how SNL changed his life.
This room, here. To be here. This place is historic. For a second, just look around, for real. Even all you amazing people who work in the crew, just look around for a second. Think about all the brilliance that's happened here. All your favorite sketches: Wild and Crazy Guys, Gilly, Cowbell, Wayne's World, all happened in right here, in here, where you are.

This place changed my life, twice. Once as a castmember and a writer here. But most importantly as a kid watching from home. And there's a good chance that if you're watching tonight, there's probably something from this place probably changed your life too.
Following three sketches perfect for Sudeikis – a frustrated host of a kids science show, Mellen (a male version of Ellen) and a hilarious open house sketch with Ego Nwodim and Kyle Mooney, Carlile performed her first song of the night, "Broken Horses."
Wearing a gold tuxedo and singing into a golden mic with an orange electric guitar, Carlile was joined by collaborators Phil and Tim Hanseroth, who also backed her on harmonies, as well as Shooter Jennings on piano, who produced her 2018 album By the Way, I Forgive You. "Broken Horses" also doubles as the title of her recently released memoir.
After a lively Weekend Update that saw the return of Sudeikis' turn as The Devil, the classic "What up With That?" appeared for the first time since 2012 (if you don't count the remote April 2020 version from SNL at Home) with Kenan Thompson and surprise guests Oscar Isaac, Emily Ratajkowski, Nicholas Braun.
Brandi Carlile began her second song of the night, "Right on Time," the lead single off her new album. Playing solo piano in a sequin-covered black and white tux, Carlile allowed the impressive tune a slow burn on the ivories, before picking up her guitar to join the band for the song about two embattled lovers, bursting forth with vocals that set the bar high for musical guests this season, only four episodes in.
Saturday Night Live is off next week, and returns on November 6 with Succession actor Kieran Culkin and musical guest, Ed Sheeren.