written by Matthew Romano
Eric Gales brought his incredible five-piece touring band to the Homer Center for the Arts on Monday, October 18, 2021. Gales starts his shows in a similar manner on the microphone by himself discussing the hardships he and all of us have taken on over our lifetime. Eric told the crowd, "If you haven't cried the blues the past 18 months then god forgot to pass you out a soul."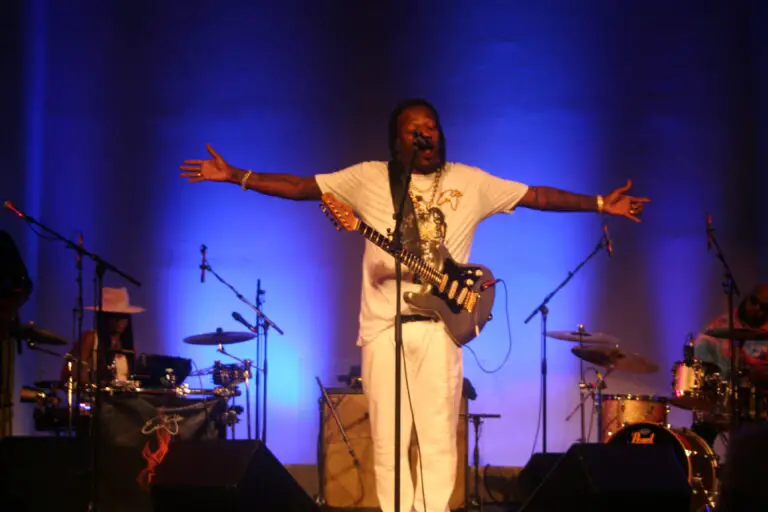 From this angle, Eric began his performance on the acoustic guitar talking about the same blues that his grandfather had. His grandfather used to play with Howling Wolf and Muddy Waters. Gales said he wanted to spread the spirit and the inspiration his grandfather instilled in him. During the fitting titled "Grandaddy Blues," the rest of the band appeared behind him on stage following suit to the groove. On percussion and backing vocals was his wife, LaDonna Gales, Nick Hayes on drums, and on bass from Brooklyn, Nil Jones.
Eric made sure the microphones and sound were on point chuckling at the familiarity of its resonance in an old church. Gales is no stranger to Jimi Hendrix's electric church. Eric was part of the cast touring with Jimi's bassist Billy Cox, the jellyfish Buddy Miles on drums, and Stevie Rays' Chris Layton for the "Experience Hendrix Tour." Robert Ranndolph was there too,
He even educated the crowd that Jimi played a right handed guitar but strung it left handed. For clarification, Gales and bassist Nil Jones were playing completely upside down and backwards.
So naturally as a salute they played Gales original "Southpaw Serenade."
In between songs, Gales inner tales were serenading the crowd to a wide range of stories. From his funk playing days in Minnesota that caught the eye and ear of the legendary Prince to his overall approach on life. Eric told the crowd "I believe laughter and music are the best forms of communication and medication." Gales took one four-minute break the whole night, while Jones helped rattle the brick inside Homer for a bass solo.
Gales returned to the stage fired up saying, "I'm getting tuned up I feel a sermon coming on, it's been far too long." At the end of a two and half hour performance, Eric treated the crowd to a bouncy funked up version of "Voodoo Child" that led to a blended jam of Led Zeppelin's "Kashmir" and AC/DC's "Back in Black" to remind the audience it is still Rocktober. Tony Hall told NYS Music after seeing Gales footage, "Hes a bad mother fucker"
Jimi Hendrix once said "When I get up on stage -well, that's my whole life. That's my religion. My music is electric church music." Robert Cray looked to the ceiling at the Homer Center for the Arts last month during his performance and said "Jimi Can you hear me?" Eric Gales and his band channeled the same energy on a stormy Monday to start the week at the electric church in Homer.
Ana Popovic crushed the European leg of Experience Hendrix and The Center this year. Samantha Fish killed at the center Wednesday November 3rd. Mississippi's Christone "Kingfish" Ingram took the Delta Roads from Mississippi to Homer, New York the night before Samantha. They are all blues disciples.
NYS Music loved that Eric started the week in Homer to only link up with Gary Clark Jr On "When my Train Pulls in" down the road in Greensboro. Flotations groovy I said a jelly fish will tell ya that. NYS Music agrees with Santana on Gales…its all a piece of the blues disciples history. Tony Hall and Arsenio Hall said it best "Yea he's bad"