Ever since powerhouse music manager Albert Grossman arrived at the dawn of the '60s, Woodstock has served as the delightfully laid-back domicile for some of the biggest names in music.  With Grossman came his stable of stars – Bob Dylan, Janis Joplin, Paul Butterfield and also non-Grossman managed giants like Jimi Hendrix and, much later, David Bowie. What also arrived was an abundance of top-flight recording studios and informal artist retreats, like The Band's legendary basement recording space Big Pink, where some of the finest moments in modern music were crafted.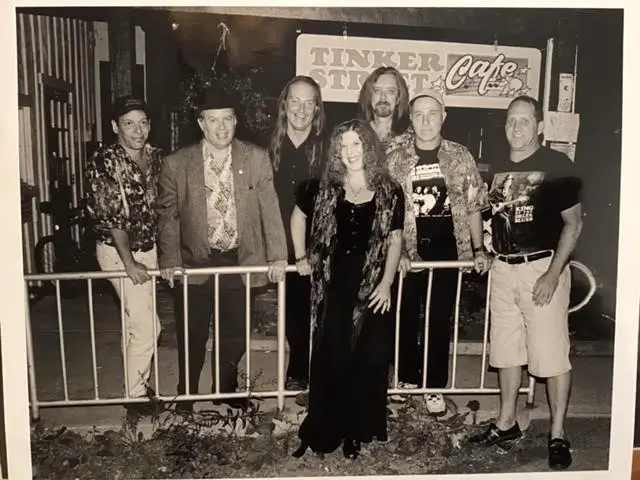 Musicians are perhaps the most social of the creative breeds. These are a seemingly tireless brood who love nothing more than to get together after a long gig or recording session to chat, imbibe and, of course, jam to create even more sonic magic. 
Now one of Woodstock's most legendary musicians' hangouts of the past, The Tinker Street Café, is coming back to life in a new memoir by one of its owners, Jerry Mitnick, The Music In The Walls: Stories and Anecdotes from Tinker Street Café (HappyLife Productions).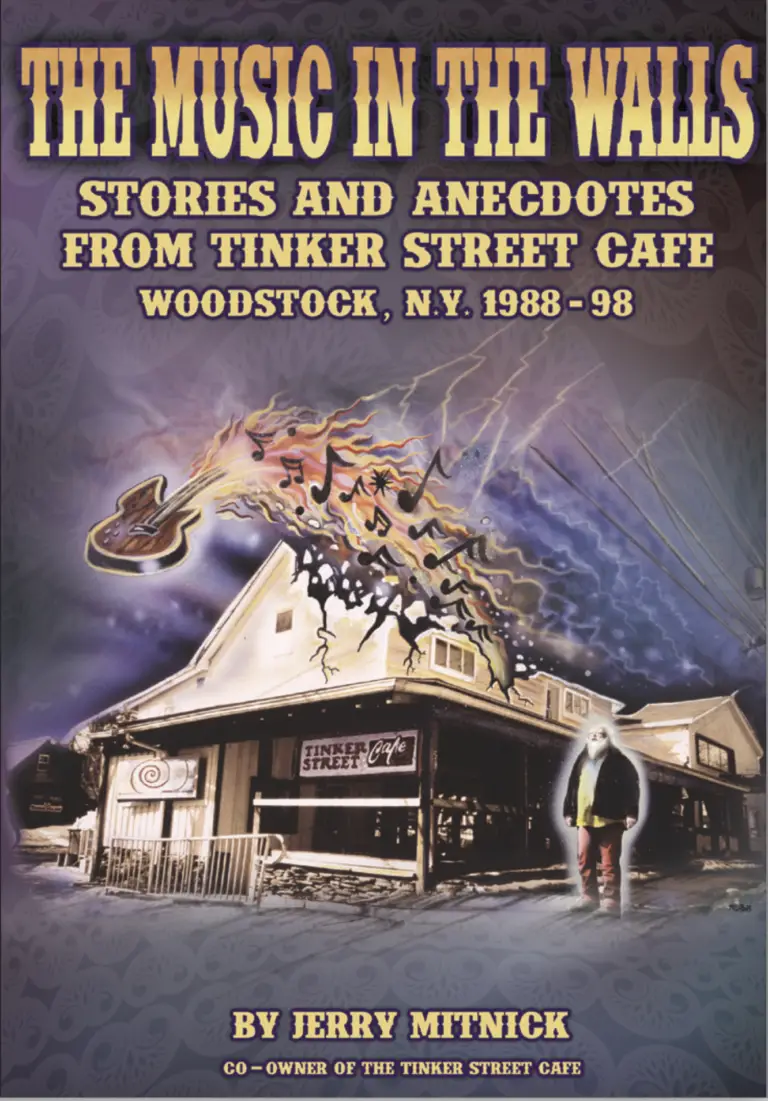 For ten years beginning in 1988, The Tinker Street Café was the place where the biggest names who were living or recording in Woodstock could be found.  Locals like Rick Danko, John Sebastian, Mick Ronson, Tony Levin and The B-52s Fred Schneider held court alongside passing-throughs like Gregg Allman, Living Colour, Dave Matthews and many more. And where there are musicians, libations and a stage with a ready backline, there's sure to be great music. There are also sure to be some unforgettably comic moments courtesy of these toasted and/or tanked music makers – events that are the heart of Mitnick's slim but richly entertaining memoir.
Mitnick relates these tales in rapid-fire chapters and the captivating banter of a seasoned barkeep, which I assume he was at some point during the Café's run. 
He begins his story in his native Brooklyn, where the seeds of his love of music were sewn – first as a schoolboy devotee of doo-wop, then as a bassist in a series of bands.  Jerry was a professional musician from the mid-'60s through the late '80s, one who, like many, also drove a cab to make ends meet.  His gigs included everything from playing in showbands at Catskill resorts to a close call with mortality when his band, The Human Condition, flew to El Salvador to play a concert in the middle of its bloody revolution.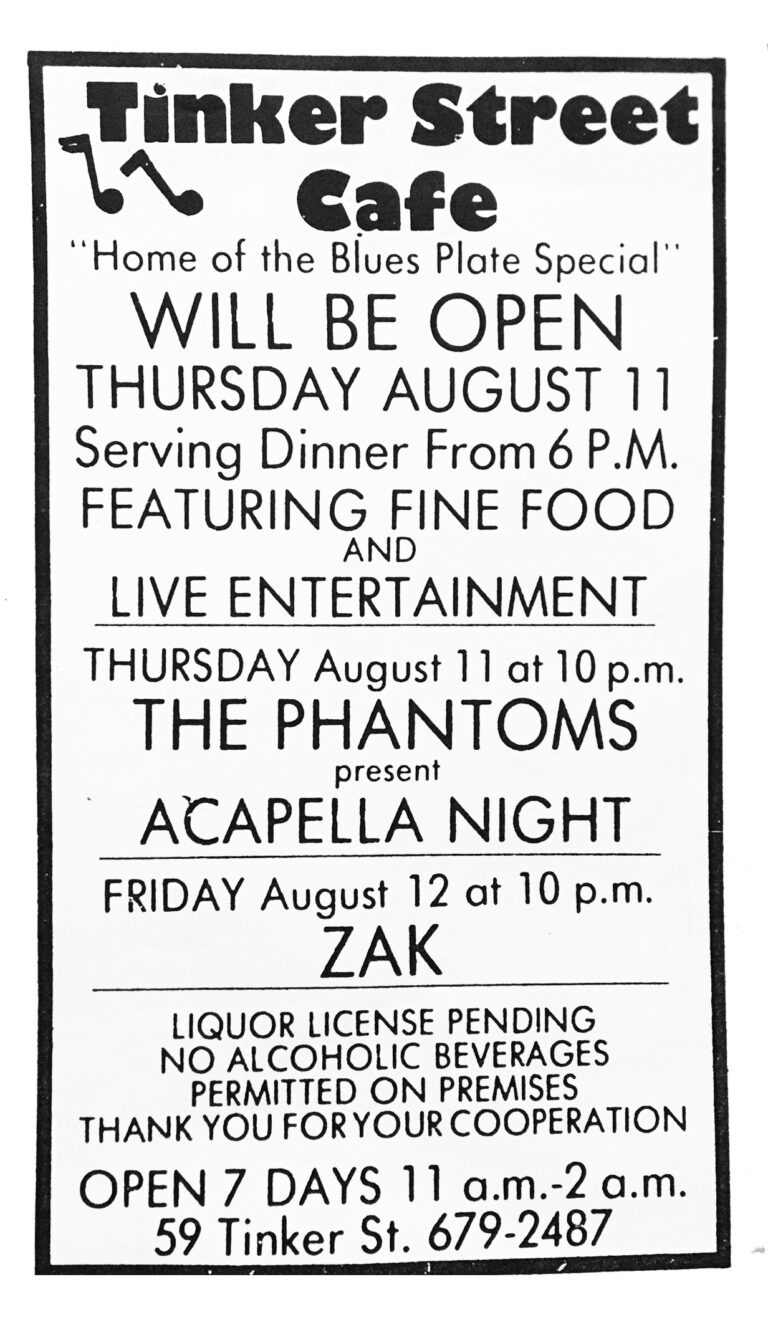 A call in 1988 from his friend Freddie Sandell not only forever changes his life, but also rewired the social scene in Woodstock.  Sandell invited Mitnick to become a partner in a club on Tinker Street, one that would be in the site of the former Café Espresso.  Sandell would handle the bar, Mitnick the music booking and a third partner the restaurant service.  Then turning 40 and tiring of the working musician grind, Mitnick eagerly jumped on board.
The author gives some good backstory on the history of the legendary Café Espresso.  It opened in 1962 in the former site of another popular hangout dating back to the Roaring Twenties, The Nook.  It immediately became a hotbed of music with live performances by Joan Baez, Ramblin' Jack Elliot and Bob Dylan.  The Espresso's owners, The Pautrel's, famously let Dylan live in "The White Room" on the second floor during 1963.  It was here that he wrote much of the music for his 1964 classic, Another Side of Bob Dylan.  The Espresso would also become the site of countless jam sessions featuring Jimi Hendrix and scores of other music glitterati. But after passing through a few owners, it was in a pretty sad state by the mid-'80s. That was when it earned a new nickname among locals, "The Café Depresso."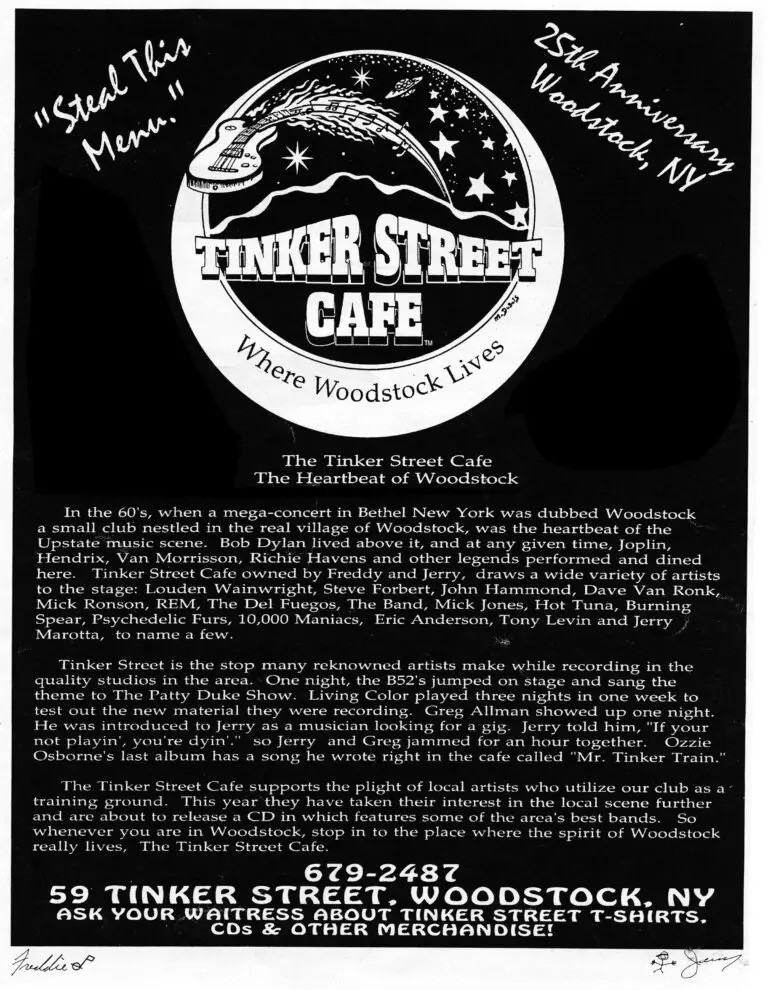 In the book, Mitnick recalls the many Christmas concerts The Band's Rick Danko played for charity as well as the countless nights he dropped by to try out freshly-penned songs. There's also a great tale about a legendary jam between Danko and Jefferson Airplane/Hot Tuna guitarist Jorma Kaukonen, another rock luminary who resided in Woodstock in the '80s.  Jorma and Hot Tuna would also come to hold the record for the "most songs played in a night" according to Mitnick.  Another memorable happening was when the Dave Matthews Band took a break from their recording to play a benefit for the family of a girl killed in Kingston in 1995. Even though the event was unpublicized per Matthew's wishes, the word spread fast and it drew scores who listened to the three-hour plus set from outside the packed club.
Jerry's own highpoint might've been the night Gregg Allman dropped by.  That night, Mitnick got to jam with him till the wee hours before a crowd of no more than 30 people.  A low point may have been when Hendrix's bassist Noel Redding came to town. He promptly passed out during the first song, ending his show. Mitnick also recalls other great events witnessed by surprisingly small crowds. This included when Joey Ramone sang "I Wanna Be Sedated" and B-52s Fred Schneider crooned the "Patty Duke Show" theme at an Open Mic night.  There's also a funny yarn about songwriter Loudon Wainwright III overhearing a woman wax poetic about what she'd like to do with his tongue.  Loudon tended to poke his oversized licker out while singing, something that seemed to capture the bawdier quadrants of the unnamed woman's imagination.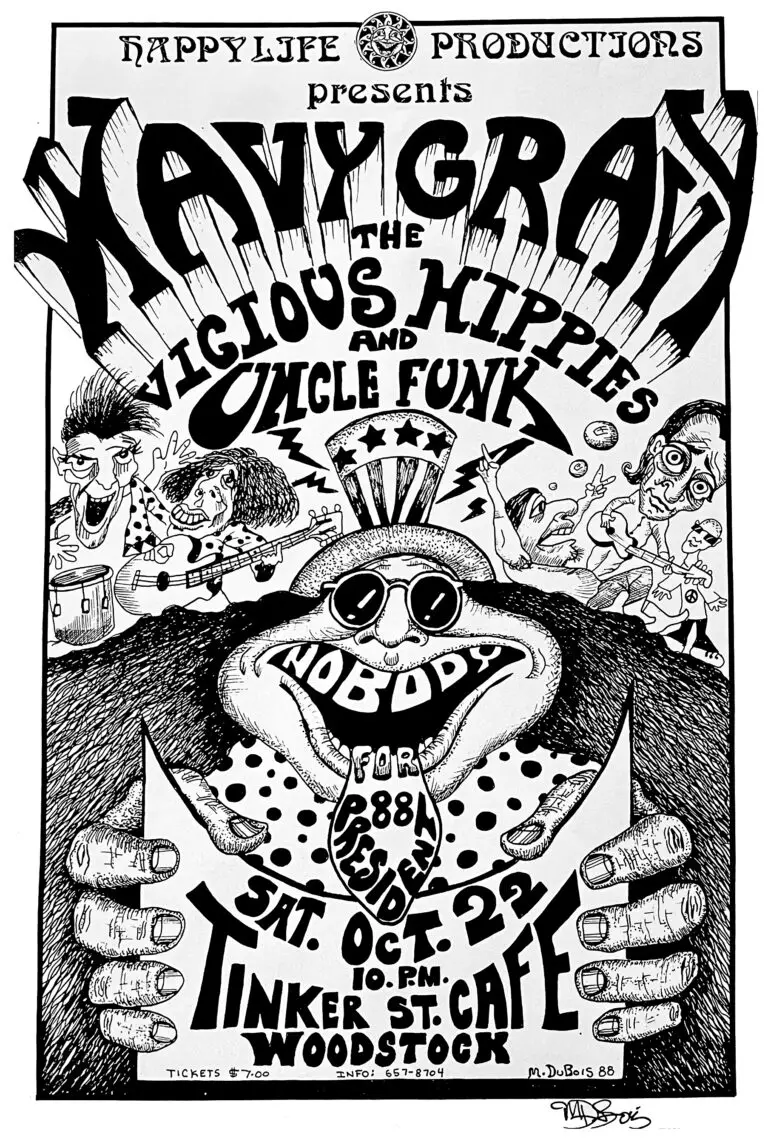 Mitnick also describes The Tinker Street Café's renowned "Wall of Fame."  What the author calls a "Poor Man's Hard Rock Café" exhibit would grow to include items like John Sebastian's harmonicas, drumsticks from Steve Jordan, strings from the guitar Carlos Santana played at Woodstock '94, Bob Dylan's handwritten lyrics to "To Ramona" and "It Ain't Me Babe" and the bass guitar Tony Levin played on Peter Gabriel's hit "Sledgehammer," one that was burnt up in a fire before it was gifted to Mitnick for his display.
According to Mitnick, it was the Tuesday Poetry Nights and not the rock events that were the most volatile. Here seemingly peaceful wordsmiths/hosts like Gunga Dean, Les Visible and Max Schwartz, Jim Morrison's old college roommate, would sometimes come to blows with each other over their strong opinions about their works.  And speaking of wordsmiths, legendary metal wild man Ozzy Osbourne would come to the Café during breaks in his recording sessions to sit quietly and write lyrics. Mitnick also discusses the weekly Blues Nights hosted by Orleans' axeman John Hall, its Sunday Jazz Nights hosted by vibraphonist Karl Berger, the very short-lived Karaoke Nights and its Smoke-Free Women in Music Nights, which featured notables like Jill Sobule and Patti Rothberg and no ciggies.  There is also a discussion of the Live from The Tinker Street Café broadcasts on Radio Woodstock.  These featured memorable sets by artists like Cracker, Aimee Mann, Garbage and Jewel, a then-unknown who Mitnick found "incredibly boring" and unlikely to be successful in the biz.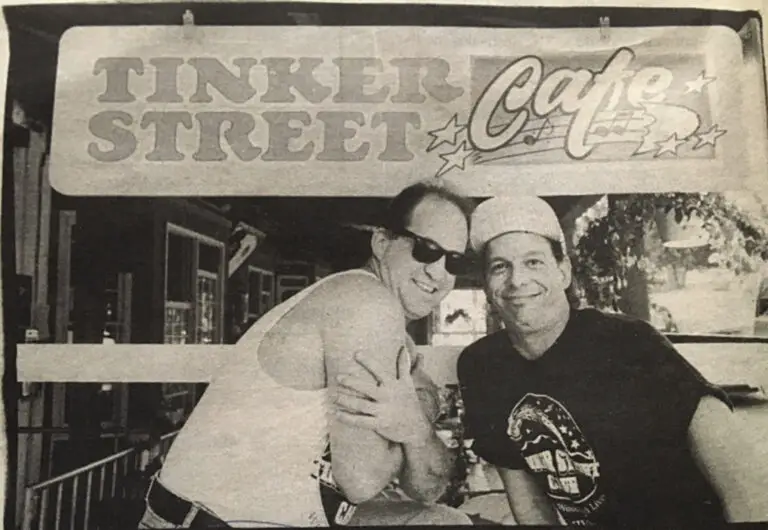 The author also devotes a good deal of space to local heroes who are not household names but were beloved. These include the late guitarist/studio builder Ted Orr of the band Futu Futu, singer/guitarist Jim Eppard and even some of the more off-the-wall customers and Tinker staff.  There are also testaments to hysterical hijinks like "The Cockateering Club."  This effort, instigated by a Tinker bartender and his well-lubricated customers, erected 7ft. snow penises all along Tinker Street during winter storms.  The Cockateers' ultimate goal was to create a "Dream Field of Cream," 300 or so of their snow schlongs on the town's golf course. Sadly, this never came to be.
Mitnick's book would not have been possible without the assistance and artwork by Mike Dubois of HappyLife Productions.  The veteran poster and graphic artist who has worked with artist like Grateful Dead provided the cover art for book, one based on his artwork for a 1994 Tinker Street Café compilation CD, and several more posters within.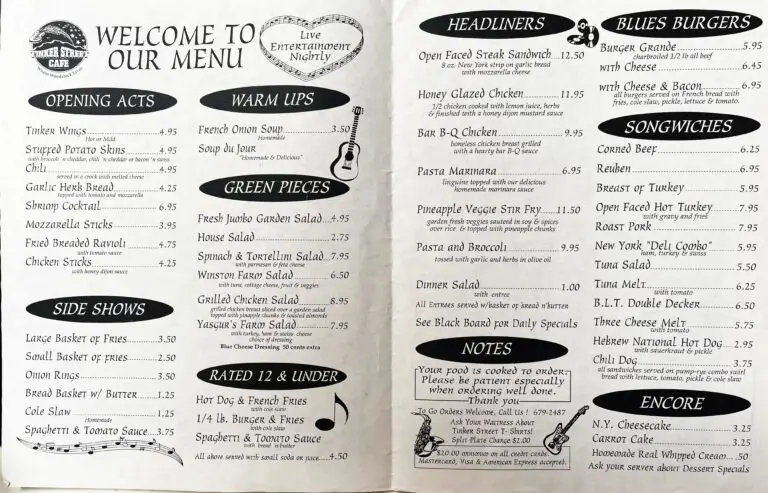 Today, Dubois is also playing a role in the revitalization of the former Tinker Street Café, under the direction of its new owner, Lizzie Vann, who also runs the Bearsville Theater complex. 
Dubois' HappyLife art gallery/gift shop has moved into half of the former Tinker Street Café space at 59 Tinker Street.  The other half will feature food, drink and some periodic music performances orchestrated by Vann. It will also serve as a satellite to Vann's popular Bearsville Theater, where folks can purchase tickets to events, merchandise and more.
At present, Jerry Mitnick's The Music In The Walls: Stories and Anecdotes from Tinker Street Café is available exclusively at the HappyLife Gallery at 59 Tinker Street, Woodstock, and via its website.  The gallery will also be hosting a book signing with the author on Saturday, July 16 from 2 – 4 pm.