Todd Rundgren has quietly returned to Woodstock's Utopia Studios Soundstage to begin rehearsals for his "The Individual, the Star" U.S. tour. The legendary multi-instrumentalist received a reported "quiet hero's welcome" as he returned to the area ahead of his induction into the Rock 'N Roll Hall of Fame at the end of October. 
Rundgren's Woodstock Roots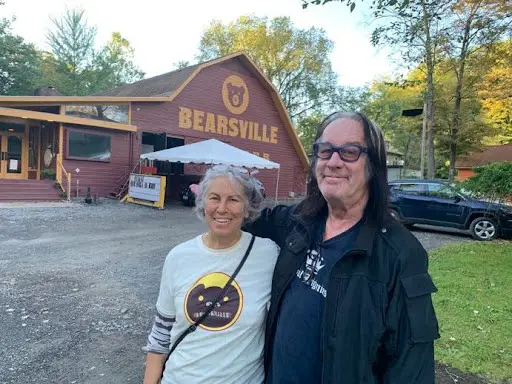 Rundgren, also known for his work with the band Utopia, created the soundstage at Bearsville Theater Complex himself. He commissioned the project for an "innovative video studio" back in 1979, and filmed the video for his single "Time Heals" there. The video would go on to be the second video ever broadcast on MTV. Over the years, the studio has served as a home for many music-related businesses, including Radio Woodstock. 
Rundgren made sure to take breaks from rehearsal during his week-long visit. While in town, Rundgren also attended the Woodstock Film Festival for a screening of the documentary Fanny: The Right To Rock. Rundgren himself appears in the documentary, which was screened at the Bearsville Theater. 
A Wizard, A True Star
Rundgren's current tour celebrates his monumental 1973 album, A Wizard, A True Star. Rundgren found inspiration for the project, and a changing point of view, in experimentation with psychedelic drugs in his mid-20s. "I became more aware," Rundgren once said of making the album, "Of what music and sounds were like in my internal environment, and how different that was from the music I had been making." Rundgren described the 19-track LP as a hallucinogenic "flight plan." 
Though at the time A Wizard, A True Star isolated much of Rundgren's audience, it received widespread critical acclaim, and has been recognized in later years for its influence on lo-fi bedroom musicians. Even Frank Ocean sampled synths from the project on his own historic contribution to lo-fi, 2016s Blonde. 
Rundgren kicked off his The Individual, The Star Tour on October 1st in Boston. He played three dates at the beginning of October in New York, all at the Gramercy Theater in NYC. The tour will continue through the beginning of November, heading West and closing out November 7th in San Francisco. 
Todd Rundgren, The Individualist, a True Star 2021 Tour
Oct. 01 – Boston, MA @ Big Night Live
Oct. 02 – Boston, MA @ Big Night Live
Oct. 04 – Ridgefield, CT @ Ridgefield Playhouse
Oct. 05 – Ridgefield, CT @ Ridgefield Playhouse 
Oct. 07 – New York, NY @ Gramercy Theatre 
Oct. 08 – New York, NY @ Gramercy Theatre 
Oct. 09 – New York, NY @ Gramercy Theatre 
Oct. 11 – Philadelphia, PA @ The Fillmore 
Oct. 12 – Philadelphia, PA @ The Fillmore 
Oct. 14 – Huntington, NY @ The Paramount 
Oct. 17 – Washington DC @ Capital Turnaround 
Oct. 18 – Washington DC @ Capital Turnaround 
Oct. 20 – Atlanta, GA @ Tabernacle 
Oct. 23 – Miami, FL @ The Fillmore 
Oct. 24 – Clearwater, FL @ Capitol Theatre 
Oct. 25 – Clearwater, FL @ Capitol Theatre 
Oct. 29 – Canton, OH @ Canton Palace 
Oct. 30 – Cincinnati, OH @ The Andrew J Brady ICON Music Center 
Nov. 01 – Chicago, IL @ House of Blues 
Nov. 02 – Chicago, IL @ House of Blues 
Nov. 05 – Grand Rapids, MI @ 20 Monroe Live 
Nov. 06 – Cleveland, OH @ MGM Northfield Park 
Nov. 07 – Cleveland, OH @ MGM Northfield Park 
Nov. 10 – Denver, CO @ Paramount 
Nov. 12 – Los Angeles, CA @ Belasco 
Nov. 13 – Los Angeles, CA @ Belasco 
Nov. 14 – Los Angeles, CA @ Belasco
Nov. 16 – San Francisco, CA @ The Fillmore 
Nov. 17 – San Francisco, CA @ The Fillmore