Video game covers and dark medieval Prog-Rock were on hand for Friday, October 8 as Comic Con came to a close, ShwizZ, You Bred Raptors?, and Bonus Level treated New York City to a night of technically sound musicians, nostalgic video game inspired covers, and a lot of booty shaking at The Loft at City Winery.
Tetracube, aka Chris Gironda, played DJ sets between the bands throughout the night. The night kicked off with ShwizZ; any combination of musicians including Andy Boxer on drums and Ryan Liatsis on guitar is an all-time great lineup to witness. With the new additions of Scott Hogan on bass and Will Burgaleta on keys, ShwizZ continues to deliver that powerhouse flavor with a couple of new spices to give it zest.
Following ShwizZ was a band that was well worth the wait. From the first second You Bred Raptors? started playing, you felt as if you had been teleported into an orchestra conducted by Tim Burton, as if Jack Skeleton was the inspiration behind their twists and turns of their demonic symphony.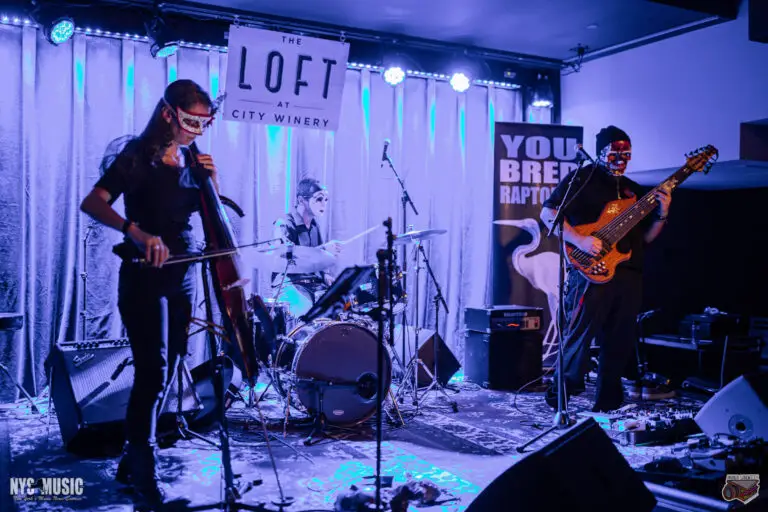 To close the Comic Con night, Bonus Level, a new project consisting of Corey J. Feldman and Nate Searing of Brooklyn-based band Cousin Earth, along with Tom Tompkins on guitar and Darren Denman on keys took us through a journey of classic video game covers and improvisational Easter eggs. The crowd was extremely impressed with how well they created different paths of spontaneity, while also staying true to the original soundtracks. Their Type II video game jams made for a fun combination of musical prowess and nostalgia at its finest.
Words by Nick Codina, Photos by Amanda Siedner