The Nth Power today release their album Reverence, their second release since 2015's Abundance. The power trio formed at one of the legendary late night jazz fest jams in New Orleans with bassist Nate Edgar and guitarist Nick Cassarino. Nikki Glaspie was part of the legendary Berklee College Music scene in 2001. Her classmates at the time went on to form Soulive and Lettuce.
While at a show in Nantucket with Sam Kininger Band Nikki got the call to audition for Beyoncé's first all female band. "I had 50 bucks in my pocket and said to myself, "What am I gonna do?" Which led me to staying in New York for the audition which opened the door to be Beyoncé's drummer on a world tour." She then dabbled with the heavy New Orleans sound as the drummer with Tony Hall with Dumpstaphunk on their tour. Just this month Nikki released "Guardian Angels" with guitarist Tim Reynolds.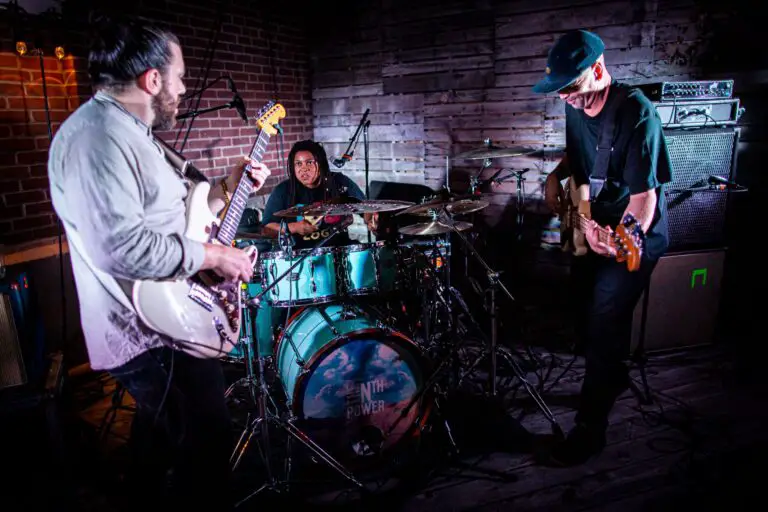 Nikki formed a power trio project "the Nth Power" at a late night New Orleans Jazzfest gig in 2012 with bassist Nate Edgar and guitarist Nick Cassarino. The album is dedicated to Tedeschi Trucks Band member and Oteil's brother Kofi Burbridge. Kofi plays keyboards and flute on all but one song on Reverence. It was his final studio work before his passing in February 2019. Cassarino said of Burbridge's presence on the album, "It means everything that Kofi was playing with us before his transition. He brought the same energy to the studio that he brought to the stage, that he brought to rehearsal, that he brought to dinner — greatness."
Cassarino covers vocals as well for The Nth Power. The group certainly channels Kofi on the song "Spirits" accompanied by his brilliant keyboard work. The track "A New Day" really speaks to those living in the moment every calendar year. The album also sails some heavier seas with the song "Take My Soul" before "they" do. 
The Nth Power's vibe is simple on Reverence It pulls from all different soulful musical genres to help ensure the healing power of love is spread through the world. It is also a tribute to the final musical project of the legendary ride Kofi Burbridge had, and the album title "Reverence" is a word chosen to represent respect in his honor. 
Key Tracks: Spirits, A New Day, Take My Soul 
The Nth Power Tour Dates: Fall Back In Love Tour
Sept. 23 – Los Angeles, CA – The Mint
Sept. 24 – San Francisco, CA – Boom Boom Room
Sept. 25 – Mill Valley, CA – Sweetwater Music Hall
Sept. 26 – Nevada City, CA – Crazy Horse Saloon
Sept. 27 – Mammoth Lakes, CA – Liberty Bar
Sept. 28 – Reno, NV – Virginia Street Brew House
Sept. 29 – Sacramento, CA – Torch Club
Sept. 30 – Bend, OR – Volcanic Theatre
Oct. 1 – Portland, OR – Mississippi Studios
Oct. 2 – Seattle, WA – Barboza
Oct. 13 – New Orleans, LA – Howlin' Wolf
Oct. 22 – Placerville, CA – Hangtown Music Festival
Oct. 30 – Live Oak, FL – Suwannee Hulaween