Dave Matthews Band arrived at Saratoga Performing Arts Center (SPAC) on September 17, 2021, for the first of two shows at one of their most familiar stomping grounds. Matthews briefly grew up in the Hudson Valley of New York before heading to South Africa, then to Charlottesville, VA to form his eponymous band.
The first concert Dave ever saw was that of Pete Seeger. "My parents took my brother, my sisters and me. I will never forget it. I was little. Dancing in a field in Upstate New York while the grown-ups sat on the grass."  Dave was able to share the Saratoga stage with a 94 year-old Pete at the September 2013 Farmaid concert.
Dave Matthews Band opened their two night run at Saratoga Performing Arts Center (SPAC) on Friday with a nod to Seeger by performing "Rye Whiskey," the first time the full band has played it since Bethel Woods in 2009. A variation on the traditional Scottish folk song "Way Up on Clinch Mountain", Seeger's version includes the lyrics "If the ocean was whiskey and I was a duck, I'd swim to the bottom and never come up."
Tim Reynolds warmed Saratoga up with a two night acoustic run on his own at Putnam Place back in June. He told NYS Music about playing smaller rooms before his sold out SPAC shows "Oh incredible man, I think this year is wide open."
The band extended out "So Damn Lucky" from the 2003's Some Devil, seguing into Sly and The Family Stone's "Thank You Falletinme Be Mice Elf again." Dave Matthews had reunited with Some Devil bassist Tony Hall for their Labor Day  weekend shows at The Gorge Amphitheater in George, WA, where Hall sat in on low end for bassist Stefan Lessard. Hall told NYS Music about the recording of Some Devil "I had a lot of fun with that record. One of my favorite songs is "So Damn Lucky."
A new song debuted by the band this tour, "Walk Around The Moon," has a psychedelic sound based on a true story of being lost in the woods with unexpected consequences very fitting for Saratoga Spa State park with a forest lining. The band shone a moonlit glow on the crowd for "You Never Know" with it's fitting lyrics, "Funny when you're small, The moon follows the car there's no one but you see Hey, the moon is chasing me". The band took "Jimi Thing" for a walk down multiple SPAC trails mashing up covers by Huey Lewis' "I Want a New Drug," Prince's "Sexy Motherfucker" and The Rolling Stones. Dave took on Mick Jagger's front man energy while singing the Stones staple "Satisfaction" in honor of Charlie Watts, for whom Dave Matthews Band had opened up for in the past.
All the lovers in attendance got a "#41," "Say Goodbye," and "Lover Lay Down" to keep their flames lit. Tony Hall's cajun influence is heard during the appropriate "Louisiana Bayou" jam. The band encored an upstate New York anthem "Don't Drink The Water," with the poignant "here's the hitch your horse is leaving" lyric for the Saratoga race track heads.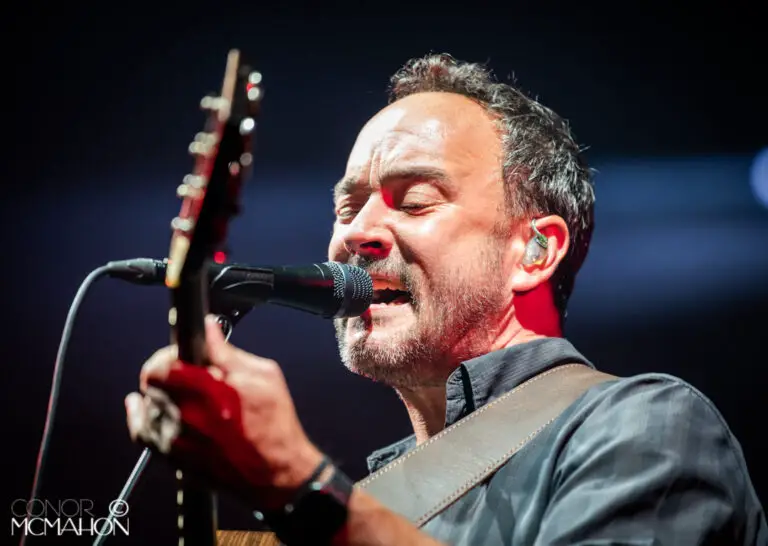 Night two at SPAC and the weather was perfect for more Dave Matthews Band. "Big Eyed Fish" opened the show, as the crowd was treated to "#27," "The Stone," and "Sugar Will," all three being golden tunes to catch a vibe. Up next Buddy Strong kicked that B3 Hammond up for a howling cover of The Zombies "Time of the Season." "Pantala Naga Pampa " -> "Rapunzel" musical ride hit hard mid set, with "Granny" reminding the crowd why they were in attendance (Love!!!…Baby!!!)
The ensemble closed with Bob Dylan's "All Along the Watchtower," while midway through the chilling cover, Dave came in with the final verses of "Stairway to Heaven." The house lights went up and a fresh fall air set on the crowd. The encore jumped seasons with "Christmas Song," a simple song about the message of love through baby Jesus. They finish with "Shake me like a Monkey" to make sure the crowd is on the same page before exiting into our lives: "Do you know what it is to feel the light of love inside you? And all the darkness falls away. If you feel the way I feel then I believe we have the answer. That I've been searching for tonight" 
Dave Matthews Band – September 17, 2021 – Saratoga Performing Arts Center (SPAC), Saratoga Springs, NY
Setlist: Rye Whiskey, One Sweet World, That Girl Is You, Pig, So Damn Lucky, Can't Stop, Walk Around the Moon, You Never Know, Minarets, Jimi Thing, I Want a New Drug, Sexy M.F., Brown Sugar, Bitch, (I Can't Get No) Satisfaction, #41, Say Goodbye, Kill the Preacher, Why I Am, What You Are, Lover Lay Down, Louisiana Bayou, Stay (Wasting Time),
Encore: Sister, Don't Drink the Water
Dave Matthews Band – September 18, 2021 – Saratoga Performing Arts Center (SPAC), Saratoga Springs, NY
Setlist: Big Eyed Fish, Bartender, Grace Is Gone, Grey Street, #27, The Stone, So Much to Say, Anyone Seen the Bridge, Too Much, Sugar Will, Crush, Squirm, Lying in the Hands of God, Time of the Season, Pantala Naga Pampa, Rapunzel, Drive In, Drive Out, Granny, Warehouse, All Along the Watchtower
Encore: Christmas Song, Shake Me Like a Monkey