Emo/alternative rock pioneers, The Juliana Theory, have announced their U.S tour where they will be co-headlining with Mae this September.Both shows at Music Hall of Williamsburg on September 11th and 12th are sold out, as well as the two tour kick-off shows in Los Angeles at The Roxy on September 3rd and 4th.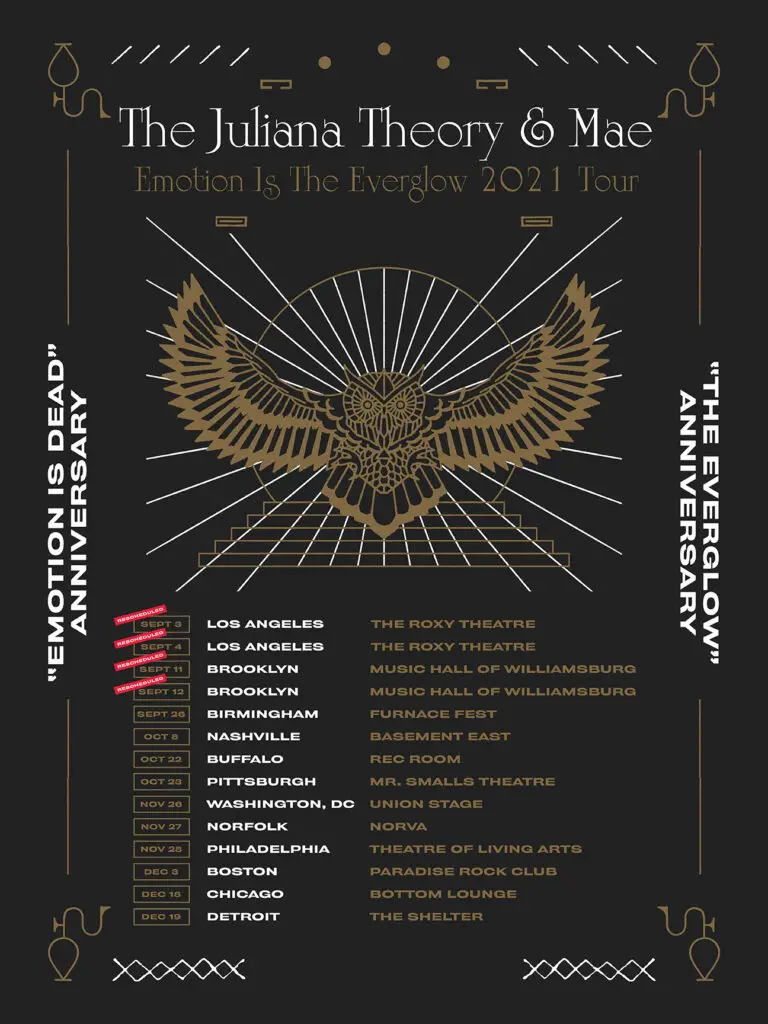 Pittsburgh's The Juliana Theory helped set the standard for the many bands that would wield a rock/pop hybrid as their weapon of choice.  Their first album, the emo-pop cult classic, Understand This is a Dream, showed the band quickly evolved and sharpened their sound, and later delivered 2000's genre-defining and genre-transcending, Emotion is Dead. 
Fast forward to 2020 and The Juliana Theory has returned with multiple co-headline anniversary shows celebrating the 20 year anniversary of Emotion is Dead. Although the shows were postponed to fall of 2021, the band continued their comeback, signing with Equal Vision Records and releasing "Can't Go Home," a synthpop anthem marking their first new music in over a decade and a half.  Following the single, the band released their first LP in over 15 years, a reimagined album of the bands' most enduring classics entitled A Dream Away on March 26, 2021 – assuring that classics like "Into the Dark" and "Were At the Top Of the World" could continue to evolve.  
The anniversary tour will take them along the East Coast hitting both Nashville, Tennessee and Birmingham, Alabama. The Emotion Is The Everglow Tour 2021 will feature a full-band performance from The Juliana Theory with original band members Brett Detar and Joshua Fiedler. If you haven't already listened to their latest album, A Dream Away, don't panic! The album features reimagined classics like "Into the Dark" and "If I Told You This Was Killing Me, Would You Stop?" from Emotion is Dead in 2000. Nonetheless, The Juliana Theory will be play Emotion is Dead in full, reminding us of how far this band has come over the past two decades. Mae will also being playing classics from 2005's The Everglow. 
Before they all run out be sure to check out tickets at thejulianatheory.com. Purchases will include a VIP package including an exclusive vinyl variant of Emotion is Dead.
The Juliana Theory and Mae "The Everglow Tour" 2021 tour dates
September 3rd – Los Angeles, CA @ The Roxy
September 4th – Los Angeles, CA @ The Roxy
September 11th – Brooklyn, NY @ Music Hall of Williamsburg
September 12th – Brooklyn, NY @ Music Hall of Williamsburg
September 26th – Birmingham, AL @ Furnace Fest
October 8th – Nashville, TN @ The Basement East
October 22nd – Buffalo, NY @ Rec Room
October 23rd – Pittsburgh, PA @ Mr. Smalls Theatre
November 26th – Washington D.C. @ Union Stage
November 27th – Norfolk, VA @ NorVA
November 28th – Philadelphia, PA @ TLA
December 3rd – Boston, MA @ Paradise
December 18th – Chicago, IL @ Bottom Lounge
December 19th – Detroit, MI @ Shelter