In celebration of the upcoming religious holidays, FANS.live and The Friday Night Jam present High Holidays, a spiritual and musical celebration. Now in its tenth year, the website will present four services broadcasted live for free led by Rabbi Daniel Brenner and musical director Jeremiah Lockwood, featuring Antibalas' Jordan McLean, Yuli Beeri and a full live band.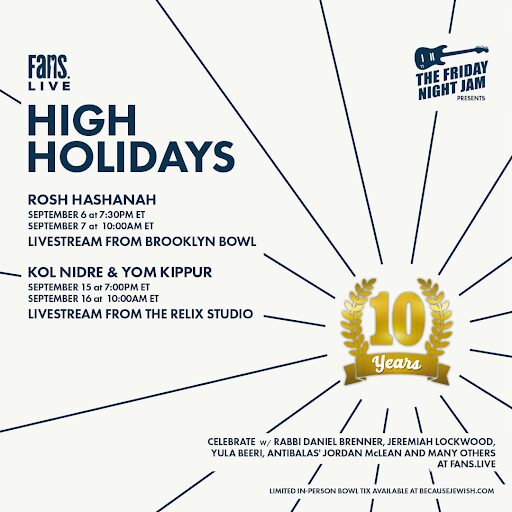 Streams on September 6 and 7 are set for Rosh Hashanah and will take place at Brooklyn Bowl, with a limited number of tickets also available for those who wish to attend. Two more services on September 15 and 16 will be in celebration of Kol Nidre and Yom Kippur, streamed live from Relix Studios.
The services will feature a mix of live music and remote video contributions from a mix of musicians including Alex Bleeker (Real Estate), Eric Slick (Dr. Dog), Dan Lebowitz (ALO), and Eric Krasno (Soulive and Lettuce). CEO of Mindfulness Consulting, Yael Shy, will be leading guided meditations at each event streamed from the Brooklyn Bowl, while Jewish mindfulness teacher Michael Bilick will lead meditations at the events streamed from the Relix Studios.
Links for tickets and streams are below. For those wishing to attend services at Brooklyn Bowl, all guests ages 12 and over must show proof of at at least one vaccine shot prior to entry.
WHEN & WHERE:
MON, SEP 6 @ 7:30PM EST from Brooklyn Bowl
(purchase tickets here & stream live via Fans.live)
TUE, SEP 7 @ 10AM EST from Brooklyn Bowl
(purchase tickets here & stream live via Fans.live)
WED, SEP 15 @ 7PM from The Relix Studio
(stream live via Fans.live)
THU, SEP 16 @ 10AM from The Relix Studio
(stream live via Fans.live)