Self-described manipulator of light. DJ by night and day. Keyholder to the power of music and unknown grassroot secrets of our music and political history. A description of him will often times be brought up amongst select youth who attend his nights at clubs before they can think of his name. " Who was that old guy DJing when we went to Union Pool?" " He had played the techno music and was playing until we left at 3 am" " Ah… Yes, DJ… DJ Preskool." 
Found halfway down on his website at the beginning of a paragraph, it transcribes the origin of his name is that "Before there was Old Skool or Nu Skool, there was PreSkool." So, who is this DJ?
Larry Weissman, 71, who used to only be  DJ PreSkool on weekends, quit the ill-fitting suit of corporate America in 2014 leaving his position as Vice President of IT at Wells Fargo. He then put himself through Dubspot (A DJ school in New York City) to do something that he seemed to have been manifested to do, DJ.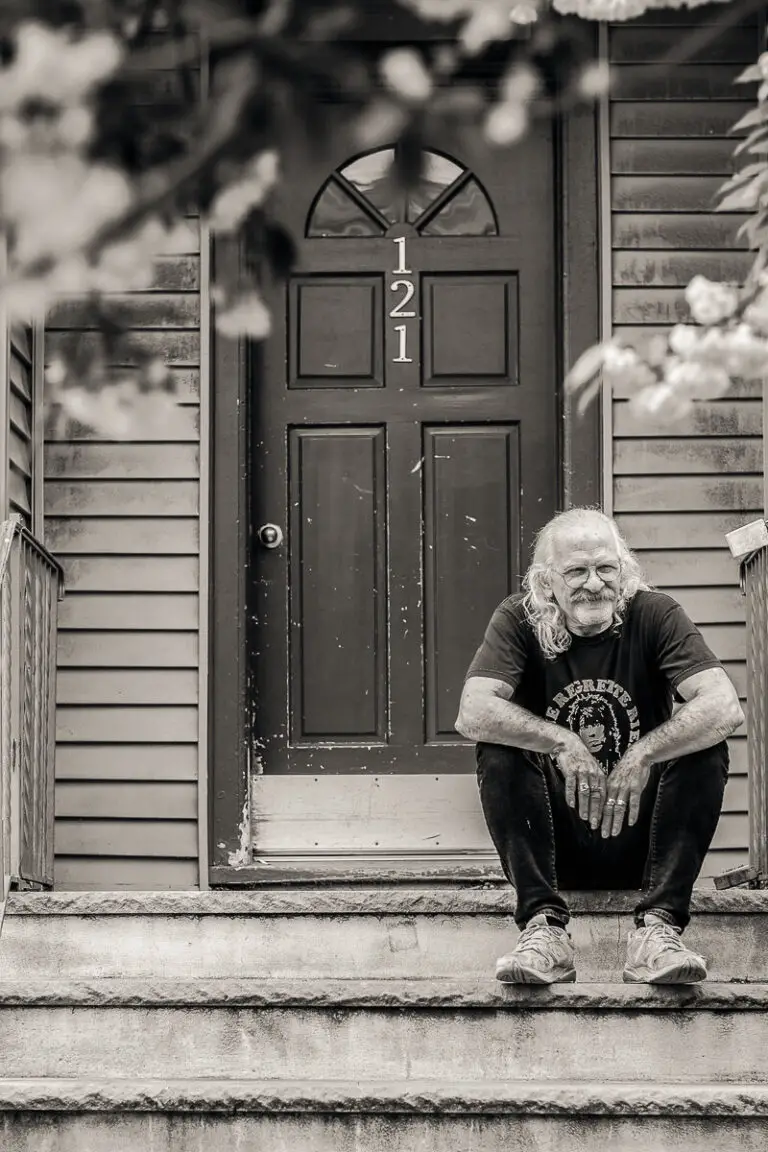 His "71 years around the sun" has been one that some envy and others look down upon. But frankly, he is just here to live the life that he wants to live. 
The son of a third-generation baker, Larry Weissman's story starts in Springfield, Massachusetts. Having been born in the '50s there was "a lot of tension between, you know, people that were on the left and the right. Plus Springfield is a very old city and very segregated. So you know like many people of my age, I mean we experienced somewhat of a negative situation," Weissman had said recalling his time growing up. 
My dad as a person had pretty much always treated people right but was also very much a classic second-generation immigrant who had fought bravely in World War II, although he definitely mellowed out later. But me and him butted heads a lot in my teenage years with the pressure of the Vietnam War, which I was against. That kind of all made me wanna leave, and basically, I ended up running away going to Boston, living in Boston for a summer, then figuring out how to stay in Boston.

I was listening to The Beatles and the Stones and Jimi Hendrix, smoking pot and doing everything…I was a rock N' roller.

Larry Weissman
Once in Boston, he did a year and a half of the College of Basic Studies program at Boston University before dropping out. Weissman explained, "the theory was that they were looking for people who were highly intelligent, but were not good academically, right up my alley, right? It was a good idea, except what they didn't realize was that they were describing all these hippies."
Weissman described Boston back then as to how "it was like San Francisco. It was like a very hip place to be. There was tons of great music, J. Geils. All sorts of really good stuff going on." After dropping out, it wasn't long until he left Boston and hitchhiked across the country a few times " It's hard to explain to people now but it was just kind of a thing where you'd meet certain people. Maybe you hang out with them for a couple of months."
Before settling down in San Francisco in 1971, Weissman had lived on commune in Oregon. "We anticipated that there was going to be some sort of actual  political civil war,  it was even more against each other than it is even now, although it's getting pretty bad now too."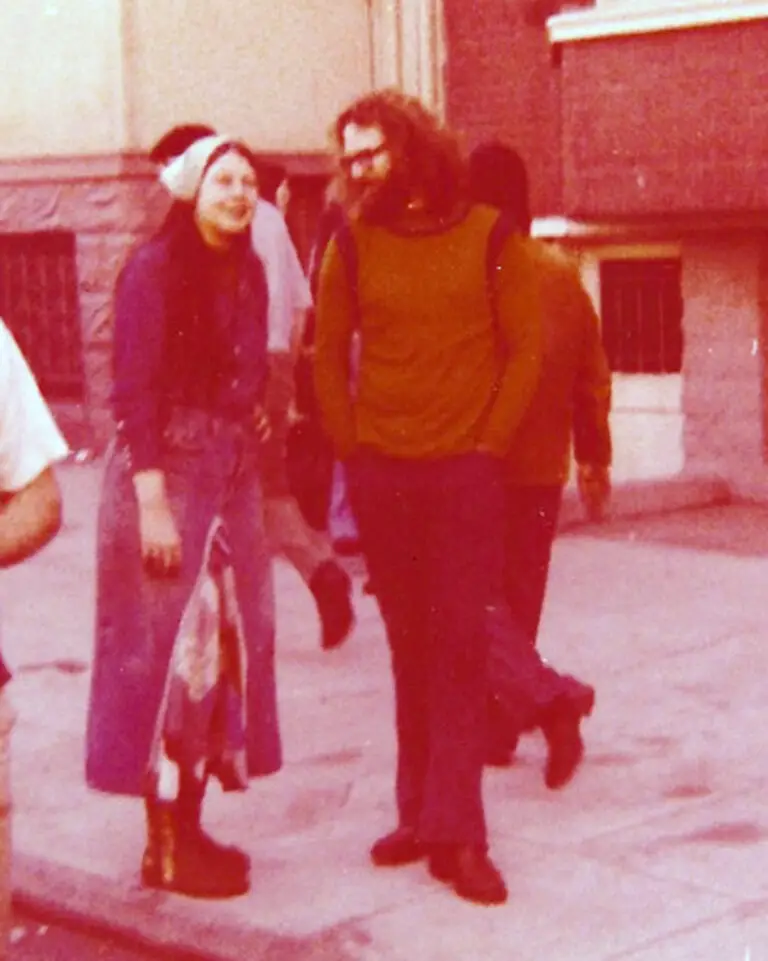 But after a few years, Weissman realized that, "I was more interested in continuing to do community organizing and living in the city, so I moved down into the largest commune in San Francisco, which is called the Good Earth Commune" and living in the Haight-Ashbury neighborhood, known for its counterculture movements in the '60s and 70's. 
While being a part of the White Panther Party A white people organization formed in support of the Black Panther Party) in San Francisco, Weissman had joined The Peoples Ballroom. He gives most of his credit to the Peoples Ballroom for starting his interest in producing music.
To me, part of being a hippie was all this new music going on.

The Peoples Ballroom was a coalition of community organizers and community people and bands and sound guys and all the different kind of stuff and the idea was to put on shows for the community that also combine music with, you know, information about different topics that were going on and to provide a certain amount of financial support for everybody by all of us, like passing the hat and sharing it.

We did it outdoors, that would range from block parties and small events in the Panhandle all the way up to very large events in Golden Gate Park, including many, many shows with thousands of people. I think the biggest show we did was the Grateful Dead and the Jefferson Starship in 1975, was 50,000 people in Lindley Meadow.

One of the jobs that I had was to come up with tapes to play in between the bands though I didn't think of it at the time as DJing, but in fact, at night we would go to my friends recording studio and we were making these tapes to play about. Ironically even some of the music I played last night (referring to his DJing at Union Pool the night before the interview) is music that I played back then. Like. It's funny how it all comes around in circles.

Larry Weissman
The organization had also sought out to make political changes as well. In 1969 when the city government put out a bunch of anti-music laws they grew a backing and were able to get laws changed. Weissman said that they had thought "capitalists [had] taken over the music industry and what we were looking for is to create something outside of that."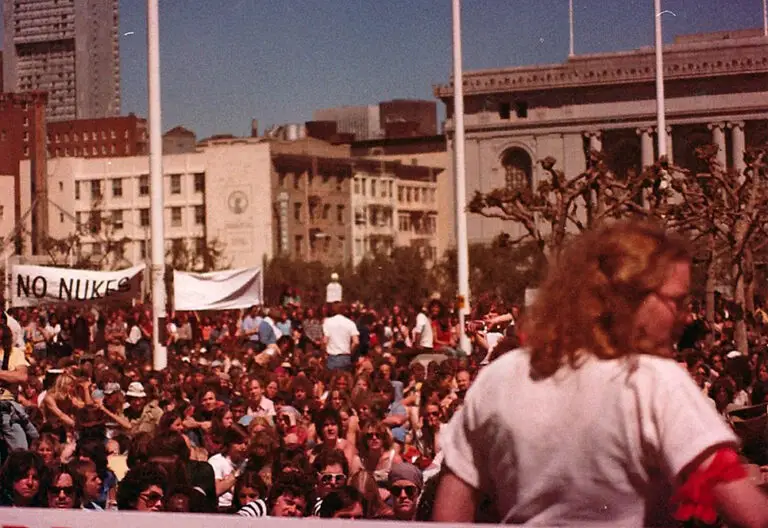 During this time Weissman and the organizations he was a part of "were constantly butting heads with the police." He talked about his daily run-ins with the police and the general harassment from them. 
Weissman then recalled to what he said was one of the worst arrests for him was:
 The Gay Liberation Front and the gay community in the Castro had just started the Gay Freedom Day things and we had a stage and security for them. Sylvester played. It was super great.

 But the city didn't like the fact that the hippies and gay people were working together. So at the end of the show, 6 cops broke into the backstage and beat the shit out of me, and took me to jail. I was charged with four counts of assaulting a police officer.I had a jury trial. Mom was there, she came out for it and I represented myself and got acquitted on all charges because they were phony.

Larry Weissman
Sometime after being acquitted, Weissman had served a year in jail after representing himself to the Supreme Court of California and it was even noted how well and organized he had represented himself. Once out of jail "people had scattered everywhere. I personally had a son who was like, you know five or six years old," and a lot of the groups faded out as well. 
Lucky enough, however, Weissman said he got "on the ground floor [of] computing in '78, '79 and '80 in the Bay Area. Which was in fact the ground floor, I mean we got an Apple from Steve Wozniak personally."
For a while, he would go between Queens and San Francisco, computerizing companies until he decided to make the transition fully to New York City in '98 now that his son was older. In order to stay in New York he "ended up taking the job at Wells Fargo Bank. I was a senior VP, I kept all their inner wholesale banking systems running. I had 160 people. I worked with a big budget, I was doing good but at the same time where I was spending all my time outside of work was always going to plays and dance recitals and seeing music and hanging with all these kids that were in their 20's."
I started meeting a lot of younger kids that would eventually become the Williamsburg music scene and the first people were mostly over in the Lower East Side and then gradually moved to Williamsburg and I moved to Williamsburg probably 2004.

In many ways [it was] very similar to Haight Ashbury, it was a ghetto. There was a lot of empty buildings and stuff and while there was never the political intensity that they had in Ashbury they had in terms of the culture and the quality of the music of the area were equally there. I was very fortunate to meet a lot of those people and obviously since you know it was the best place I've found since the Haight  Asbury.

Larry Weissman
After getting involved in the community friends had started to suggest that he should start to DJ since he had such an intense music depth and with that, a much more interesting perspective. With the encouragement from friends, he started to "DJ in underground loft-type stuff and then very slowly a couple of different clubs started happening," Weissman said for how he started his DJ career.
Then finally in 2014 ,"I finally said you know what? This is what I want to just do, so that's when I retired from the bank and became a full-time DJ."

The main reason that I DJ is that  I'm trying to show kids that there's no one way to be like, not everybody who's 71 years old does what I do, but what I do is equally as valid as some 71-year-old grandfather. Most of the songs I play have very specific messages about fighting against oppression and being free and opening your mind and that's where me and these kids communicate. 

In the '60s we were trying to figure out how to have a better community and a better life without any guidelines or rulebooks. Rather than make speeches, I just try to be as authentic as I can in what I'm doing and I get a lot of love from people for that. 

If they (referring to kids in their 20's) saw me on the street they wouldn't look at me twice, but we're there in the backroom together and we're sharing this music, and I'm not sharing my music. I'm not playing old 60's songs, I'm trying to show them that there's something about their music that's the same as mine.

Larry Weissman
Starting to become a DJ at 50, Larry Weissman now splits his time between DJing clubs and working with the owner of 20 Sided Games in Brooklyn, doing live DJing for Dungeons & Dragons games. Weissman is "not looking to become famous. I just like doing what I'm doing with it where I'm at and I don't let anyone tell me that I shouldn't do it. 'cause I'm too old or you know this or that. So yeah,  I urge people, particularly people in their 60s. Out in the 70s is don't limit yourself at all."
When asked if he would change anything in the past, Weissman said, "I wish I wouldn't have made my mom so unhappy when I was a kid. But ultimately at every point in my life, I did what I thought was the right thing to do. I'm not saying it was all the right thing to do, but I can tell you that I did what I thought was the right thing. So no, I don't regret those decisions."