The Seventh Annual Brooklyn Americana Music Festival takes place September 16th -19th, 2021. Fifty live music events at seven iconic locations including the DUMBO Archway Plaza under the Manhattan Bridge and Pier 6 Plaza in Brooklyn Bridge Park on September 17th, 18th, and 19th. Nightly concerts will be held at Jalopy Theatre and Sunny's Bar in Red Hook; and Superfine and 68 Jay St Bar in Dumbo.
The annual festival is a beloved celebration of folk, roots, country blues, bluegrass, and jazz and attendees of all ages can enjoy banjo, fiddle, mandolin, and three part harmony renditions of original and traditional songs performed by a majority of women-identified artists. Ticketed concerts include the festival kickoff on September 16th at Jalopy Theatre, and September 17th in the Dumbo Archway Plaza, and are followed by thirty free live music events for all ages.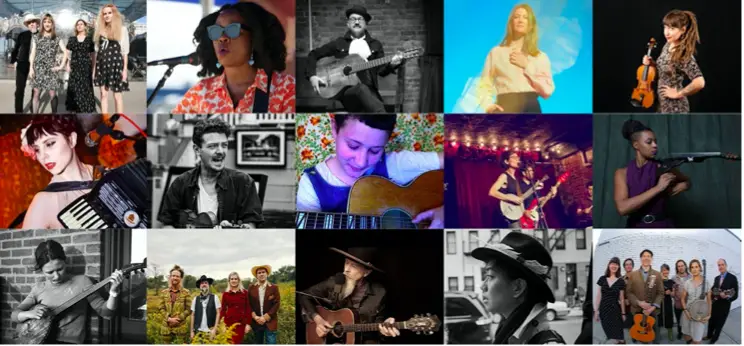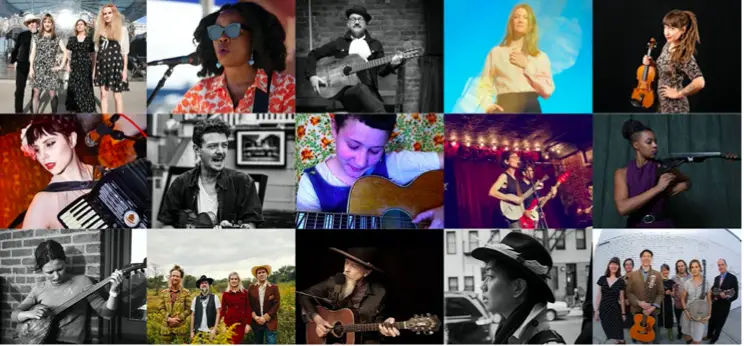 The 7th Annual Brooklyn Americana Music Festival is made possible by public funds from the Greater New York Arts Development Fund of the New York City Department of Cultural Affairs, and from the Decentralization Program of the New York State Council on the Arts, both administered in Kings County by Brooklyn Arts Council (BAC). The Festival is made possible in part by generous sponsors and the office of Councilman Stephen Levin.
The 2021 Brooklyn Americana Festival lineup
Thursday 9/16
8pm Emerald Rae
8:30pm M Shanghai
9:30pm Crys Matthews
10pm Caleb Caudle
Friday 9/17
5pm Emerald Rae
5.30pm Bobtown
6.30pm Ellie Buckland
7pm Crys Matthews and Heather Mae
8pm Mike Younger
9pm The Wild Goats
Saturday 9/18
4pm Mazz Swift
5pm Crys Matthews and Heather Mae
6pm Ellie Buckland
6:30pm The Maybelles
3pm Ryan Engelbert
4pm Melanie Curran
5pm Danni Nichols
5:30pm Edan Archer
6pm Bobby Blue
7pm Samoa Wilson
8pm Walter Parks
9pm Maggie Carson
Sunday 9/19
3pm Emerald Rae
3:30pm Squiretown
4pm Mazz Swift
5pm Treya Lam
5:30pm Joanna Sternberg
6pm Ayen Tren and Joe Bass
6:30pm Nora Brown
11:30 am Rosetta Serrano
Noon – 3pm M Shanghai String Band
6pm Danni Nicholls
7pm Emerald Rae
8pm Queen Esther
Sunny's Bar 8pm – 10pm FREE
Wed 9/16 Smokey's Round-Up / Festival Kick Off
Thur 9/17 Samoa Wilson
Fri 9/18 Erica Mancini
Sat 9/19 Kensuke Shoji and Arnt Arntzen