Schenectady native and artistic producer Lecco Morris along with fellow New Yorkers, singer Kimberly Hawkey and lyricist Justin K. Rivers, have announced the live premiere of their thirteen-track album We the Nighthawks. Occurring on August 17 at The Linda in Albany at 8 p.m., the audience will be treated to performances that pull many genres including art song, jazz, musical theatre, and America.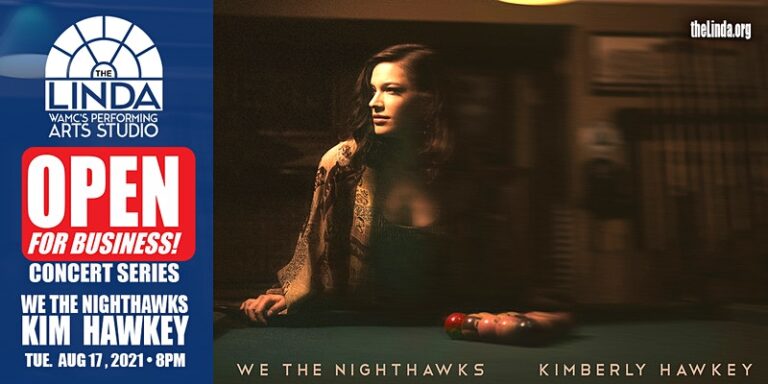 Released earlier this year in May, the album captures within Hawkey's crystalline and sometimes haunting voice what makes us all human – "life, love, and loss". Recorded at Dreamland Studios in upstate New York with an impressive full orchestra of twenty musicians, the album has a solid foundation behind it. Despite covid putting the album on a brief hold, each musician showed up on recording day after receiving the required negative COVID test to enter the studio. Bringing a plethora of experience to the team is Grammy-nominated Assaf Gleizner as musical director, and seven-time Grammy-winning producer, Joel Moss. Moss's impressive client list includes the late Ray Charles, Stephen Sondheim, Lin-Manuel Miranda, Tony Bennett, Johnny Cash, and many more during a career in the music industry that has spanned over fifty years.
Moss was at first skeptical about undertaking the indie record at first saying, "My first listening of these Morris/Rivers compositions was a simple piano/vocal recording.  The fact that its simplicity featured the brilliant playing of Assaf Gleizner and the angelic voice of Kimberly Hawkey was not wasted on my ready-to-be-unexcited ears. I was immediately captivated, and rather than quickly scanning, tune to tune, I listened intently, top to bottom…twice."  
While We the Nighthawks might be Morris's first full-length studio album that he composed, it is only a small fraction of musical experience this pianist has under his belt. Growing up in western New York, Morris was "born in the theater" due to his father Philip Morris's positions at the Arts Council for Chautauqua County and The Reg Lenna Center for the Arts in Jamestown. While Morris did not participate in the theater directly, it was the springboard for future artistic endeavors. Since the tender age of 3, Lecco Morris has been perfecting his piano skills before turning to create music in his early teens.
During Morris's senior year is when his music career took off. While entering his senior year of high school, Morris was given special permission to attend college-level classes at SUNY Schenectady School of Music. The stellar programming prepared Morris for a heavy curriculum that he later took renowned NYU Steinhardt where he obtained his degree in Music Theory and Composition. Morris also credits SUNY Schenectady School of Music for the ability to overcome the creative challenges faced trying to compose an album during the midst of a pandemic.
"The program's music fundamentals – particularly theory and aural skills – were so thorough that I tested out of an entire year and a half of required credits at NYU's music theory and composition program, affording me space in my schedule to explore more advanced musical coursework."
Morris has since participated in many different art forms including acting, improv poetry, touring theater pieces but never straying far from his love for music. Fans can stay tuned for more stunning creative alchemy from Morris, Rivers, and Hawkey for their upcoming holiday album "A New Noel", set to be released November this year, and a sophomore studio album.
Tickets are on sale now and can be purchased here.