The first ever Jam on the Lift festival is coming to the Kissing Bridge Snow Sports center in Glenwood, NY, 30 miles south of Buffalo, on August 28. The festival, presented by Kissing Bridge and Twenty6 Productions, will feature national artists, local vendors, artisans, CBD vending, craft beer, food vendors and more.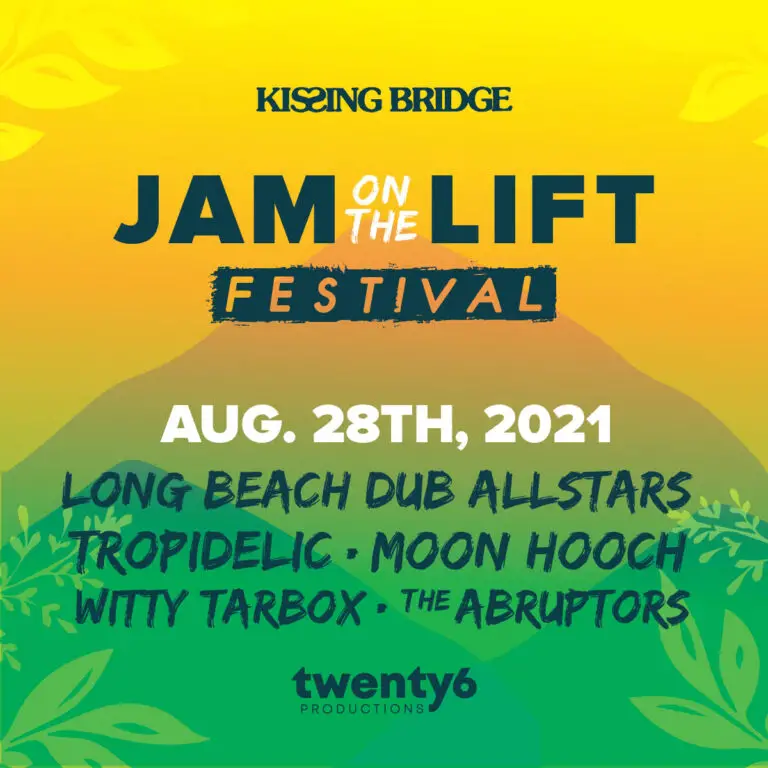 Glenwood is a small hamlet located in Erie County, around 40 minutes south of downtown Buffalo. Kissing Bridge is one of Western NY's premier ski resorts, with a whopping 39 slopes and over 700 acres of land. Festival goers will trade their skis for summer sandals as they experience entertaining live performances and, of course, plenty of art and good eats.
Long Beach Dub Allstars
Eric Wilson and Bud Gaugh met in childhood and later started their first garage punk band, consisting of drums, bass and vocals. They later formed Sublime with Bradley Nowell. The Long Beach Dub Allstars (LBDAS for short) were founded after Nowell died in 1996 of a heroin overdose (frequent contributors to Sublime including Michael "Miguel" Happoldt, Todd Forman, and "Field" Marshall Goodman are also members of the band). Eric Wilson says, "We will never replace the greatness that Sublime did or what Bradley has done." The band was originally a 10-piece and they recorded their debut recording called Right Back, which shortly after completion in 1999 saw the departure of three members. Their second album, Wonders of the World was recorded and released in 2001. "Sunny Hours", featuring will.i.am from The Black Eyed Peas, was also used as the theme song for the Friends spin-off Joey.
Tropidelic
The six-piece band from Cleveland, Ohio may be far from any tropical islands, but that doesn't stop them from dishing out an interesting mix of reggae, hip-hop, and high energy funk for audiences across the country. Unapologetically original, Tropidelic has a deep and widespread appreciation for music that can be heard in each note. Some of the members are hip-hop heads, while others are into metal, funk or reggae. Each of these genres lends something to their collective sound. "We pride ourselves in being original in our musicality and personality as a band," says frontman Matthew Roads, "but also in not taking ourselves so seriously that it ruins the fun."
Moon Hooch
If any band is a poster child for turning the power of positive thoughts and intentions into reality, it's the explosive horn-and-percussion trio Moon Hooch. In just a few short years, the group—horn player Mike Wilbur, fellow horn player Wenzl McGowen—has gone from playing on New York City subway platforms to touring with the likes of Beats Antique, They Might Be Giants, and Lotus, as well as selling out their own headline shows in major venues around the country. "I'm realizing more and more every day that you can make anything happen for yourself if you really want to," says Wilbur. "You can change your existence by just going out and doing it, by taking simple actions every day."
Surf riffs and indie melodies over a rhythmic funk foundation fond of improvisation.
The Abruptors
Punk/SKA band out of Buffalo, NY.
Tickets are currently available for purchase here. Options include traditional GA tickets ($35 ADV/$50 day of show) as well as VIP ($85 ADV/$100 DOS). VIP tickets include front of stage access, private bathrooms, a VIP lounge area, VIP bar, complimentary food and snacks, and a festival poster. Gates open at 1PM and music runs from 2PM-11PM. The lineup includes:
To learn more about Twenty6 Productions, visit their website and follow along on Facebook and Instagram.